In parts one and two of this exploration of LBE VR entertainment market, ARena Space discussed key trends in the sector.
Now, in part three of the report, Vasily Ryzhonkov explores the 10 main difficulties of the LBE VR market that will need to be solved in the near future. He also looks ahead to see what we can expect from the industry in the coming years.
1. No product-market fit between VR products developers and operators
LBE VR products must meet the needs of the market and the interest of guests. But they must also fit the different business and technical requirements of end customers. Usually VR parks. This axiom is still far from being always fulfilled.
Of the more than 500 companies with which we communicate closely, I can highlight dozens who have finally created a product of value for b2b customers. We can name Hologate as one of the examples, who sold 350+ attractions in two years at a price of more than $80,000.
What does it mean for an LBE VR product to meet the real needs of its customers and be in a winning position compared to its counterparts on the market? It is to meet the demands made by customers. For example, capacity, footprint, operational reliability, profit, and revenue per square meter per month, regular content updates, return on investment.
Maximising revenue
The task of VR park owners is to maximize revenue per square meter. So far, not all VR attractions generate enough revenue compared to other attractions. And some attractions are quite difficult to install and maintain.
There is no market confidence that VR attractions can make as much money as classical ones. One square meter can be occupied by ⅙ of a typical VR attraction, or you can also fit a teddy bear collecting crane game on it. The latter, in fact, generates much more revenue per square meter than any VR attraction. This is really how it is.
FEC operators are looking for easy to handle VR attractions where they can maximize the revenue per square foot
Therefore, both VR parks and manufacturers of VR attractions and content need to think seriously about this problem and address it together through common market standards.
"FEC operators are looking for easy to handle VR attractions where they can maximize the revenue per square foot. Therefore, a typical VR setup is still not reliable enough and too complicated to install. There is not enough trust in the market yet that you can make a successful business with VR attractions," says Stefan Ebermann, Sales and Business Development Manager at ICAROS GmbH.
2. Very few VR developers have found scalable ways of promotion
There are about 13,000 VR locations in the world, more than 50,000 family entertainment centres, about 2,000 laser tag centres, and the number of escape quest rooms, I believe, exceeds 10,000. All this is a potential market for LBE VR products.
At the same time, I estimate there are about 1,500 VR studios in the world that develop Virtual Reality content. From indie developers to professional teams. And there are just over a hundred VR equipment manufacturers.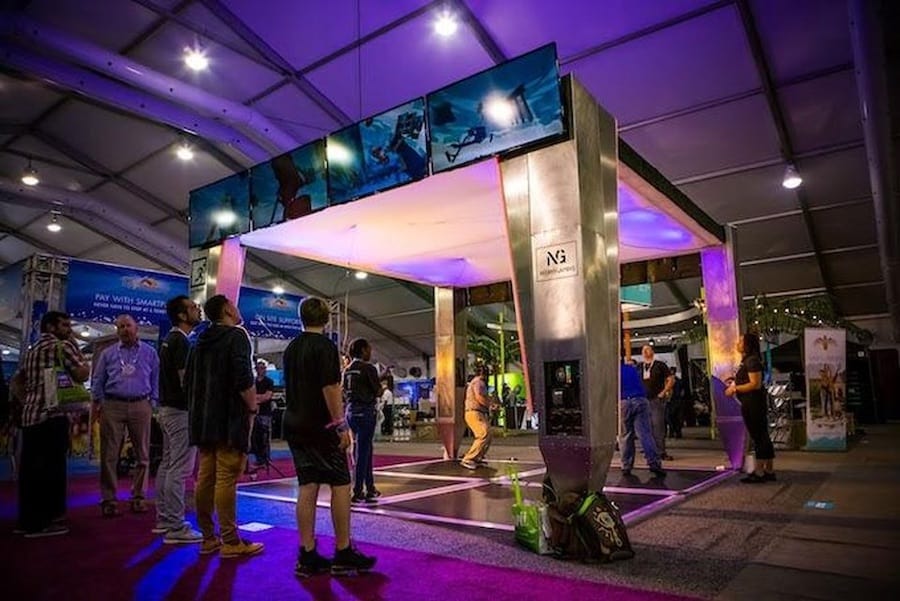 These figures speak, on one hand, about the established LBE market, and on the other hand, about the availability of quite a large offer from solution providers.
Return on investment
However, most VR companies are not more than three to four years old. During this time, very few VR manufacturers have found suitable and scalable promotion and sales channels. As a result, many startups do not return on investment and many developers are in bankruptcy. There are three reasons for this:
The market is not yet fully structured. Many companies do not understand what kind of business they are in, either a VR studio or a VR park operator.
On the other hand, new LBE market players do not know the established rules of the game and therefore do not find fast and scalable sales channels.
The market actually needs injections from major players and investors from shopping malls for its active development, and there are still quite a few of them.
We see a huge number of developers who enter and leave the market. As a result, the technology or VR products that these companies produce are no longer supported at a technical and content support level. Operators are at risk. This creates the impression of the unreliability of VR attractions and technology in general.
3. Equipment is not sufficiently developed for the LBE VR market
Not all attractions have coped with the motion sickness problem. And there are still other problems. For instance, breakdowns, poor quality displays and weak content. Not many VR multiplayer simulators are available today. It wasn't until the end of 2019 that quality solutions, such as wireless solutions for Free Roam arenas, appeared at the IAAPA Expo.
On the other hand, very few headset manufacturers actually create headsets for the location-based market. Because it isn't large enough for them. Here I would distinguish the Valve Index as one of the top headsets in this segment. Even Void's and Dreamscape's tracking features leave a lot to be desired.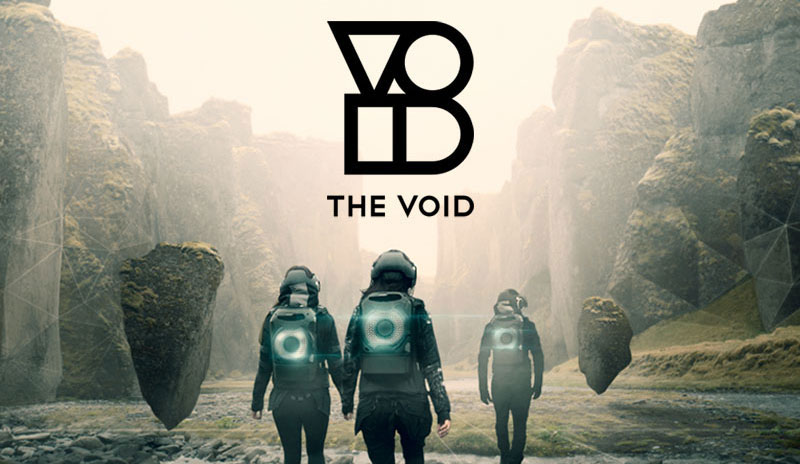 On the other hand, quality equipment radically increases the amount of investment in VR parks. So, all market players are on the path to finding an optimum and a good half ground.
All of the above-mentioned problems lead to lower quality VR experiences than the developers intended at the start. However, I am absolutely sure that this situation will radically change in the next two years. There is enough expertise in the world to overcome these technological and economic problems.
"So far, VR hardware is not always stable. And it also falls behind the content in terms of development speeds," says Ronald Menzel, co-founder of Dreamscape.
4. Content made by geeks for geeks slowed the market down
If we talk about the concept of LBE, we can see some scepticism from the side of the user. VR attractions can cause certain inconveniences or simply be uninteresting. For example, a fear of enclosed spaces can sometimes appear during use. The fact is that initially, the developers did not think about the customer journey – being in the park.
Since 2016, VR parks or VR clubs have been primarily created by geeks for geeks. Even large companies such as IMAX were wrong about the conceptions. Attractions alone are not enough. Because the user wants to receive a service. They want quality information, a story to immerse into and a variety of personalized social game experiences. These additional services increase the quality of the location as a whole.
Creating a customer journey
From my point of view, the year 2019 was a turning point. Quality VR park and zone conceptions began to appear. The operators of these conceptions changed the situation and didn't just think about how to stuff a park with attractions. They thought about creating a customer journey, from online to offline and back.
For the LBE VR market conception to develop successfully, it is necessary to make the attractions more consumer-friendly. For instance, taking into account all audiences and thinking about the customer journey. A park is only 30% VR. The remaining 70% should be the experience around it. So far this is not the case.
5. Different market purchasing power strongly determines the demands on price and quality of the product
Markets differ from country to country in terms of volume, product quality requirements, and purchasing power. Developed markets invest more in the development and testing of theories because they can afford it. Their average service check is relatively high and the market volume is large.
Young markets can create equally innovative Virtual Reality solutions. However, they develop more slowly because the purchasing power in their location is much lower.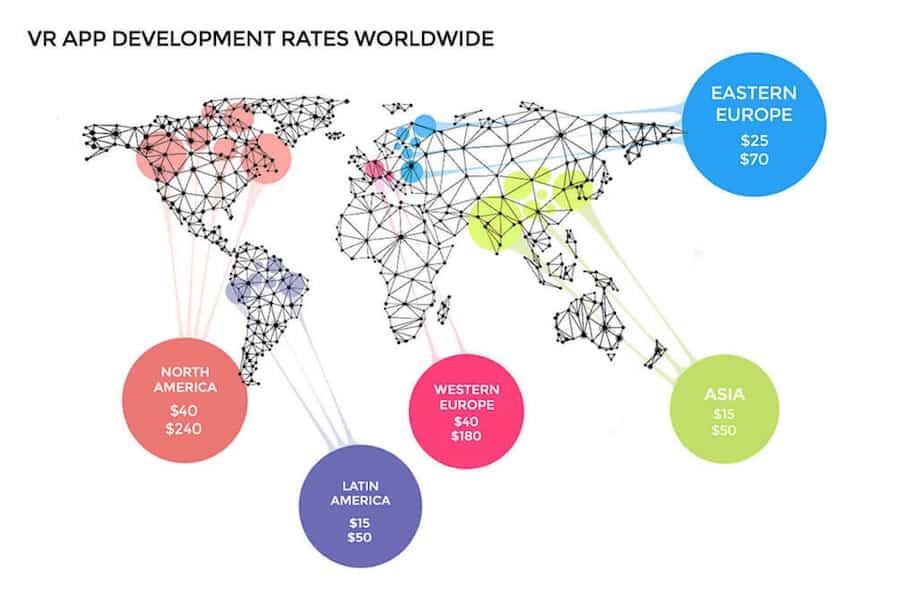 For example, in the United States and Europe, the average check for a virtual reality service ranges from 75 cents to $2 per minute. In Russia or India, the figure ranges from 40 cents to $1 per minute. These markets, therefore, develop with lower quality products and earn less.
Raising awareness
When it comes to the Russian market, two main problems make us reconsider the strategy of VR development. The first problem is that consumer demand continues to fall. People have started earning less and spending less. Families are selective about joint entertainment and try not to go beyond the budget.
The second problem is poor awareness of VR. Interest in this area is in no way supported by the advertising budgets of large companies. Because the same Oculus Quest and other new headsets that are being released and distributed in other markets are unknown to the Russian consumer.
Therefore, many market players will need to revise their development strategy to find consumers.
6. Lack of standards in the market
One of the key problems of the market as a whole is the very large fragmentation of solutions and the lack of standards. These would regulate the relationship between amusement developers, distributors, VR studios, LBE VR operators, content delivery platforms, hardware vendors and mall owners.
In fact, a comparison with cinemas is appropriate here. A single format of content consumption and a clear "food chain" allowed for a clear division of the film industry market. Each player received its own margin, building and managing the processes that each stakeholder can influence.
One of the key problems of the market is the large fragmentation of solutions and the lack of standards
For example, the number of viewers, content producers, the quality and frequency of films, distributors, offering and updating content during the year, equipment manufacturers, the infrastructure for playing this content. A clear division gives coherence and, most importantly, a large market for content producers in unified halls.
Standardisation
In LBE VR this is not the case. Let's imagine that a VR studio invested $500,000 in content to eventually pay it off. It needs at least 25-30 VR parks to pay it off. Not only does each VR park have different equipment, but creating parks for the content becomes an increasingly utopian idea.
That's why a VR studio needs existing locations with the same hardware infrastructure. This will create a sales system. Without an established sales system, we get a broken cycle of investment, product development, sales and reinvestment.
The market is just approaching the standardisation of infrastructure and is going through the phases of growth and turbulence. Unification contours have already been outlined in the segments of VR escape rooms, free-roam, and 4-player multiplayer setups (VR-Cubes).
I think about 2-3 years will pass before the standards of this market will be fully created. From content creation to its "playback" in VR locations. Their absence is a serious deterrent.
7. Equipment manufacturers are not focused on LBE VR
A key problem for park and attraction manufacturers is the lack of supply systems and the lack of virtual reality headsets and IT components for PCs. One of the main challenges for LBE VR is creating a turnkey solution and full technical support for operators and VR locations.
However, the market is saturated with examples where, due to poor sales and lack of technical support, projects are being launched 2-3 months longer. These may end up costing twice as much as the original price.
Entertainment operators have been on the market for a long time and are in a 10-15 year business cycle. That's why they have high demands on attractions, which should pay off on average in one year. They are not used to immediately implementing and maintaining complex VR-systems. These don't come as a complete product out of the box.
The task of developers in this regard is to create an opportunity to combine the know-how of the team, to create and implement a complete product and meet the requirements of operators, and to be able to manage and deliver hundreds of systems, and implement hundreds of projects around the world.
8. 2020 is the year of clone distribution
2020 can be called the year of distribution of clones of successful VR products. Cheap rip-offs of popular attractions can provoke price wars and damping.
The market needs to determine a balance between the cost of the game for the end-user, the cost of a particular type of attraction, and the level of content immersion, design, quality, and overall technical development.
The availability of cheap equivalents will not allow the establishment of prices that suit developers with better products. In times of crisis, operators will rather prefer inexpensive but lower quality content and attraction-substitute in order to save money. Therefore, high-quality VR solutions will develop more slowly.
9. Not enough players with effective VR park business models
90% of VR attraction visitors encounter virtual reality for the first time in their lives. So the question is, how to attract these players? Operators need to decide which products to offer, how to position solutions and VR parks in general, how to meet the expectations of loyal and regular guests.
What should an ideal and attractive VR park consist of? What is the target audience? And what are the sources of revenue? All these are difficult questions for many players.
On the other hand, investments in a VR park with quality equipment and content per square meter are on average 1.5 – 3 times higher than in activity parks. Dreamscape, the VOID, and Sandbox VR invest in the creation of parks on average from 1 to 4 million dollars for 500-1,000 m2.
What should an ideal and attractive VR park consist of? What is the target audience?
These figures certainly raise questions about the payback of a particular location. Not all key players in the LBE VR market follow the same logic and achieve revenue figures of $1-2 million per year with comparably less investment. Take, for example, our VR World NYC network, or a park with a 3 million dollars turnover.
LBE VR revenue models
Clearly, the business model of the VR Park is: the more stable it is, the closer it is to the traditional LBE revenue models. But the complexity lies in the fact that it also has elements of a cinema business model with updated content. And elements of esports arenas, with a tournament component and a concentration of community around interesting content.
The key challenge for the market at this stage of development is to find a balance between the amount of investment, prices for the end-user and the quality of content or the level of immersion of the experiences offered in LBE VR locations.
Between conventional VR arcade attractions and the creation of full immersion arenas with full-body tracking, sensory effects and digitization of interior objects, there is still a rift. However, it decreases with the arrival of players such as Antilatency and standalone headsets.
It is also worth noting that the LBE VR industry will see market consolidation. Platforms will be created that allow any developer to add games, and any location operator to get these games immediately. Here, the operators don't need to search for attractions for a long time. And they don't need to negotiate on the price. So, everything becomes much easier.
10. LBE VR still requires a lot of staff
At the moment there is no holy grail that would bring LBE VR business closer to cinemas where one administrator can have several hundred guests at a time.
In VR parks, the ratio of the administrator to the guest is usually between 4 and 6 people. This is primarily due to the low throughput of VR attractions compared to traditional arcade machines. This leads to an increase in the second most important cost item: payroll.
However, some operators are implementing a data-driven approach and queue management systems, flexible operator changes and online booking systems. They are investing in staff training and thinking about the customer journey. So that the aggregate of these actions can reach a ratio of 1 to 8.
In general, this problem can be solved with the right attitude to business. And the right choice of solution providers and content. However, it does affect the entire market. If a hardware solution or headset manufacturer, a VR content developer or a VR park operator will collectively make demands on this figure, the market will change significantly in the coming year.
The Future of LBE VR in 2020 and onwards
Despite the crisis and the epidemic, 2020 will end on a positive note for LBE VR. I expect the consolidation of major players and the emergence of new startups. We'll see the development of better equipment and the formation of a sustainable market ecosystem.
The LBE VR market will stop its sharp growth in comparison to 2019. Perhaps it'll be 5-8% instead of 40%, but it will definitely still increase. The interest in VR from an increasing number of LBE segments is obvious. For example, escape rooms, laser tags, bumper cars, rollercoasters, arcade machines and more.
When it comes to content, the future lies in offline headsets and low-cost tracking solutions in a multiplayer free-roam format
Sure, we might not end the year with 15 thousand locations, as Greenlight Insights presented in its forecasts. It may be more like around seven thousand, but these will be companies with sustainable business models. Some players will come, some will go, but the next two years will definitely show leaders in their segments. Market consolidation is inevitable, as is standardisation.
We will see cheaper production costs for VR content, further cheapening of technologies and equipment. When it comes to content, the future lies in offline headsets and low-cost tracking solutions in a multiplayer free-roam format. Because this combination secures both the interest of all audiences and the desire to play again and again.
Improvements are on the way
On the other hand, on the two-year horizon, I expect to see improvements in content quality and hardware characteristics. This will allow for more immersive experiences.
Shopping malls are very serious about the creation and implementation of VR parks and esports arenas. These concepts will become new anchors inside the entertainment cluster in malls, turning the latter into a destination point.
Separate VR attractions or zones in classic family entertainment centres will become a significant part of the revenue in them. If now this figure is about 5-10%, we definitely have the potential to grow to 25-30%.
Undoubtedly standalone headsets will turn the market around. It is important to know if the big players (Oculus, HTC, and Lenovo) will allow the creation of licensed products for LBE VR based on their choices. At the time of writing this article, this is still a grey area.
Quality storytelling and full immersion in LBE VR
Certainly, the market is moving towards better quality storytelling. It's a must-have, without which there would be no future for VR parks. Immersion, personalisation, social competition, application of other digital technologies, data-driven approach to VR park management – all this will radically improve the quality of LBE VR operators.
I expect higher quality immersion experiments, but shorter ones. The whole park can be a story, as it used to be when creating theme parks.
The synergy of the four technology clusters – AI, 5G, standalone VR, and tracking systems – will create a new level of immersion. This allows hundreds of people to immerse themselves in the show, making the viewers into actors as well as introducing artificial intelligence and avatars into the action. All this will help to create the fantastic worlds everyone dreamed of with the arrival of the new wave of virtual reality in 2014.
Virtual reality parks will certainly not replace family amusement parks. There will always be rope parks, activity parks, arcades, esports arenas, and racetracks. But VR parks and VR attractions will be a significant part of the future of the location-based entertainment market.