In part one of this exploration of LBE VR entertainment market trends, ARena Space looked at what we mean by Location-Based Entertainment and the current state of the sector.
Now, in part two of the report, Vasily Ryzhonkov takes 20 top LBE VR entertainment trends and discusses them in more detail.
1. VR and LBE VR markets do not exist
A little provocative, but these markets do not exist. First of all, we work in the field of location-based entertainment. Secondly, VR is a technology that is used in different markets.
There are more than 20 different types of technology in the iPhone, and the same goes for VR.  VR is a technology, a technology platform if you will. It can be used in the market of location-based entertainment. If you look at it through this lens, the whole market looks completely different.
Business models and market structure are gradually becoming clearer and all the players are taking their places: VR studio, LBE VR operator, amusement manufacturer, distributor, etc. For ease of reference, however, I will still use the term LBE VR.
As Phillip Steinfatt, CEO of VR Nerds GmbH says: "There is no LBVR market. We are selling VR attractions into the LBE market."
2. Standalone VR headsets
The market changed radically after the release of standalone headsets from Oculus, HTC, Lenovo and others.
Oculus Quest is the first headset that does not require cameras, cables or other equipment. It is the undisputed leader in this segment. The initial configuration of the headset takes 15 minutes, and its cost (less than $600) makes the device available to a large number of users.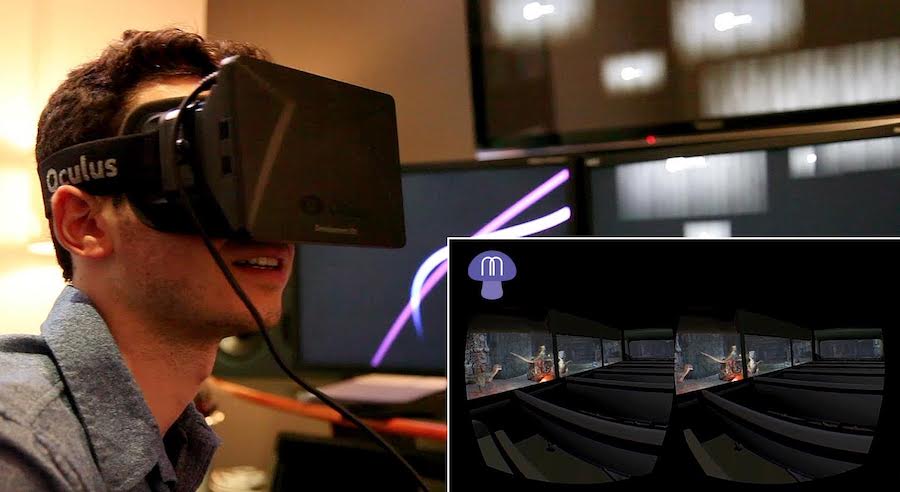 The simplicity and availability of standalone headsets create an entire non-expensive platform for multiplayer VR. These essentially flip the free-roam segment and other developments over for location-based VR. In addition, the use of modern standalone headsets will reduce investment in entertainment parks.
"The highlight for me is the Oculus Quest release," says Dmitry Chelovian, CEO of SINTEZ. "This release gives me an insight into where our company should go. Freedom of action and ease of use are important to the market before anything else. And the Oculus Quest headset has two controllers with six degrees of freedom."
3. Large investments in several market players – Sandbox, Void
Several industry players have received large investments for technology improvements. For example, Sandbox VR attracted $68 million from the Andreessen Horowitz venture fund. The Void received $20 million from the former head of 21st Century Fox.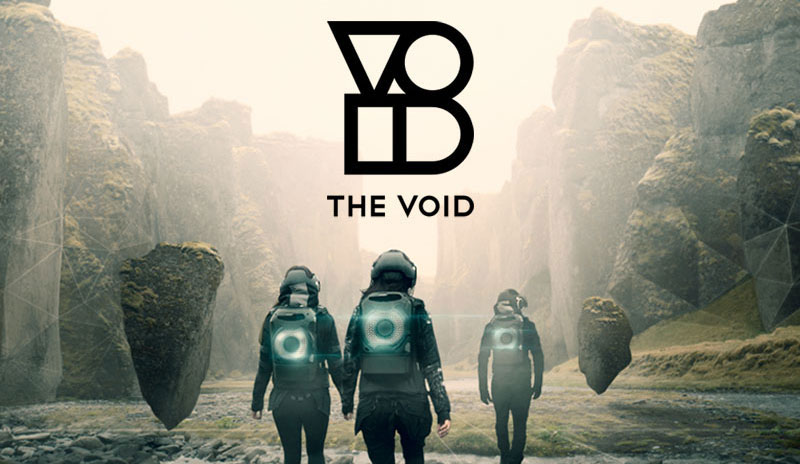 In general, the market began to attract more investments from venture capital funds, and in 2020, these investments will lead to the consolidation and takeover of VR industry players.
4. More than 60 VR companies exhibited at the IAAPA Expo 2019
These exhibitions indicate that the LBE market began to transform under the influence of VR, and big players began to notice this technology. During 2019 and the beginning of 2020, I visited seven major exhibitions in five countries and have seen this trend personally.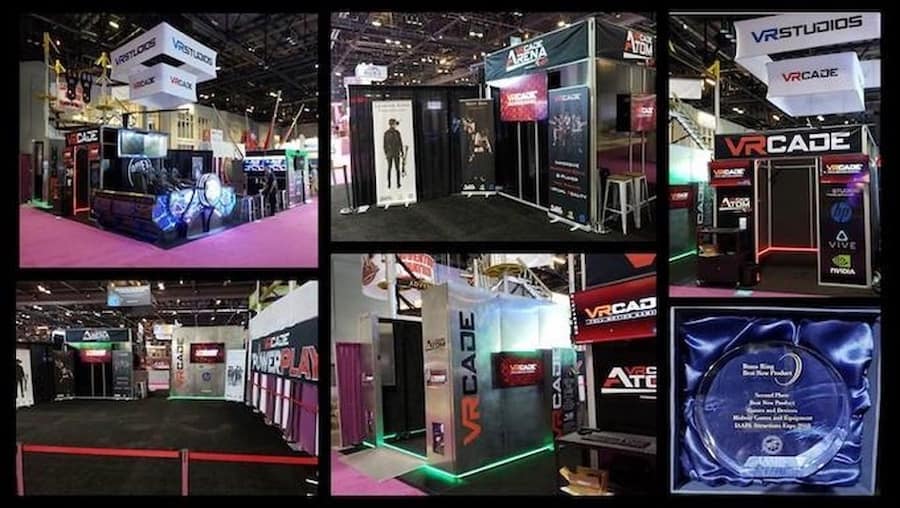 The annual IAAPA Expo in Orlando presented 60 players from the LBE VR segment. The popularity of virtual reality in entertainment is growing and the market is transforming. IAAPA's European branch is also beginning to include virtual reality in its entertainment programs, including inviting Russian players such as ARena Space, Anvio, Another World, PlayVR, and others.
5. 13,000 virtual reality zones and parks at the end of 2019
Beginning with China, entrepreneurs are bringing dozens of VR attractions together under one roof and opening virtual reality parks around the world, from VR Park in Dubai, Two Bit Circus in Los Angeles and VR World NYC in New York to ARena Space in Moscow, and Teleport in Minsk.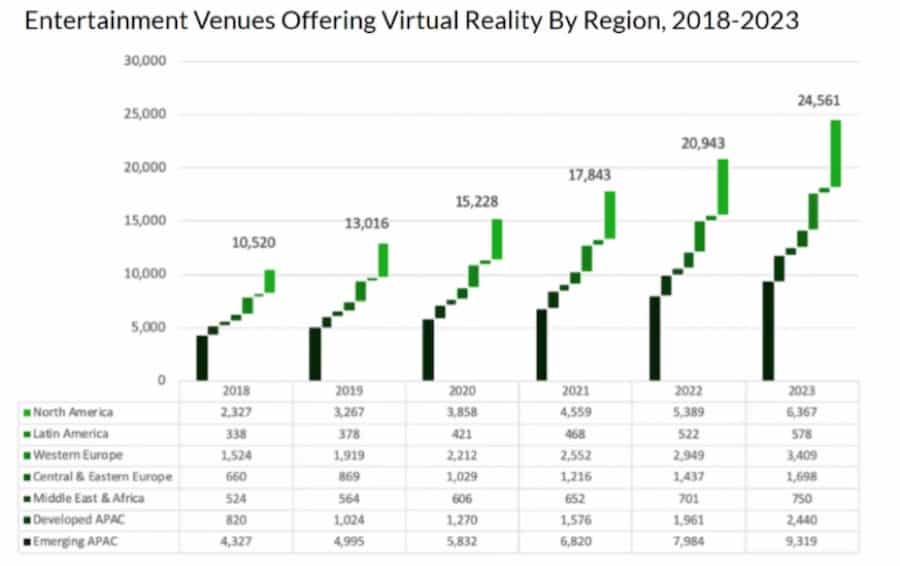 There is also a large number of parks in Asia. For example, VR Zone, Mazaria, and others. The demand for VR attractions in Russia is constantly growing. By the end of 2019, 160,000 people had visited ARena Space parks. The average time spent in the park amounted to 1 hour, and this isn't the limit. However, not everyone has found the sweet spot. So, in 2020 many ineffective players will leave the market.
Not all VR parks have found an effective business model that replicates the LBE market model. This fact, along with the coronavirus pandemic, will force about half of the 13,000 parks to close in the near future.
6. High-quality content and experiences
Users have a demand for quality content: free roam (free movement), multiplayer, and escape rooms. VR-brands compete in design skills and development quality, which results in genuine masterpieces.
LBE VR content began to touch only upon family audiences as well as the traditional gamer audience. For example, Cats Attack! We are also seeing games for the competitive multiplayer eSport genre, such as Tower Tag, as well as games specifically designed for parties, for instance, those by Vex Arena.
My personal favourite is the Toyland free-roam experience created by Illucity. The latter combines superb storytelling, creative design and complete freedom of action for the player to move around and use touch effects and vibrating chairs.
"I think the only growth area has been in the high-quality VR experience," says Pauline Quayle, CEO of Juice Films.
7. Growing competition and crisis events in the world economy may lead to cheaper and lower quality content
The LBE VR multiplayer market is undergoing an intense struggle to reduce the cost of services for the consumer and to, again, improve quality.
Today there are too many low-quality offers on the market, which in time will stand no chance against competitors. However, a cheap and low-quality VR attraction may win in the moment and this will lead to delaying market development.
The very existence of poorly developed VR content in the market impedes the development and popularization of the industry
The very existence of poorly developed VR content in the market impedes the development and popularization of the industry; if you did not enjoy the attraction, you aren't likely to recommend it to friends.
"I think there are too many cheap and poor quality experiences. Walkthrough experiences with the best lightweight hardware and quality content that truly immerses the user and tells a story will be the most in-demand," says Quayle.  
8. There's demand, but the replay value is under question
Most people have not yet tried to immerse themselves in virtual reality, although demand for this has been around for a long time. But how many users are ready to play the same VR-game, if the second time around it doesn't produce the same feelings?
Developers will have to make a choice: introduce elements into the game that'll make you want to replay it over and over again, or just work on the number of different attractions.
"The more the game offers to prove itself, the better. The more exciting it is, the more people want to play. In the eyes of the public, virtual reality is still an attraction; something to try and tick off. We need to bring the users back," says Dmitry Manovyan, CEO of SINTEZ.
9. Content based on well-known franchises.
In 2019 we can also see continuing trends for creating VR entertainment for LBE  based on well-known franchises. For example, IP from the film and gaming industry.
Examples include World of Tanks and Angry Birds (Hologate), Escape VR Games series based on the Assassin's Creed universe (Ubisoft), Mission Impossible (SEGA), Terminator (VRstudios), Transformers (Minority Media), Star Wars, Ralph Breaks VR, Avengers, and Jumanji (The Void), Star Trek (Sandbox), Jurassic Park (for Dave & Buster's), The Rise of Skywalker (Nomadic).
Undoubtedly, a vivid franchise will attract public attention, and an army of fans of these gaming and movie franchises makes it easier to attract customers to VR parks.
Despite the fact that market leaders continue their strategy of creating VR experiences based on well-known franchises, developers have to pay royalties to rights holders, so the profitability of such content remains in question.
10. Dave & Buster's added VR attractions to 137 locations
Dave & Buster's, the largest player in the U.S. family entertainment market, began using virtual reality technology in 137 centres and restaurants.
Major players in the entertainment industry calculated profits and saw that VR attractions bring more money than "classic" entertainment. The question "Should I install a VR system?" changed to "Which VR system should I install"?
Dmitry Sultanov, Technical Director of "Teleport", emphasizes the Hologate Blitz and Hologate Tower attractions. For LBE parks, VR is a good compromise between depth of immersion and revenue per square meter.
"FEC operators are looking for easy to handle VR attractions where they can maximise the revenue per square foot. Therefore, a typical VR setup is still not reliable enough and too complicated to install. There is not enough trust on the market yet that you can make a successful business with VR attractions," says Stephan Ebermann, Sales and Business Development Manager ICAROS GmbH
But, we also know that there are also leaders who are proving the opposite.
11. New gadgets and hardware infrastructure for the market
VR accessories are becoming more refined. They have built-in eye and body tracking systems, panoramic displays, and delay reduction to almost zero.
Hot innovations in the world of VR include Oculus Quest, Valve Index, Cosmos from HTC with low display response time, increased image sharpness, and high frame rate. According to Valve, the main advantage of the headset is its most accurate and fastest response, as well as the new standard frame rate of 120 frames per second.
HTC Cosmos is noteworthy for its modular design, which allows you to see the real world without removing the headset completely, and its openness to future upgrades, such as installing a new front panel with tracking sensors. And of course, among the new gadgets, we should mention the Inside Out Tracking system from Antilatency, which allows you to cut the cost of tracking for free-roam VR in half.
"Things have advanced while the home market slowly picks up. The Quest release, release of the Valve Index, as has HTC's fumbling of the Cosmos release all affected the market and will have big effects going forward," says Michael Masukawa, Director, Strategy & Business Development at Secret Location
12. Deep immersion and free-roam VR
Another thing to take into account when looking at LBE VR entertainment trends is the fact that there are new solutions for large simulators and arenas. For example, Hologate Blitz and Hologate Tower, Hyperdeck, DOF Defender. The trend is also going towards even greater immersion. Game worlds become non-linear, i.e. the user can influence the plot himself.
One of the market pioneers, Zero Latency, had more than 60 such installations worldwide by February 2020.
According to Roman Vdovchenko, Business Development Director at Antilatency, the main task of the market at the moment is to find a balance between the price of the attraction and the depth of virtual reality immersion. Many market players believe that for a user's first experience, a simple and cheap game is enough, while others think that only Free Roam can awaken a real passion for VR in potential players.
13. Consolidation and standards
It is expected that market players will unite and the weak will be absorbed by the strong. It is likely that only 5-10 major players will remain in each sub-segment.
So far, there are no general rules of content development in the market, so the market will be standardized and will move to a more developed stage.
14. Content for familial and social gatherings – social VR
Game content is becoming suitable for adults and children at the same time. It allows them to enjoy virtual reality together. In the past, VR-entertainment was created "by geeks, for geeks" and focused on an adult audience.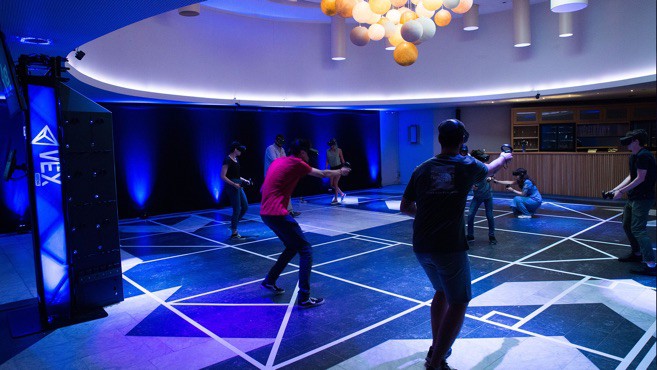 Today, developers have also realised that entertainment should be created for a wide audience. Now, one game can be played by up to 20 people and is usually enough for entertaining a group of family or friends.
According to Mike Bridgman, Technical Director of MajorMega, the main thing that the segment has to cope with is to match the product with the needs of the market and create a product that meets the needs of people who are not familiar or poorly familiar with virtual reality. The development of multiplayer games that can be played with friends or family members is one step towards this.
15. Combining VR and eSports
VR is being combined with eSports. The tournaments' prize funds aren't as large as in traditional eSports. But it is already clear that the segment is developing.
Virtuix is holding a tournament with a prize pool of $100,000, doubled from the previous year. The OmniArena platform from Virtuix managed to combine quality game development and design with a competent organization and execution of the tournament.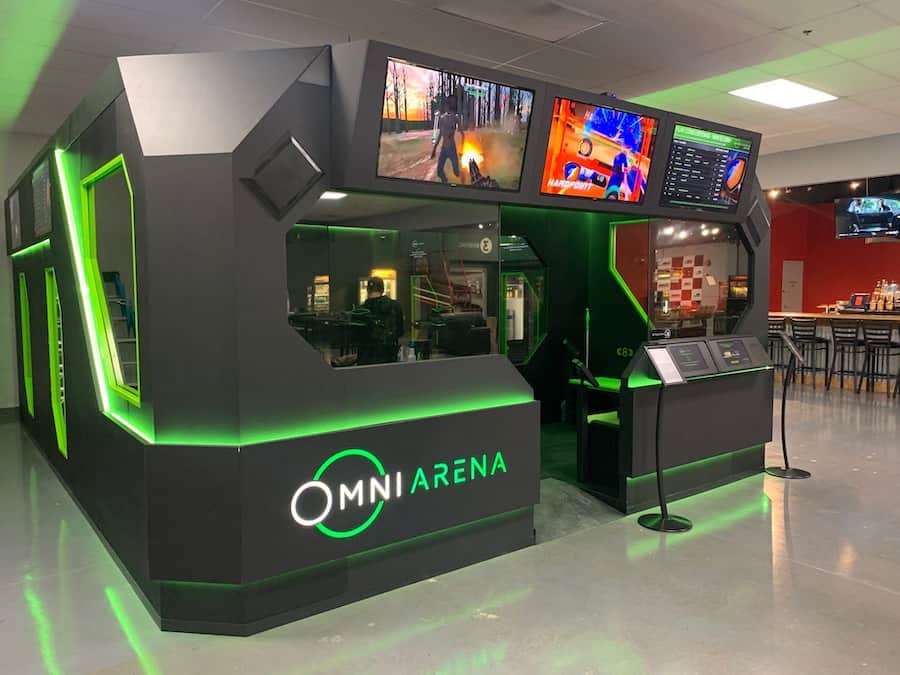 The combination of virtual reality and eSports will increase the replay value of gameplay. That is, the user will want to keep coming back to the attraction.
16. Conventional market transformation
The trend for VR is penetrating the established hierarchy of the LBE entertainment market. For example, laser tag, bumper cars, escape rooms, soccer, water parks and so on.
The problem with the market as a whole is that it's very fragmented and lacks standards
For instance, Koliseum Soccer VR realistically simulates table football. The Spree Interactive autodrome meets the main requirement of the younger generation: full gameplay immersion. The usual racetrack we all visited as kids lacks in speed, sound, and visual elements. And VR has no problem providing that.
"The problem with the market as a whole is that it's very fragmented and lacks standards. Unlike cinemas, new content is developed once every five years for LBE. Producers create everything to fit the latest format. The VR market is just beginning to develop," says Dmitry Zolotarev, CEO of Deep VR.
17. VR without employees
Virtual reality attractions can do without maintenance staff. But so far, many market players do not believe that this is possible. It's not easy for people to figure out how to launch games on their own. New users often don't know how to properly wear a VR headset and use other attraction accessories.
The work of industry leaders in this area will consist of simplifying interaction with the attraction. Thus attracting the widest possible audience of users. Some attractions are already operating without staff and are just the first of many in 2020.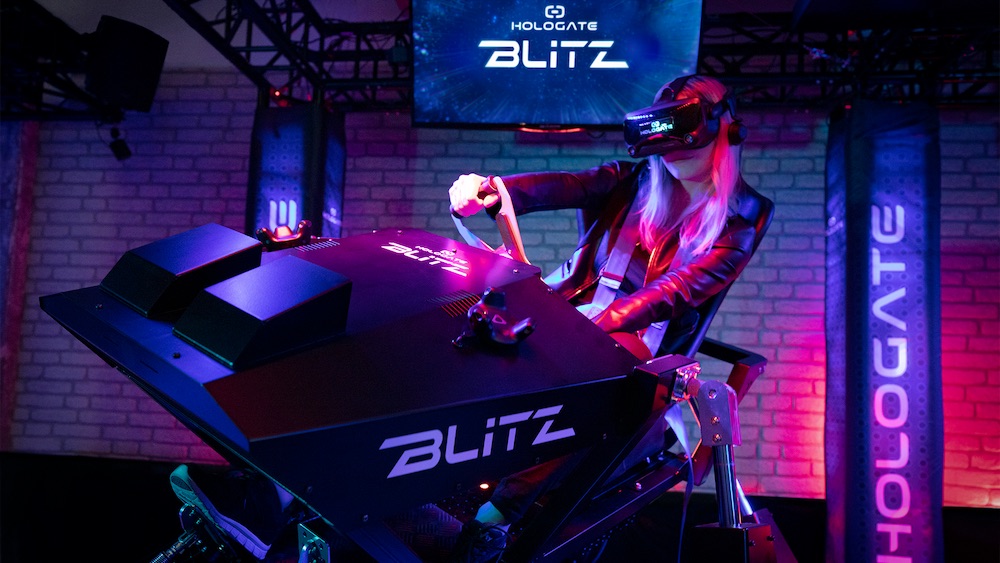 "Our main challenges were supply issues with lack of headsets and PC components," says Kubilai Tok, HOLOGATE Business Development Director. "The key component for LBE VR is to offer a turnkey solution. And full technical support for the operators of VR venues.
"Operators, in general, have long-lasting business experience with more than 15 years on average. With the instant introduction of VR systems to their venues, they are not ready to manage complex IT systems. An IT system with virtual reality needs smart solutions. This is in order to bridge the lack of operator's VR know-how with solid experience, handling hundreds of live systems worldwide."
"The future lies in easy to start experiences," adds Ebermann. "The time between the groups is still too long. There is headset cleaning, explaining, etc. Operators want higher throughputs."
18. VR parks as an anchor for mall visitors
Our experience with the two largest real estate fairs in 2019 shows increased VR demand from shopping malls around the world. From Stockholm to São Paulo.
As well as trends for VR entertainment in traditional LBE environments, such as theme parks, property owners have begun to see VR Parks as a visitor anchor. They attract visitors from all over the city to the mall. And they increase sales to tenants of all kinds of spaces. For example, shops, cafes, cinemas.
This is especially useful for "dying" shopping centres. The 2,000 m² parks can attract up to 20,000 new visitors per month. In addition to VR attractions, these people will spend time shopping and eating.
19. The geography of VR pioneers is concentrated around 10 countries.
VR enters the entertainment market primarily thanks to developers from the US, France, Germany, UK, Russia, China, Benelux, South Korea and Japan. It is in these countries that the most active competition on the VR market is now observed in the field of VR entertainment.
20. People work for people
In virtual reality parks, it is the operators and administrators who are key. And despite the fact that everything is trending towards zero-employee parks, the technology is not yet ready to completely replace the park's maintenance staff.
Moreover, VR is only 30% of the experience that guests get. The rest is the work of the staff and the environment.
Companies that support the idea of family entertainment and like to make families, children, and adults smile are leaders. They also differ radically from other market players. Further development of the industry will require more technical specialists and trained line personnel, as well as a move towards increased VR attraction reliability and lower operator/guest ratios.
Now the industry standard is 4. I think in 2020 we will reach 6-8 guests per operator. On the other hand, studios have learned how to produce VR content more efficiently. They do this by distributing the development process among armies of designers, freelancers, programmers and art modellers. This leaves only the production core on staff.
"The process of developing quality content in VR is costly," says Benjamin de Witt, director of VR Days. "This problem has existed for many years and still remains a challenge despite the development of software and devices.
"The number of specialists required to provide users with a truly in-depth VR experience is quite large. A large number of professionals must work on the project. This problem is especially true for VR projects, where it's necessary to look into the virtual location.
"Working out details requires a whole team with experience and skills both in development and design. Exhibitions show that the market has started to transform and big players have started to notice it. Recently I have visited seven major exhibitions and have personally observed this trend."
LBE VR entertainment market trends – what problems lie ahead?
When we look at LBE VR entertainment trends we can see that the industry continues to grow and the entertainment market is approaching a turning point. In 2019 we saw a lot of breakthrough changes that may not be so apparent to non-professional players. But the market is definitely changing and institutionalizing.
However, there are problems that still prevent the market from reaching its potential. In part three, we will explore these in detail.