Travelling the world and hanging out with A-list stars such as Rihanna, Will Smith, Jackie Chan and Hugh Jackman is all in a day's work for Titan the Ro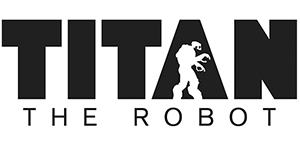 bot.
Demand for his services is at an all-time high and he sparks a social media and YouTube frenzy wherever he goes.
Blooloop caught up with Nik Fielding, Titan's creator and founder of UK-based Cyberstein Robots Ltd., to find out where his drive and inspiration came from.
It all began with RoboCop
"As a child, I was always slightly obsessed with anything to do with space and science fiction and one of my earliest childhood memories was watching the Apollo moon landings", says Fielding.
He loved the great science fiction films of the 70s and 80s such as Star Wars and Terminator. But, the film that really kick-started his love of robots was RoboCop. Anyone who has seen this film will remember the fearsome ED209.
"After seeing RoboCop, I became very interested in the design and making of movie props," explains Fielding. "Thinking I could do better, I actually made my own Robocop outfit and then, believe it or not, a life-sized model of ED209 with all moving joints."
(ED209 still stands proudly in the corner of Cyberstein's workshop.)
Fielding never fulfilled his dream to work for George Lucas. Instead, he became an engineer and ran a successful classic car restoration business, until he started to suffer allergies to paint fumes.
A new direction was needed and it was only then that Fielding's artistic flair and his engineering background came together in the design and building of Titan the Robot.
Titan the Robot, a synergy between art and engineering
There were a couple of predecessors to Titan, the most successful of which was Cyberstein (the robot). When a national newspaper printed a story about Fielding and Cyberstein, he received a phone call from PR guru, PY Gerbeau, who asked him to come and work at the Millennium Dome in 2000.
"It was an incredible year at the Millennium Dome, " remembers Fielding.
"As well as performing every day, I had decided it was time to take things to another level and I spent every spare minute designing what was to become Titan. I had no idea at the time it was going to take another three and a half years to compete…"
Titan the Robot eventually emerged onto the world stage in 2004. The first event he performed at was Glastonbury Music & Arts Festival.
"It was a totally life changing experience seeing Titan perform for the first time – my own completely unique design, built entirely by my own hands.
See also: Creating Ai-Da Robot, the world's first creative ultra-humanistic robot
"It was one of those eureka moments, when you suddenly see your whole future ahead of you and it all looks very exciting!" says Fielding.
"But, I could never have foreseen that in just a few years' time I would be getting flown out to Hollywood to work with Rihanna!"
Titan the Robot, the next generation
To the untrained eye, the Titan you see today may look very similar to the Titan from 2004. But, according to Fielding, they really are a world apart. In fact, the Titan from 2004 doesn't even exist anymore.
Cyberstein Robots has invested heavily in its future, ploughing a major share of the profits back into the company.
"We now have seven Titans and employ several staff who are the best in their field. We recently headhunted an electronic engineer who has helped re-engineer Titan from the ground up. I can only describe him as a genius."
In the summer of 2016, Cyberstein Robots moved into a brand new state-of-the-art business development with a new workshop and office facilities that will see the company well into the future. Since the move, Cyberstein has built two new 'next generation' robots and is currently half way through a programme upgrading all the other Titans to this new system.
"One of the biggest developments within our company was when we started working with a very well-known TV voiceover artist. He now voices all of Titan's dialogue. He has given Titan a character and a wisecracking wit that has taken our show to a whole new level."
Customisation
The combination of the new electronics system and working closely with the voiceover artist has made it much easier to customise Titan for clients.
"We can now produce scripts and bespoke dialogue for Titan. He can give seminar speeches, product demonstrations or promotional videos etc. In fact, the only thing that limits what we can do these days is the client's imagination."
Bespoke dialogue for Titan and the use of branding panels on the robot has led to a large increase in events within the corporate sector, from company seminars to trade shows as far afield at Vietnam. The fact that Titan's dialogue can be recorded in any language has also helped secure more events worldwide.
Titan the Robot, the social media sensation
An eight foot tall robot is clearly a gift for social media. Titan's appearances routinely create a storm on social media with photos and videos posted on Facebook, Instagram, YouTube etc. There are tens of thousands of videos featuring the robot on YouTube and untold millions on Facebook.
Cyberstein Robots has started working more closely with its clients to take advantage of this free advertising to publicise events and products, while building on Titan's social media presence at the same time.
"Titan has a huge following and can really help increase footfall and revenue at events, " says Fielding. "But, if we can also direct some of this interest to the clients' social media pages, it's an added bonus."
Cyberstein Robots – the future
Fielding remains a very driven person and there appears to be no let-up in his passion for new projects. He has been working on a new robot for the past five years which is rapidly moving towards completion.
At present, he remains somewhat tight-lipped about this new creation:
"I just don't want to say too much about him, apart from that he is very different from Titan and he will be here in 2017…."
Going forward, Cyberstein is looking to build on its presence on the worldwide stage in producing innovative and futuristic entertainment. The company already has a Titan based in the Middle East and is in discussions with other territories worldwide. A specialist crew flies out from the UK to operate the robot at each event.
"It doesn't matter how many videos you watch of online. There is still nothing that will prepare you for coming face-to-face with Titan in real life; eight foot tall, loud and in your face, " says Fielding. "It's an experience that people don't forget in a hurry.
"That's the USP, " he adds. "There's nothing out there that comes close to Titan."
All images Courtesy of Cyberstein Robots Ltd.