Media serving experts, 7thSense Design, have won Venue Project of the Year at the 2018 Install Awards for their work on the Christmas Spectacular at Radio City Music Hall in New York.
The Install Awards recognises excellence across the pro AV industry.
In an interview with Blooloop, Larry Sedwick , Senior Vice President of Production at the Madison Square Garden Company explains that keeping the much-loved show technologically up to date is important to its ongoing success: "We try and lead the way, rather than reacting to technological trends. We know that immersion is an up-and-coming experience, so we try and get ahead of that, and create this excitement."
7thSense Design worked on the upgraded technology system for the iconic Christmas show which stars the Radio City Rockettes.
The multi-award-winning specialist software and hardware company has expertise in high-end media serving and projection onto any surface.  The project team delivered a full system technology upgrade to a tight schedule.
The new video system included ground-breaking 12G-SDI fibre content delivery to an 8K x 4K LED wall and 14K x 14K projection mapping spanning a ceiling area of 34,000 sq ft using 36 Christie Boxer 4K30 projectors, running as 18 double-stacks.
Thirty-four 7thSense Infinity Media Servers output two channels each of single mode fibre 12G-SDI at 4096 x 2160 60fps 10-bit 4:2:2 resolution, into an Evertz EQX 12G fibre router and EMX multi-viewer system, offering A-B source redundancy with clean switching and monitoring before heading out to facility fibre distribution.
7thSense developed and implemented new technologies and software features to enable the media server system to deliver 11.2 billion pixels per second to the projection system alone.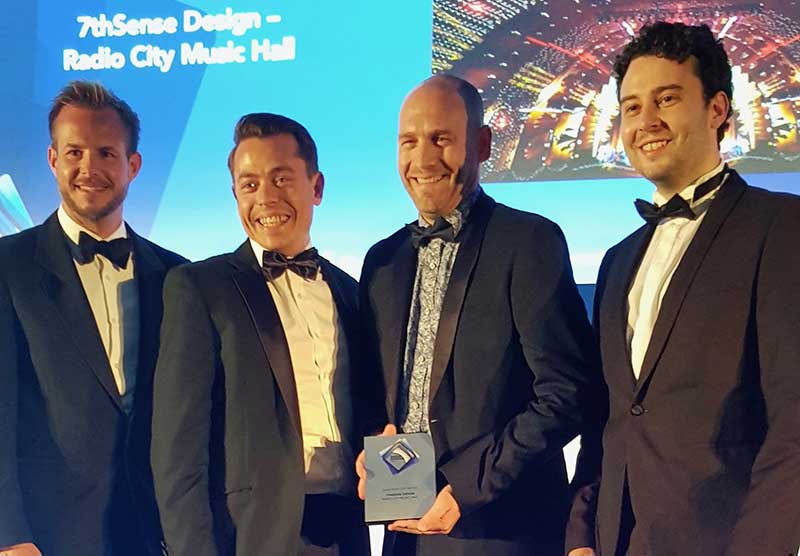 Commenting on the announcement, Matt Barton, 7thSense managing director said, "We are absolutely thrilled to have had this project recognised with such a prestigious accolade.  It's a real testament to all those who were involved who we would like to thank for working with us and collaborating on such an innovative technology experience."
Led by Madison Square Garden Company, 7thSense worked closely with project partners Batwin + Robin Productions, Christie, DWP Live, Obscura Digital (now part of The Madison Square Garden Company), Pro Sound & Video, and VER.
7thSense Design was also named as a key partner in another award winning project. TEECOM, was recognised with the award for Visitor Attraction of the Year for the 2017 upgrade of the California Academy of Sciences in Golden Gate Park, San Francisco. 7thSense worked on a new media serving solution for the digital Morrison Planetarium.
Header image courtesy of MSG.