The Disney Wish will feature an augmented reality (AR) experience called Disney Uncharted Adventure, which turns smart devices into enchanted spyglasses.
Disney Uncharted Adventure is a first-of-its-kind experience that features AR and physical effects to immerse Disney Wish guests in Disney storytelling.
Once visitors have made a reservation for the Disney Wish, they will be able to unlock Disney Uncharted Adventure on the Play Disney Parks app.
The app turns any smart device into an enchanted spyglass, a tool that enables guests to solve puzzles, conquer quests and 'save the day' on the Disney Wish.
"While guests will need a mobile device to play, this isn't a traditional mobile gaming experience," said Davey Feder, software product manager at Walt Disney Imagineering.
"This is a heads-up, active experience that can be played with family and friends," Feder added. "The magic will happen all around the ship.
"The spyglass is not where the adventure takes place – it's just the tool that brings the ship to life, opening portals into new worlds and allowing guests to interact with them."
Even before the ship sets sail, Minnie and Mickey Mouse will help visitors prepare for their journey. Once on board, guests can use their spyglass to reveal views of the stars above, with constellations appearing as Disney characters.
Disney Wish sets sail in summer 2022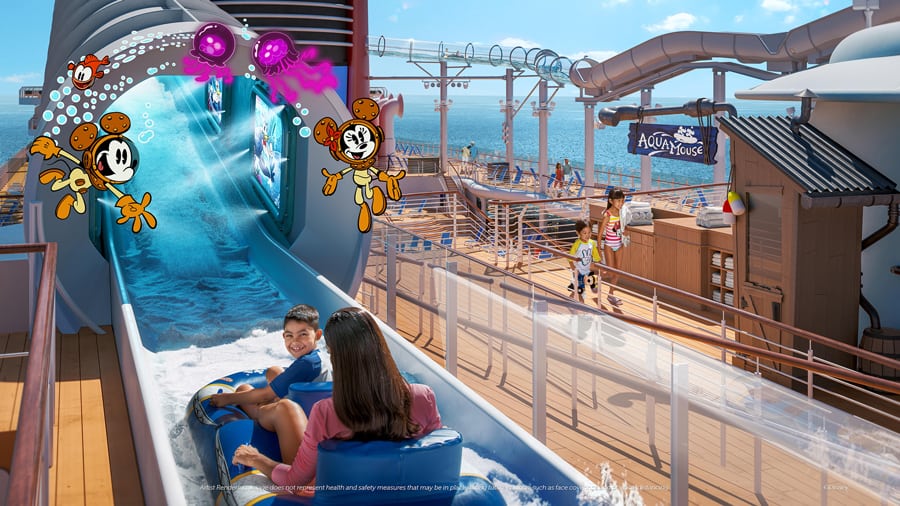 Guests will decide where they go next, from Motunui and New Orleans to Never Land. Quests will take visitors on a trip throughout the Disney Wish as they are prompted to find artwork, signs and props that magically transform.
Highlights include partnering with Moana to navigate canoes beyond the reef, helping Tiana cook the perfect pot of gumbo, summoning Tinker Bell to provide pixie dust and diving into the East Australian Current (EAC) with Nemo.
Disney Uncharted Adventure culminates in a live entertainment experience at one of the ship's entertainment venues, with visitors joining forces with other players to battle a Disney villain.
"We are infusing the Disney Wish with innovative technology, like augmented reality and physical effects, to create a hidden layer of magic that can only be unlocked with Disney Uncharted Adventure," Feder said.
AR and physical effects on the Disney Wish
"Guests might admire a beautiful painting today without realizing that, hiding right beneath the surface, there's a hoard of mischievous Kakamora from the world of Moana just waiting to escape and wreak havoc on the ship.
"A digital menu board might showcase what's for lunch in the afternoon, but later it will host a cooking lesson in Tiana's own kitchen."
The Disney Wish will sail its maiden voyage on June 9, 2022.
Images: Disney