The Multimedia Fountain Roshen in Vinnytsia earned great reviews on the travel site over the past year.
Emotion Media Factory has announced that it has won a TripAdvisor Certificate of Excellence for its Multimedia Fountain Roshen, sited in Vinnytsia, Ukraine.
The award celebrates companies that have earned great traveller reviews on the independent review website.
Multimedia Fountain Roshen (also known as Vinnytsia Fountain "Roshen") is the largest floating fountain in Europe – and the only one in Ukraine.  It is located on the Southern Buh river near Festivalny Isle.  The attraction constantly ranks first on TripAdvisor, out of 46 attractions in the Ukrainian city.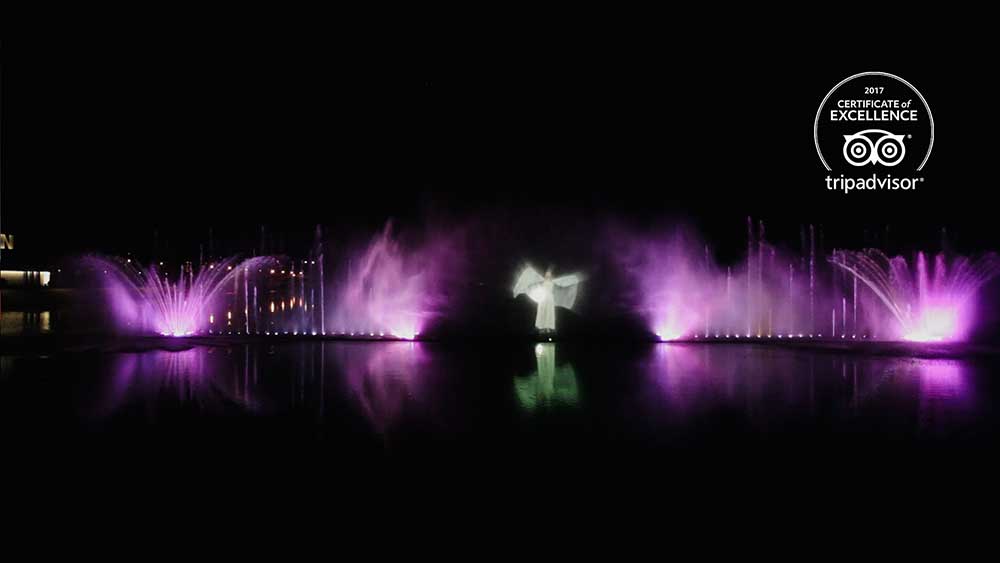 Ralph Douw, CEO of Emotion Media Factory, designed and developed the project which cost 37 million UAH (around 1.5 million Euros).   28,000 cubic metres of the riverbed had to be cleared in order to install the fountain equipment.  The fountain uses running river water and has a 'hibernating' technology which allows it to sink under the ice of the Southern Buh during the winter.
"TripAdvisor is excited to announce the recipients of the 2017 Certificate of Excellence," says Heather Leisman, Vice President of Industry Marketing for TripAdvisor®.  She explains that the certificates celebrate tourist businesses that have consistently received strong ratings and praise from reviewers.
"This recognition allows us to publicly honour businesses that are actively engaging with customers and using feedback to help travellers identify and confidently book the perfect trip."
The Certificate of Excellence takes into account the quality and quantity of reviews submitted over a 12-month period.  Businesses have to maintain an overall TripAdvisor rating of at least four out of five to qualify.  They also need to have garnered a minimum number of reviews.  Candidates need to have been listed on TripAdvisor for at least 12 months.
Emotion Media Factory is famed worldwide for its artistic, top-end multi-media entertainment. It is responsible for the dancing fountains in Thailand's Chiang Mai Night Safari, South Korea's Kangwon Land and the multimedia shows it orchestrates for AIDA Cruises.
The company is based in Germany.