Merlin Entertainments has rolled out the Attractions.io mobile platform across its global network of Legoland parks. Visitors to six resorts on three continents can now enjoy a world-class app experience, helping them make the most out of their day.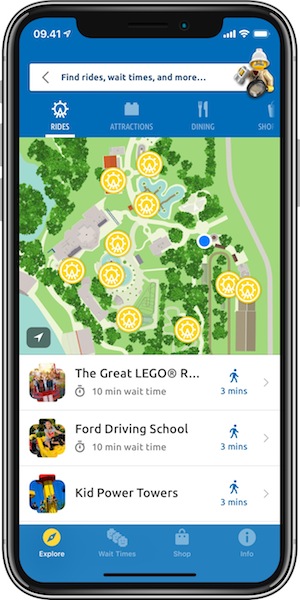 The apps include an interactive map, live wait times and information on all of each park's rides and attractions. The rollout, which began in June this year, has seen new apps launched for:
Legoland Billund Resort
Legoland Deutschland Resort
Legoland California Resort
Legoland Japan Resort
The apps are fully localised with content available in languages including English, Japanese, German and Danish.
The Attractions.io platform has already improved visitor satisfaction scores, increased secondary spend and delivered unique insights into guest behaviour at a number of Merlin venues. These include Alton Towers Resort, Chessington World of Adventures and Thorpe Park.
"We are delighted with the Attractions.io platform," says Kieran Harvey, global digital director of Merlin Entertainments. "It allows us to be true to the LEGOLAND brand, while leveraging the rich set of features the platform has to offer. The mobile app is a critical part of our digital guest journey strategy, and the delivery across the LEGOLAND estate has been exemplary. We can't wait to take things even further next year!"
A mobile app with multiple features
Here are some of the features operators can leverage from the Attractions.io platform:
A digital park map, so guests can see where they are, what's around them and easily navigate to any ride, attraction or facility.
Intelligent targeting of messages and promotions. Sending highly relevant content to visitors based on their location, time and demographics.
Directly selling experiences, add-on services and food & beverage from within the app. Apple Pay and Google Pay integration is available for frictionless payments.
Daily visitor feedback. Tracking guest satisfaction levels and highlighting the top areas to improve on.
Easy content and campaign management, controlled through an intuitive web-based interface.
"A mobile app is the single most effective way to influence guests, particularly once they're on-site with you," says Mark Locker, CEO of UK-based Attractions.io. "We're thrilled to be working with Merlin Entertainments to delight the millions of guests who visit their attractions each year."