Mad Systems, the award-winning audiovisual and interactive system designer and integrator, is developing touchless technology to help museums, visitor centres, theme parks and more reopen safely.
Mad Systems is pleased to announce that it has been developing touchless technology as a further extension of its QuickSilver AV++ system. This is a complete, advanced and well-established AV system with several successful installations. With the addition of this technology, it will help attractions develop new types of installations for a post-peak-COVID-19 world.
One of the most recent installations is at the first visitor centre where the only printed graphics is the wallpaper – with everything else covered by pixels and driven by QuickSilver.
Touchless technology
Mad Systems has identified a need for contact-less ways to activate exhibits. This has resulted in a new subsection of its QuickSilver product line: the QS7200 Touchless Technology series. On top of that, it has also expanded the user interface, previously only available to staff, within its TeaParty show controller. This allows visitors to use QR codes and other options to control and activate exhibits by using their own devices.
Contactless and touch-free systems will be one of the ways that attractions can make sure that visitors feel comfortable in their spaces, alongside other safety measures such as physical distancing and extra cleaning routines.
Some of the touchless options for controls that are now part of the QuickSilver system are as follows:
Touchscreens
The company has four different touchless ways of dealing with touchscreens. None of them affect the basic use of the touchscreen and operators can either convert an ordinary monitor to be controlled or add one of these options to the touchscreen's functionality.
If someone doesn't want to touch a touchscreen, there are several alternative ways to control interactives.
The QuickSilver touchless touchscreen solution can be added to a touchscreen interactive, or it can be used to convert a monitor to make it interactive. Users simply stand in front of the screen, look at it, and their facial movement will be enough to guide the cursor or click buttons.
If using infrared surrounds in front of the touchscreen, the touch overlay can be moved away from the monitor or monitors.
Images of the various 'buttons' on the screen can be activated on a graphic panel. Users reach out to the appropriate button to activate it. A QuickSilver linear sensor allows clients to select different ranges to activate different 'buttons'. This image shows a touchscreen that has been converted to touchless technology with 8 videos controlled by one sensor: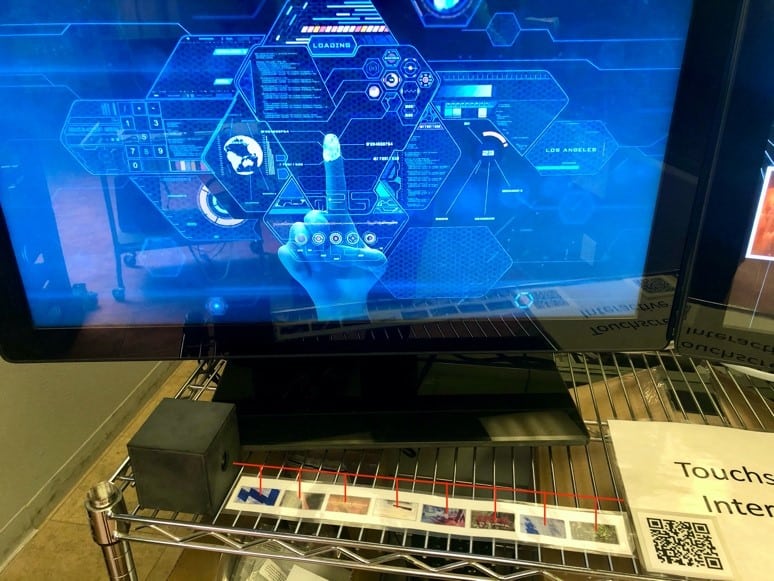 The final alternative is Mad Systems' Bring-Your-Own-Device scenario, which can be used with the QuickSilver system. Users activate the camera on their phone or another smart device tablet, scan the QR code mounted with the interactive, and the control screen for the interactive comes up on the device.
Buttons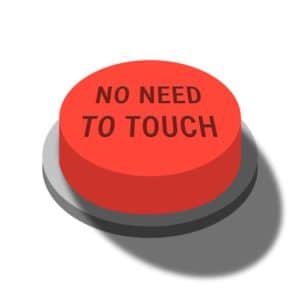 The virus can live on any button made out of plastic or stainless for up to 72 hours, and it is difficult to keep a button safe and clean. Instead, attractions can improve visitor confidence by using Mad Systems' 'touchless buttons'.
As part of the system settings, operators can set the minimum and maximum distance from the surface that the 'button' is meant to be activated at. When the button is activated, it is also possible to generate a satisfying click or other audible feedback without the need for touch.
Here, the BYOD option would also work. On-screen buttons would allow visitors to activate whichever function they want.
Actuators
This applies to interactives where there is a handle or other control to activate a function or an exhibit.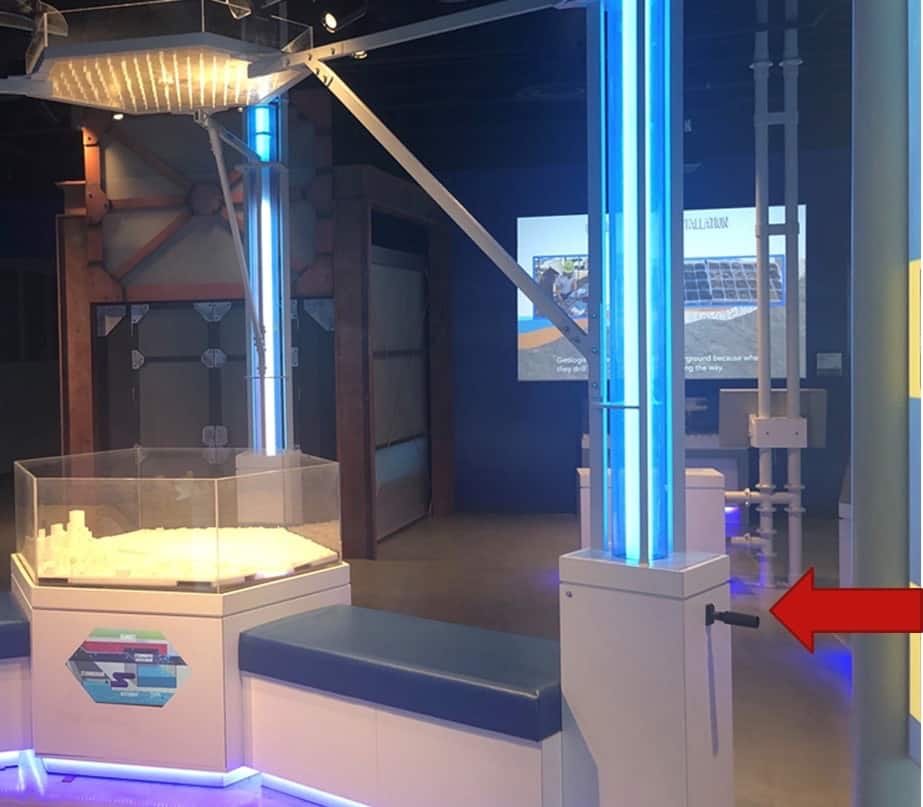 Above is an image of a pre-COVID installation of a water cycle exhibit. Kids cause water to be pushed up in the vertical pipes by pressing the black handle down. By adding a sensor a couple of inches above the handle, and setting the range to match, roughly between 1 inch and 6 inches, a virtual lever can be created.
When activated, this virtual lever will then cause water to be pushed up the tubes to create rainfall over the city – exactly like the physical handle, which would also continue to function.
More complex usage is also possible. For example, a display where users select one of three lights, and could then control the red, green and blue levels by using three sensors, each with a range from 1 inch to 12 inches. This would create a three-fixture, full-colour mixing experience with no contact required.
Frame viewer
A similar technique is possible for a frame viewer. Usually, there would be a dial to scroll through the video – forward or reverse, fast or slow, as shown in the below image. However, those who would prefer a no-contact way of using the exhibit could also use their hand to move around to do the same thing instead of using the dial.
QuickSilver has been extended with these options so that it is now possible to use any combination of technology with touchless options. This creates exhibits that allow visitors to be comfortable. Mad Systems is also working on additional sensor technology to take this even further. With all of these options, operators can create and install a safe and hygienic system
The latest QuickSilver product list headings show that the company's most recent AV++ developments have resulted in a complete solution that offers the possibility of low cost, wireless, powerful long-life implementations. The latest contactless control additions provide attractions with a range of post-peak COVID-19 solutions that will encourage visitors to return by creating a safe environment while improving the quality of their experience.
Mad Systems also demonstrated contactless solutions for touchscreen-type applications in its latest webinar, where users could see some of the above functions in action.