NetServ, a leading provider of customer feedback analysis, has announced that it will be implementing Tatvam Analytics to all Herschend Family Entertainment attractions.
Tatvam Analytics by Netserv is an innovative customer feedback analysis product. It uses advanced machine learning and AI driven technology to help attractions make sense of their guest feedback. Thanks to this system, venues can view all the data in a single place, and enjoy in-depth graphs and visualisations. Being able to see all the relevant topics at a glance helps businesses to get a concise overview of their customers' experience. The Tatvam Analytics service allows its users to continuously measure and improve experiences for their guests.
NetServ forged its relationship with Herschend Family Entertainment (HFE) in 2017 by providing analytics to Dollywood theme park. One of the company's flagship locations, Dollywood is a premier family destination located in the Smoky Mountains of Tennessee and operated in partnership with entertainment icon Dolly Parton. Herschend enjoyed significant improvements as a result of the analytics system and made use of insights around customer experience. Thanks to this success, HFE has decided to roll the system out to all of its properties, in order to continuously optimise the guest experience at all of its attractions. This is a clear demonstration of the value that Tatvam can provide in the attractions sector.
Personalised and prompt service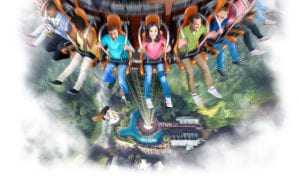 "At Herschend Family Entertainment, we have subscribed to Tatvam Analytics for several years to review and analyze guest comments for our largest property," said Fatima Mehdikarimi, Director of Insights and Analytics at Herschend Family Entertainment Corporation. "The Sentiment Analysis feature was the primary selling point, but after using it for a few years, we now also have trend data. Both the Sentiment Analysis and trend data allowed our property leadership to see and address guest concerns more quickly and efficiently. Given this success, we expanded our service with Tatvam to include all of our properties. While we knew what to expect with the Tatvam Analytics service, the personalized and prompt service we have received during our transition has exceeded our expectations. The team is very proactive and responsive to our needs."
"We are extremely excited to have implemented Tatvam for all of the attraction properties at Herschend Family Entertainment," added Tim Canada, VP of Sales and Marketing at Netserv Applications. "This marks a major milestone for our product and for our company in that we have been able to demonstrate clear value with a major attraction customer. As a result, we are now proud to say that all the individual properties at [HFE] will gain immediate, deep, and consistent insights into  the sentiment of their guests, and their overall guest experience, and now the corporate entity will be able to see trends across the entire company, leading to more satisfied guests across the country at all Herschend properties"