To better understand the impact of the virus on the sector, we look at how it recovered from past crises, from terrorism to natural disasters and the financial crisis.
By Yael Coifman, Michael Collins, James Kennard, Julian Broady and Sam Davey of Leisure Development Partners (LDP).
As part of our attempt to grapple with the potential economic effects of COVID-19, our team has researched and analysed past crises and their consequences for the attractions industry. Although the scale and scope of the current crisis are unprecedented, this could shed some light on the likely pace of recovery.
COVID-19: a global challenge
The spread of COVID-19 and subsequent efforts to contain the virus are disrupting all economies and industries. The visitor attractions industry faces unprecedented challenges due to COVID-19. With closures and uncertainty around reopening dates worldwide, parks and attractions are actively implementing mitigation strategies.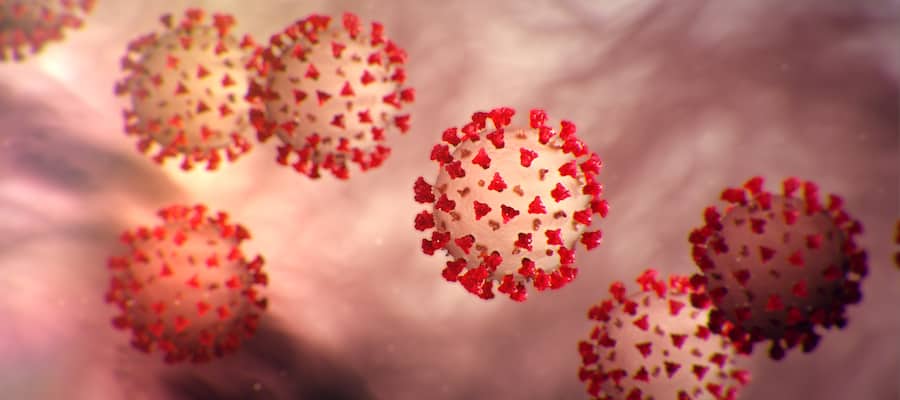 Yet we remain hopeful regarding recovery. The visitor attractions industry has proven to be resilient and flexible to past extreme challenges. The economic impacts of the coronavirus pandemic are expected to be far-reaching and new operational approaches might need to be explored.
However, with the right choices and preparation, the leisure and attractions sector should thrive once again and reassert its growth trajectory.
The visitor attractions industry has proven to be resilient and flexible to past extreme challenges
COVID-19 and other crises: how the attractions industry is affected
It is important from the outset that we should concede that a pandemic of this scale, which has forced such severe mitigation responses by governments across the world, is unprecedented in recent history.
As such we have explored a range of crises. From the political and security crises of the Arab Spring to the 2015 Paris Attacks and natural disasters such as the Boxing Day Tsunami and Hurricane Katrina. We also looked at the 2007/08 financial crash; and finally, the SARS outbreak in 2002.
We first review the broad impact on tourism of crises, considering tourism before, during and after significant events. For isolated crises, as shown in the following chart, and with no other subsequent disruptions, our analysis finds that it tends to take two to three years for tourists to regain confidence in the affected regions and for arrivals to return to pre-crisis levels.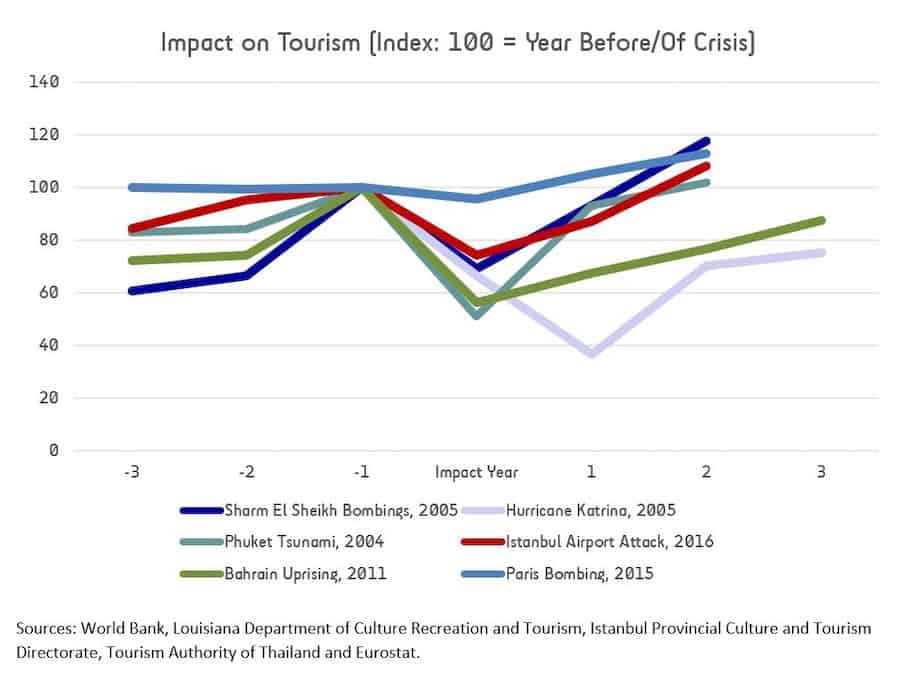 The graph shows the impact on tourism of six crises including terrorist incidents, political unrest and natural disasters. Whilst these events are not directly comparable with the COVID-19 pandemic, there is certainly value in understanding the path to recovery for the attractions industry.
The effect of terrorism on tourism
Terrorism and political unrest can instigate caution or a sense of fear relating to a place. Sometimes outright travel bans or government travel recommendations exacerbate this.
Often amplified by the media, this can drive travellers to similar but 'safer' destinations. Our research illustrates that the impact diminishes relatively quickly if no further terrorist incidents occur, or the political landscape stabilises.
Tourist numbers bounced back strongly and surpassed pre-crisis levels within two to three years
Where unrest continues, for example during the Arab Spring in Bahrain and Egypt, the impacts may be felt for longer. Isolated terrorist incidents such as the Sharm El Sheik bombings in 2005 and the airport attacks in Istanbul triggered sharp falls in visitation as shown in the previous graph.
Tourism to Istanbul declined by 26 per cent the year of the attack, whilst visitation to Sharm El Sheik fell 31 per cent. Encouragingly, tourist numbers bounced back strongly and surpassed pre-crisis levels within two to three years, suggesting concerns were quickly addressed.
Resident market bias
While tourism arrivals are a useful start point in our analysis, we focus here on the impact on the attractions industry. Interestingly, the data suggests that in each of our three examples above, attendance dropped at a sharper rate than the overall tourism to the area.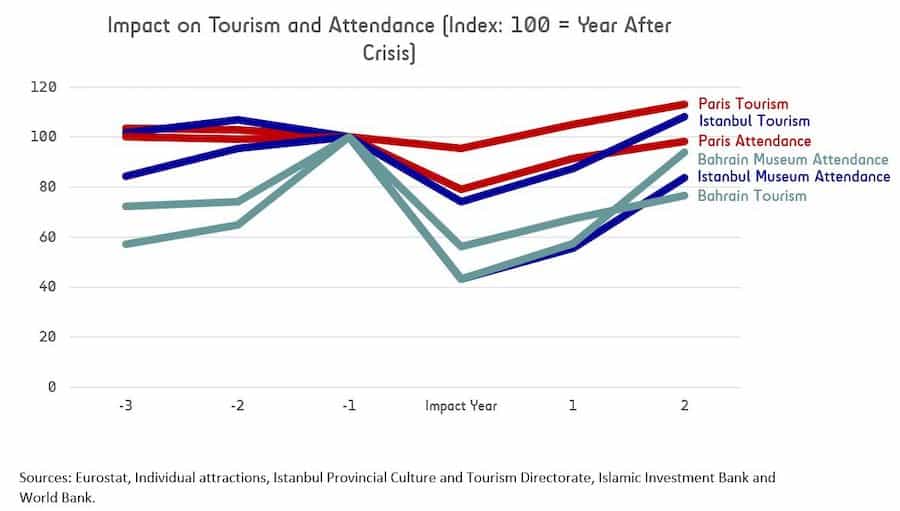 Attendance at a selection of attractions in Paris declined by an average of 20.7 per cent following the 2015 attacks. Comparatively, tourism fell by an average of just 4.4 per cent.
This stark contrast may indicate that not only were tourists discouraged from visiting the city and its attractions, but demand at the attractions from residents also fell significantly. Most attractions have a resident market bias in their visitor mix. It is interesting to note this shift in resident market behaviour which is potentially more dramatic than with tourists.
Restrictions on travel
The fundamental issue with this pandemic is the strict directive of governments restricting travel both within and between countries and shutting all 'non-essential' businesses as well as restricting mass gatherings. These COVID-19 related restrictions, while understandable and even inevitable given the science of epidemiology, affect the attractions industry profoundly.
Once restrictions lift, there will likely still be residual concern relating to both travel and congregating in large groups. Similar to terrorist incidents, we may see that concerns diminish relatively quickly once global cases start to fall, releasing the pent-up international tourism and attractions demand.
Natural disasters, for instance, Hurricane Katrina, appear to produce much larger, deeper shocks with significantly longer recovery periods. The more 'sudden' nature of these shocks is likely exacerbated by the critical damage to infrastructure and amenities, including attractions.
This type of shock is less comparable to COVID-19, which – despite bringing the world to a standstill – has not caused any physical or structural damage to infrastructure.
Recovery from natural disasters
The following graph shows the contrast in recovery times for terrorism and political crises, in comparison with natural disasters. On average, the former causes a fall in tourism of 26 per cent whilst the latter tend to suffer greater shocks, registering an average 41 per cent decline.
A slower road to recovery also occurs for natural disasters. For example, following the Phuket tsunami, it took over three years to outstrip pre-crisis tourist levels. It took significantly longer in the aftermath of Hurricane Katrina.
Pandemic response
Arguably the closest precedent we have for COVID-19 was the SARS pandemic of 2002 to 2004. There were cases in several countries across the world. However, this outbreak was more localised than the current pandemic. The virus spread through 26 countries and was mostly concentrated in China and South East Asia. Some cases occurred in the west, with Canada being the worst affected.
Like the government responses to coronavirus, the worst affected areas responded by closing schools, universities, public spaces and entertainment venues. The WHO also issued travel restrictions to combat the infection.
Our analysis found very encouraging indicators that might inform how the attractions industry recovery after COVID-19 may play-out. Tourism bounced back at an exceptional rate in 2004. Most countries essentially returned to their growth paths or even exceeded them, apart from Canada.
Unlike terrorism, the fear-factor went almost instantaneously once the WHO gave the all-clear and confidence came back quickly. There were no infrastructure issues either to dampen tourist demand to these countries, as was seen with the natural disasters reviewed.
The speed of the recovery suggests that travel is only postponed during the crisis and that pent-up demand builds up. Travel, therefore, returns to pre-event levels quite rapidly. Indeed, many people are experiencing the frustration of being unable to travel, to visit favourite attractions and make unrestricted leisure choices.
This was also the case with SARS. But what may differ is the threat of a second wave of infection. This will potentially impact willingness to travel, socialise and make visits.
COVID-19 and the attractions industry – preparing for recession
However, we need to recognise that the scale of damage COVID-19 will ultimately have on the economy and consumer incomes will likely be considerably higher, restricting disposable income.
Many governments are taking bold steps to set their economies up for the best possible reopening. But a recession appears inevitable and depression certainly possible in some economies.
Theme parks and commercial attractions weathered the recessions better than most businesses
In 2010, LDP published an article headlined "Don't wait for the green shoots, propagate them yourself!", encouraging the attractions industry to be bold, take stock and re-evaluate during the financial crisis. We noted that "…according to our research, throughout the previous recessions of the 70s, 80s and 90s, theme parks and commercial attractions weathered the recessions better than most businesses."
With hindsight on our side, we can extend this statement to include the global financial crisis in 2007/2008 and the consequent recession. We believe our confidence was justified.
Reactions to the financial crisis
As illustrated in the next chart, in both the US and Europe, attendance at the top 20 theme parks in each geographical grouping fell to a lesser degree than the overall drop in real GDP throughout the years after the financial crisis and bounced back to pre-crisis levels at a faster rate.
Whilst theme parks were resilient, museums were flourishing, with solid attendance growth during the crisis. Often located much closer to densely populated areas and with cheaper or even free admission, museums performed strongly.
Evidently, even when faced with lower spending and global economic hardship, attractions stood strong and attendance remained relatively stable, whilst other sectors suffered badly.
This resilience is due in part to the staycation effect. People spend money closer to home and delay more expensive international trips. The economies that families make in their spending often have only a modest impact on leisure spending. Other industries such as car manufacturing and luxury goods are hit harder.
Often, regional and local parks fare better. Consumers may choose to delay more expensive trips to destination parks but do not want to sacrifice the fun elements of life altogether.
Predicting the impact of COVID-19 on the attractions industry
The future is uncertain, with wildly varying predictions of the potential economic impact of COVID-19. But a recession is a near certainty.
Incomes will fall for many, some firms may go out of business and households will almost certainly have lower budgets. Some attractions might choose to, or have to close for the season and sadly, a small number may close permanently.
We expect the attractions industry overall to be resilient and ultimately to come out stronger on the other side
However, we expect the attractions industry overall to be resilient and ultimately to come out stronger on the other side. Much depends on the timing and nature of the lifting of government restrictions. But they will lift, and consumers will return.
Coupled with the staycation effect, the period between attractions reopening and international travel returning to its pre-crisis level could see a domestic boom for regional and local parks.
With some level of concern surrounding COVID-19 remaining, consumers may choose to minimise risk by staying within their own countries. But they are likely to have a strong appetite to get out and about following the lockdown period.
Restoring confidence in the attractions industry after COVID-19
Parks focused on resident visitors may benefit most. Consumers may choose to spend closer to home, before building confidence and budgets for lengthier trips abroad.
When consumer spending does increase and the desire to experience all of our favourite activities returns, attractions must be ready. A level of concern and nervousness might remain amongst consumers. And there might be a new definition of what it means to run attractions in a 'safe' manner. Operations should begin planning for this.
Visitor attractions weather storms better than most
Instilling confidence in visitors will be key to the pace of recovery. Using this downtime wisely, taking stock and focusing on the customer is vital to capitalise on this opportunity. Temporary changes in consumer behaviour are likely. Household budgets will tighten and visitors will need to regain confidence, in order to set aside social-distancing behaviours. Attractions must be ready to adapt to the post-pandemic world.
Many attractions operators are facing challenges they have never faced before. Gates are closed, staff are furloughed and the path to reopening is not yet clear for all. What is clear to us is that visitor attractions weather storms better than most. Your visitors want and need to spend money with you.
Gates will reopen. While the bounce back to previous levels may take a couple of years, it will start immediately and with gusto. But whilst gates are closed, now is the time to strategize. Attractions must plan and prepare for their reopening and the inevitable demand that will follow.
For more detail on some of the crises we reviewed, see some more focused case studies below:
Case study 1: Egypt – political and security cases
Egypt has suffered multiple political and security crises. Below we display Egypt's international tourist levels against GDP per capita with the challenges mapped which could be amongst potential reasons for falls in tourism.
International tourism appears to be a key indicator of economic performance.
As at 2018, tourism had not recovered back to its peak in 2010 of over 14m tourists.
The biggest drops in foreign visitors occurred in 2011 and 2016.
National crises such as the Egyptian Revolution in 2011 seemingly had much larger effects on national tourist levels than localised crises such as the Sharm El Sheik Bombings (2005).
Case study 2: Boxing Day Tsunami, Phuket, Thailand
The December 2004 tsunami killed around 230,000 people across 14 countries. Phuket was badly hit with around 250 deaths and a rapid reconstruction program followed the disaster.
Phuket's international tourism dropped by 63 per cent in 2005.
International tourism jumped back quickly
By 2010 it exceeded pre-crisis levels by 25 per cent.
Domestic tourism dropped by a smaller rate and recovered within a year.
International tourist's average daily spend recovered quickly as luxury hotels were the first to be rebuilt.
Case study 3: SARS outbreak
Severe Acute Respiratory Syndrome (SARS) resulted in around 8,000 known cases and killed close to 800 people, spreading across 26 countries, predominately in Asia.
The worst affected areas responded by closing schools, universities, public spaces and entertainment venues.
The WHO issued travel restrictions to combat the infection.
The outbreak hit tourism in 2003. Singapore, Canada and China hit hardest.
Rapid recovery, international tourism returning to its growth path in 2004.
The size of the fall and recovery was not dependent on the magnitude of the outbreak.
Case study 4: the 2008 financial crisis
Risky lending by banks led to many people defaulting on loans which amongst other factors developed a spiralling global recession.
US international tourism fell by 5.5 per cent in 2009 but recovery was seen within two years.
EU international tourism fell by 4.5 per cent in 2010 but surpassed pre-crisis levels in 2011.
US parks attendance grew by an annual average of 2.2 per cent after the crisis.
Europe faced further problems with the eurozone crisis and a slower attendance growth of 0.6 per cent.
Museums fared well during the crisis – a small drop in visitation in 2008 across Europe and no significant attendance drop in the US, before growing strongly in both markets