Here are some of the Star Wars: Galaxy's Edge interactive experiences that visitors can look forward to enjoying.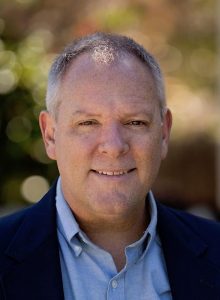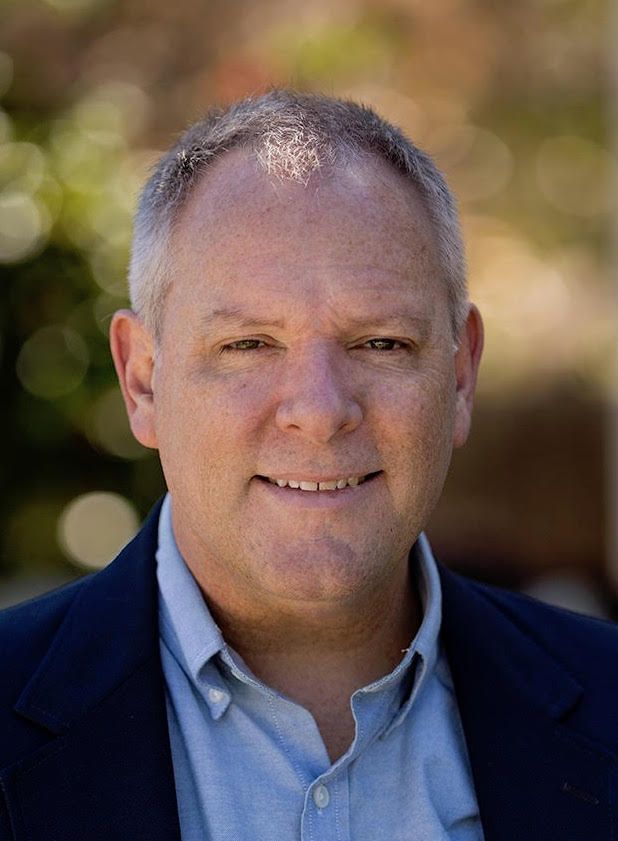 Fail in your mission aboard the Millennium Falcon during one of the Star Wars: Galaxy's Edge interactive experiences and a bounty hunter may tap you on the shoulder in the local cantina looking for the galactic credits you owe a space pirate for the damage you did to the fastest hunk of junk in the galaxy.
Walt Disney Imagineering promises visitors will encounter a host of interactive experiences with rebel spies, alien creatures, astromech droids, lightsaber smiths, black market shopkeepers, space pirates and bounty hunters in Galaxy's Edge. The new 14-acre themed lands coming to Disneyland and Disney's Hollywood Studios will be set in the Black Spire Outpost village on the Star Wars planet of Batuu.
More character interaction throughout
Galaxy's Edge visitors who opt in to the immersive experiences can have "persistent interaction" with characters and attractions throughout the land, according to Bob Chapek, chairman of Disney parks and experiences.
"Not only will we be able to remember that and then interact with the guests accordingly, but over the course of several visits we'll remember what they did the previous visit," Chapek said.
See also: What to expect when Galaxy's Edge opens at Disneyland and Disney World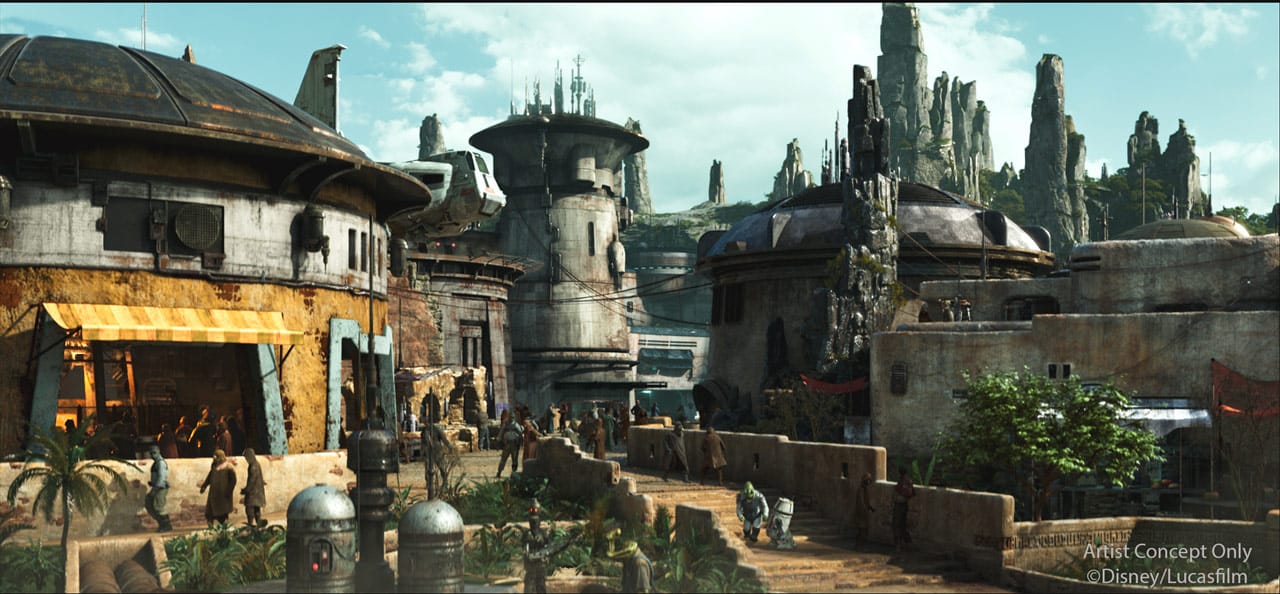 Smugglers, scoundrels, rogue adventurers feature in Galaxy's Edge interactive experiences
The challenge for Imagineering and Lucasfilm was to create a new place in the Star Wars universe filled with interesting characters that feel authentic to the space opera's many films, books, television shows and video games.
"Who lives here?" asked Imagineering executive creative director Wendy Anderson. "Who do you get to interact with?"
The answer: A mix of smugglers, scoundrels, rogue adventurers and others who prefer to stay out of the spotlight.
"I like to think of them as all the interesting people," said Imagineering portfolio creative executive Scott Trowbridge. "And a great place for us to start our Star Wars story."
See also: Dining in a galaxy far, far away – Star Wars: Galaxy's Edge food and drink
Backstory adds to the immersive experience
Visitors will interact with Star War characters who live and work in Black Spire Outpost. This land has a rich backstory. In some cases, the characters will be audio-animatronic figures like space pirate Hondo Ohnaka or black market shopkeeper Dok-Ondar.  These will have limited interaction with visitors. However, walk-around characters like rebel spy Vi Moradi or a bounty hunter named Harko will directly interact with visitors one on one.
The goal is to create a fully immersive experience that feels like you've stepped into a "Star Wars" movie.
"Oh my gosh, I am in Star Wars," said Anderson, describing the experience of walking into Galaxy's Edge for the first time. "Not, I'm viewing it. Not, I'm seeing it…I just stepped in."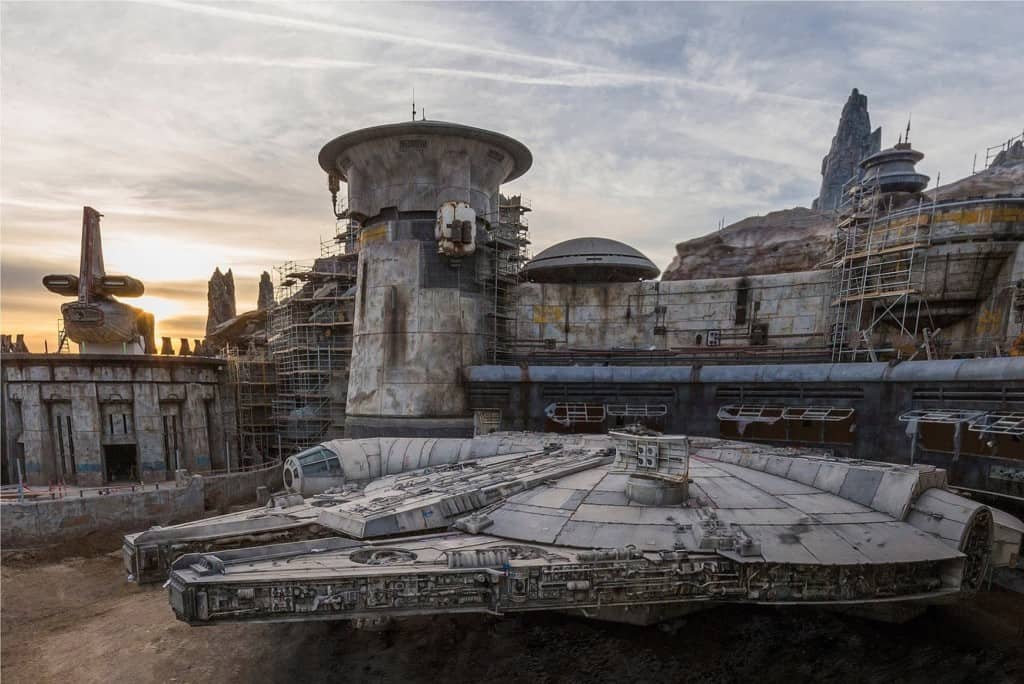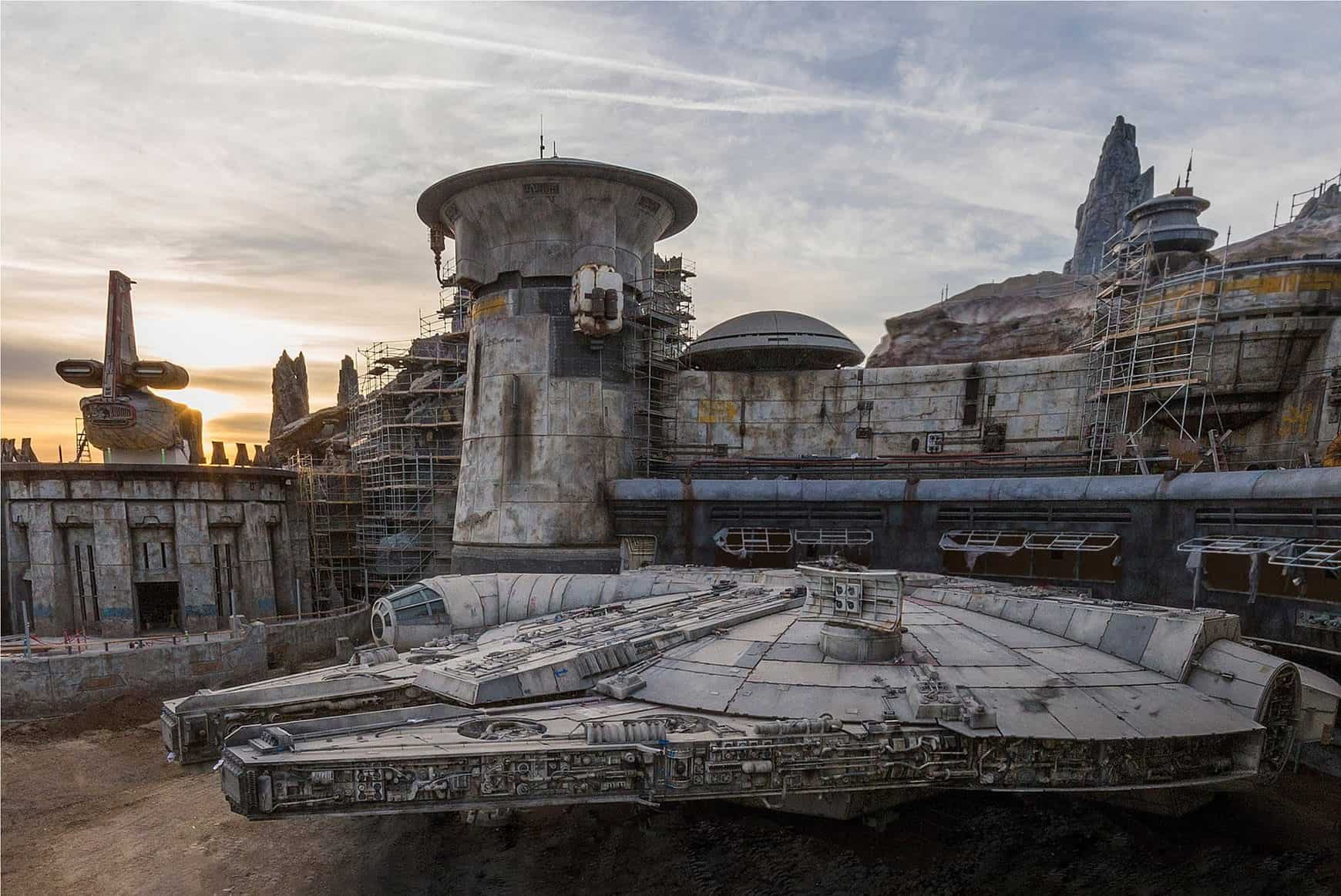 Be the hero of your own story
The objective is simple. To make every visitor feel like the hero of their own Star Wars story in an authentic and believable remote corner of the galaxy.
"Seeing a little 3-year-old interact with an alien or a creature, seeing in their eyes that they believe it's real," said Imagineering managing story editor Margaret Kerrison. "As an Imagineer, I want to see that in their eyes and their faces. That they believe this is a truly authentic Star Wars place."
The village of Black Spire Outpost will become a character as well in the story being told in Galaxy's Edge.
"When we build these environments, we build them with an eye towards what the narrative experience of the space wants to be," Trowbridge said. "That idea of exploration and discovery is built into them."
See also: The Rise of the Resistance attraction at Galaxy's Edge.
Personal interactive experiences
Gone are the traditional queues of theme park visitors waiting for their meet-and-greet souvenir photo with a Disney character. Instead, visitors will engage in an interactive experience with a Star Wars character tied to their own personal hero story.
"To the extent that we can, we're avoiding the trope of the meet-and-greet and really leaning towards engaging with characters in a way that makes sense for the story you decided you want to have," Trowbridge said.
Visitors might run into Vi the rebel spy near a full-size X-wing fighter docked in a hidden Resistance base camp just outside of the Black Spire village.
"If we were to see a Resistance spy, they might come up to us and say, 'Will you help me? I have a friend I need to get to his ship. I need help making sure the First Order doesn't know about it,'" Trowbridge said.
Or perhaps visitors might see Chewbacca along the rooftop of Ohnaka Transport Solutions, overlooking the docked Millennium Falcon.
"Maybe this friend is a giant, 8-foot-tall furry creature," Trowbridge said. "It is more about engagement with characters and doing the things those characters would do versus a more static meet-and-greet experience."
See also: Star Wars: Galaxy's Edge debut could bring 200,000 people and 10-hour lines to Disneyland
Galaxy's Edge interactive experiences include flying the Millenium Falcon
Crash the Millennium Falcon into one of the many spires in Black Spire Outpost while piloting the famed ship on the Smugglers Run ride will land you in trouble. In fact, you will incur the wrath of space pirate Hondo Ohnaka. He runs the shady intergalactic shipping company that serves as the setting for the attraction.
"We do want it to feel like a consequential act," said Imagineering executive creative director Asa Kalama. "Flying the ship cleanly and beautifully or smashing it to the point where it's on fire is something that people would know about and talk about it."
There will also be a wide range of other starships, war machines and space vehicles arriving in Disney's Star Wars themed lands.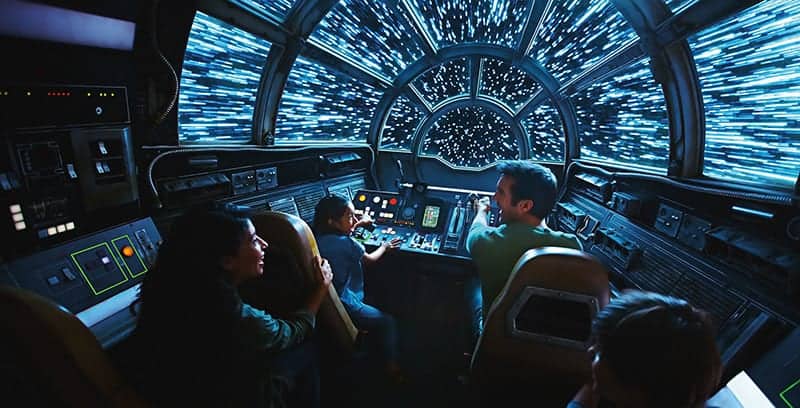 Responsive areas
Your success or failure on your Millennium Falcon mission is important. Your reputation as a smuggler will follow you around Galaxy's Edge.
"There are places in the land that will respond to you," Anderson said. "It will know you went on the Millennium Falcon and maybe you didn't do so good. You go in the cantina and you order a drink and you know what, that bartender's going to be like, 'Oh, you might owe some credits to Hondo at this point.' And all I've done is walk into the land, stand in a queue and ride a ride. And then suddenly the land starts getting you to engage."
See also: The 9 shopping experiences at Disney's new Star Wars: Galaxy's Edge

An engaging cast of characters
Step into Oga's Cantina after your misadventures aboard the Falcon and you might find ferocious and grumpy Harko the bounty hunter waiting for you. Harko's message to you: Hand over the galactic credits you owe Hondo. Hopefully, you have enough credits in your digital wallet on the Play Disney Parks app. Or else there could be trouble.
The Galaxy's Edge interactive experiences will feature all sorts of Star Wars characters that visitors can interact with. Savi the lightsaber smith will greet aspiring Jedi Knights in the Chamber of the Guardians. This is a secret lightsaber workshop near the center of the village. Next door you'll also find a row of chatty astromech droids. These can communicate with the miniature R2 units you build in Mubo's workshop. The mysterious and dangerous Dok-Ondar will barter with visitors. That is – those who are brave enough to haggle over prices with the black market shopkeeper.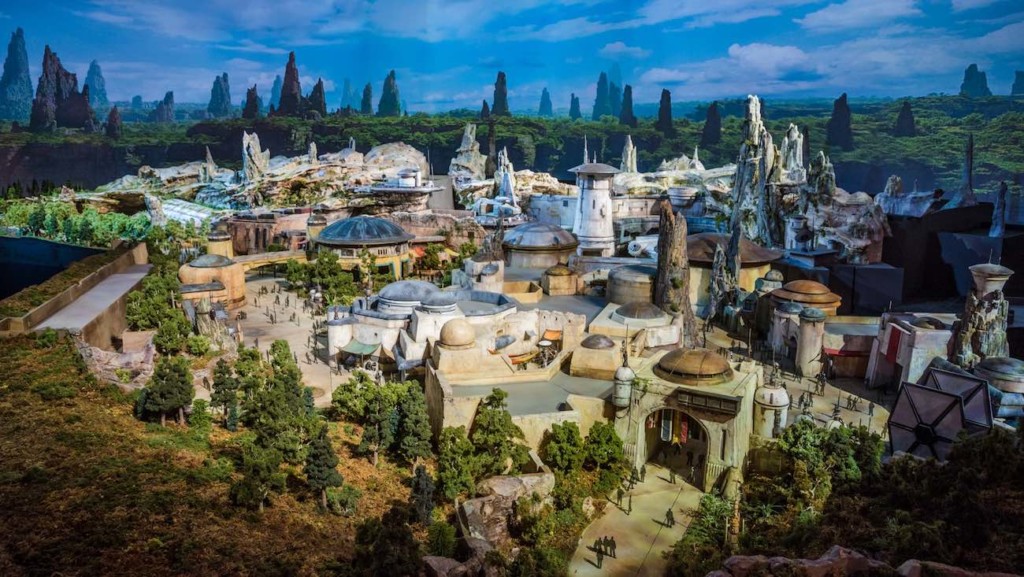 Imagineering has conducted in-park play tests to work out the logistics of the story-driven Galaxy's Edge interactive experiences that will take place between theme park visitors and Star Wars characters in Galaxy's Edge.
"We've tried to do our homework and set ourselves up for success," Trowbridge said. "Ultimately we'll find out. There's still some things we won't know until we fill the land with folks and see what resonates."
Star Wars: Galaxy's Edge debuts on May 31 at Disneyland in California and Aug. 29 at Disney's Hollywood Studios in Florida.