On the first anniversary of the world's largest indoor theme park, IMG Worlds of Adventure CEO Lennard Otto speaks to Blooloop about the IMG Group's planned second park in the UAE. He also explains why the family firm believes it's got the right formula to export abroad.
Most theme park operators wait a generation or two before considering an expansion like a hotel, 'second gate' or international licensing deal. But in Dubai they do things differently.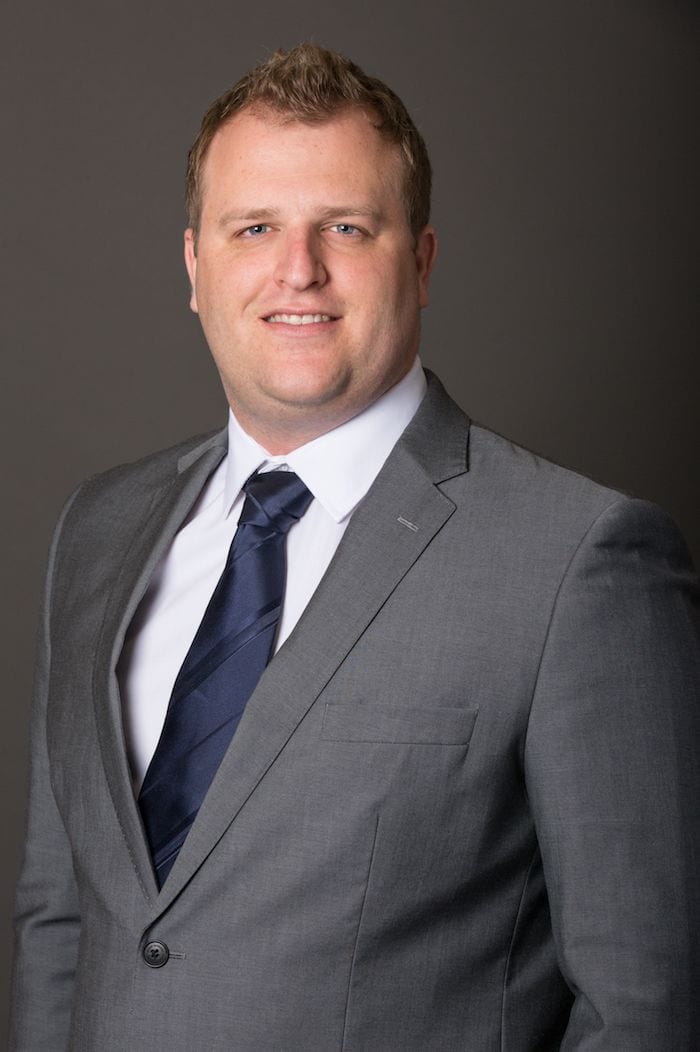 IMG Worlds of Adventure opened on August 31, 2016, spanning 1.5 million square feet (13.4 hectares) of air-conditioned space, close to Dubai's Global Village. It features five themed zones: The Marvel Zone, Cartoon Network Zone, Lost Valley – Dinosaur Adventure and IMG Boulevard, as well as The Haunted Hotel.
Barely three months after the park had received its first paying guests, the IMG Group announced plans for the 2 million+ square feet IMG Worlds of Legends, just across the road. For this ambitious undertaking, IMG has partnered with no fewer than eight intellectual property providers. This gives it access to dozens of international brands, from Animé to Nickleodeon, Pokémon and more.
Lennard Otto attracted the attention of IMG co-founders Mr Ilyas and Mr Mustafa Galadari after more than a decade developing parks and attractions in the UAE. They now hope to lean on his experience to take the IMG brand global. They cite demand for new parks from North Africa to the Far East. Read on as Otto tells us more.
IMG Worlds of Adventures – the first 12 months
Being the first major theme park in Dubai came with a lot of challenges and surprises along the way. Nonetheless, I think probably 80-90% of what we planned has come to fruition.
There is a lot of learning to be had, a lot of education still be done in the market, but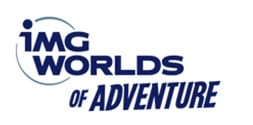 overall we are happy with the direction things are going.
We have one of the most unique building structures in the world, with large spans of up to 80-90 metres without columns. And because the park doesn't have many other buildings around it you have to build to a much higher wind speed. In fact, the shell of IMG Worlds of Adventures had been built to withstand higher winds than that of the Burj Khalifa.
Bringing in a staff of over 1,500 from different countries was a huge logistical challenge. Some of them had previous experience of theme park industry, some did not. In getting everyone trained up, we wanted to make sure they delivered the highest international standards and guest experience.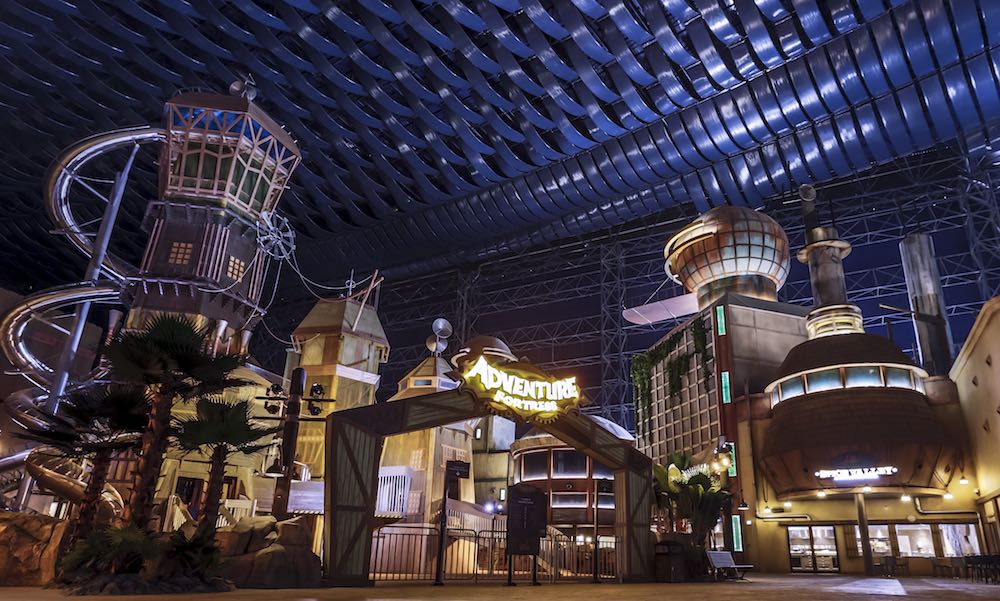 A safe World of Adventures
We spent a lot of time with the regulatory authorities to establish local safety codes. The park adopted the European standard EN13814, which governs the operation and maintenance of fairground and amusement park machinery and structures. It also appointed TÜV SÜD as its safety governing body to be involved in the design, manufacturing, installation, commissioning and operation phases, which the Dubai Municipality has adopted on a similar scale. This was important as it will define the way for the rest of the parks to come.
Educating the market
It has been interesting to see how the UAE market is responding to theme parks overall. Our marketing plan was to educate the consumer, because there wasn't a culture of going to theme parks prior to our arrival. Dubai's always been known more as a shopping destination with beachfronts. There are family entertainment centres (FECs), but they tend to be pay-as-you-go concepts. So we had to take some time to get consumers to understand that it's a higher fee upfront but ultimately it's an all-inclusive day out.
We also had to educate people about some of the attractions we have. A dark ride might be known in many markets but in this part of the world no one knows what it is. So we pushed a lot of content out into the queue lines so when people walk past they know what to expect inside.
Attendance, Fast Tracks and height restrictions
We are not publishing our attendance just yet. I will say that it has been a good result, not exactly what we wanted as a forecast, but on an upwards trajectory. About 25% of all the business comes from F&B and retail.
We have seen good results from sales of Ultimate Fast Track tickets. We cap Fast Tracks as 10% of all sales, and we are more or less at that mark right now. We've seen a much higher influx of younger kids than we expected. There's a lot of strollers coming in through the doors, so we've adjusted our height policy in response to that. Originally anyone under 0.95m went free of charge, now it's actually 1.05m. So if families come in and there's not enough attractions for the little kids at least they are not paying for them.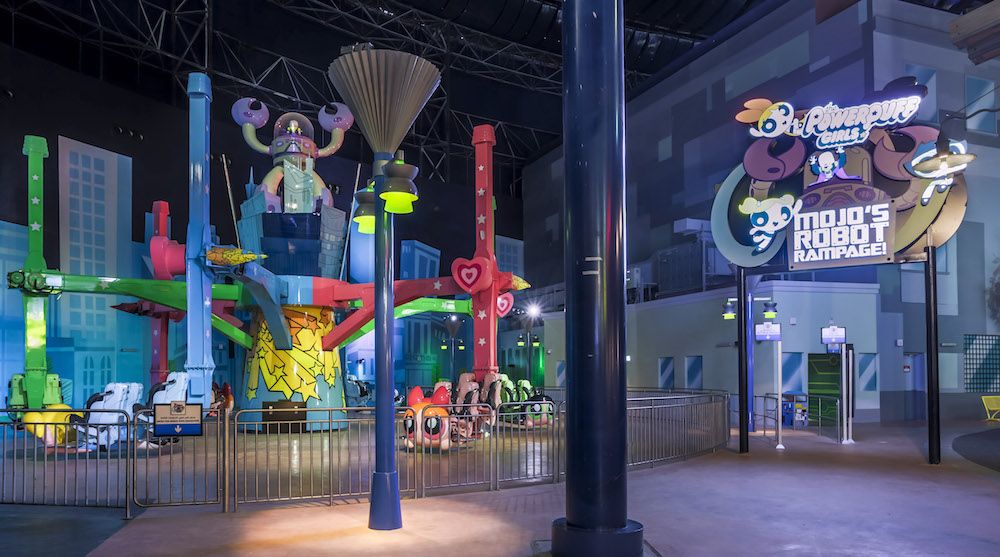 At the same time we are working very hard to add additional attractions without height restrictions, or remove height restrictions on others. So now you can enjoy the monorail, the carousel or one of the dark rides based on Gumball, whatever your height. And we are adding additional playgrounds for the younger children.
Visitor profile
We originally set out to attract 50% residents and 50% tourists. When we opened last summer it was 30% tourists, but it has shifted to be more like 60% tourists and 40% residents. I think it by the end of the year it will level out at about 50/50 as first planned. They key source markets for us remain Saudi Arabia, India, China and Russia. We didn't expect, but were happily surprised, to see Kuwait come out as the top five market. And we are very happy with the amount of Emiratis coming to the park, probably around 15-20% of all visitors.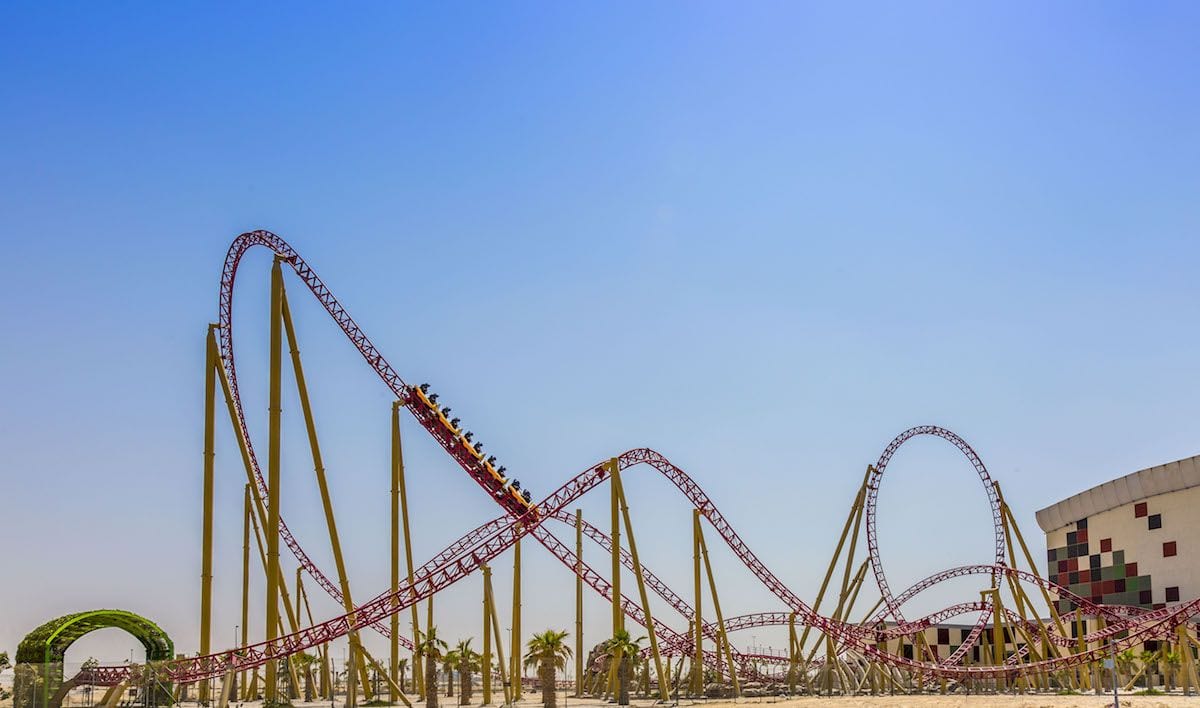 Star attractions
• The Velociraptor launch coaster is the star of The Lost Valley, propelling guests to 100 km/h in 2.5 seconds. It is the tallest and fastest rollercoaster in Dubai, and is the one attraction that has an external section outside the IMG Worlds of Adventures building.
• In the Marvel Zone we have the unique Avengers: Battle of Ultron ride, a stereoscopic 3D multimedia experience. In addition, there are attractions centred around characters such as Spider-Man, Iron Man, Hulk, Thor and Captain America.
• The Cartoon Network Zone features exclusive attractions including the first ever Ben 10 5D cinema, and popular brands including LazyTown, Adventure Time, The Powerpuff Girls and The Amazing World of Gumball.
However the most popular attraction inside the park is The Haunted Hotel near IMG Boulevard. It's a walk-though attraction with live actors. It's funny because, at the same time as lowering the height limit on other attractions to allow more children to ride we have actually increased the age limit on this (to 15 years) just because of the scare factor. On some days the queue can go to three or four hours. People are spreading the world around the UAE; it's a must-do attraction.
Building a brand on the back of brands
Being a new park and a new name in the industry, it was important that we had the big international brands to start with. What we have seen at IMG Worlds of Adventure is that The Lost Valley and the Haunted Hotel have become the most popular zone and most popular attraction. That is a compliment to the quality of product we have created. However, without the international brands I do not think we would have had the same upfront proposition. Now, we have our own brands that we can grow internationally, including the IMG name itself. And we are developing other brands. These include Legends of Arabia, which will be the first Middle Eastern IP in a theme park.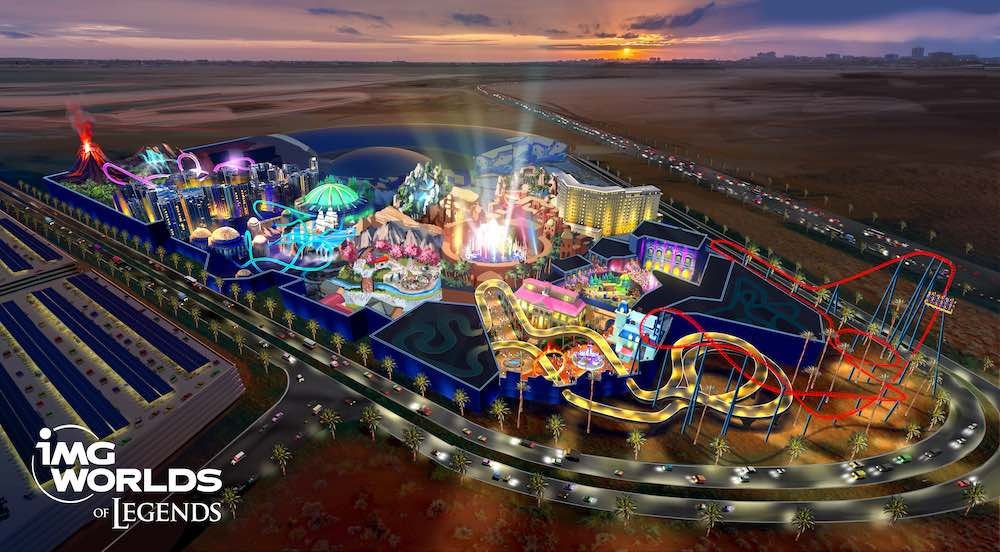 The world's largest collection of theme park IPs?
In designing a good theme park it shouldn't really matter if the brands are well-known or not; everyone should be able to enjoy each attraction. At IMG Worlds of Legends, however, we will become one of the largest IP holders in the world of theme parks. Each one of the brands we have chosen appeals to a unique market segment and age bracket. Hasbro is the biggest toy company in the world, with brands many people grew up with. Nickelodeon is the number one or number two kids channel in most territories and has a portfolio of brands with up to 20 years' heritage. Pokémon is biggest Japanese brand today and has over 600 million people playing Pokémon Go; a worldwide phenomenon. Each brand brings something different, but together they appeal to the whole family.
IMG Worlds of Legends
We have been working on Worlds of Legends for about a year. We have been talking to IP owners, discussing the content, business model etc. It was always part of the masterplan, and seemed like a logical next step for us. Yet we didn't announce it straight away because we wanted to see how Worlds of Adventure was performing after the first quarter before we could understand how the market would react to a second gate here at IMG. There is more than enough strong macro-economic data to support building more parks.
Team of Legends
We have not disclosed yet which company we are working with on the design and masterplan for IMG Worlds of Legends. It is, however one of the top three design firms in the industry. It has worked on most of the big parks today, and is based out of the US. We are still in design phase at the moment. We are still talking over various concepts, and that will probably run until the end of this year. Once we've finished that we will start talking to various ride vendors. We worked really well with a lot of the vendors on the first park, so there will be some loyalty there, but we want to work with a mix and find some new vendors as well.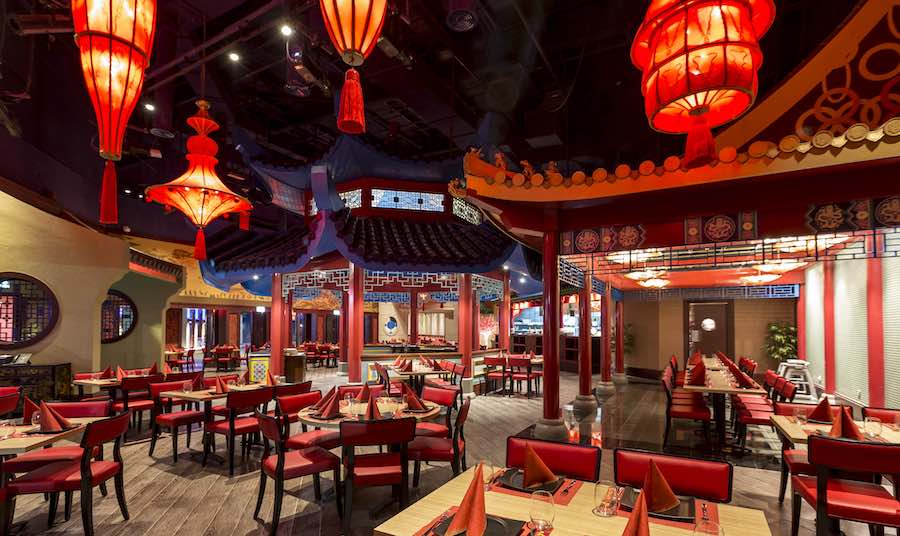 Two Worlds with one unique attraction in common
IMG Worlds of Legends will be separately gated park to IMG Worlds of Adventures. However, there will be a unique iconic attraction that will connect the two. You will only be able to ride that if you buy the two-park ticket. The new park will be fully indoors. It will have a retractable roof so that we can open it up in the winter months.
I think the market is saturated when it comes to waterparks in this part of the world. So I don't think it is something that is on our radar at IMG. What we will be doing is bringing in some water attractions into the second park. It's not to say we wouldn't look at a waterpark sometime in the future, but if we did it would have be a different concept.
Hotels are very much part of our overall masterplan, however. As the second park opens, I think it would only make sense to complete the destination by having hotels as part of that. These could be either themed hotels, family-based hotels or a combination of the two.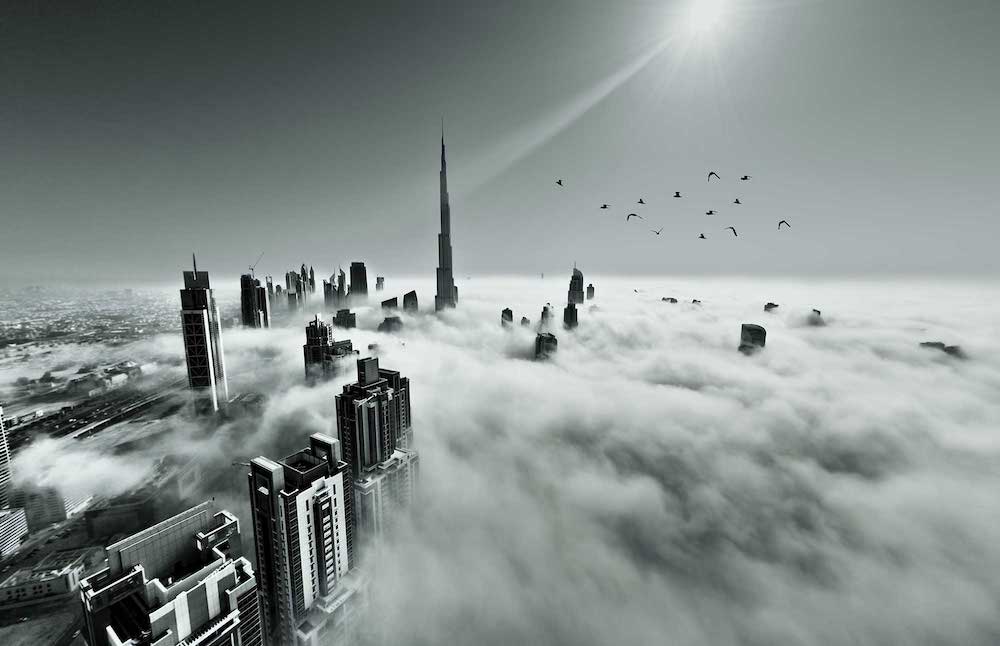 Dubai's tourism growth
The main reason we are developing a second park is to create critical mass, to fuel market growth. With Expo 2020 coming up, very strong tourism numbers are predicted to hit Dubai. We want to make sure that we capitalise on that. There is a big push by the ruling family as part of Tourism Vision 2020. They want to make sure Dubai become a family entertainment destination. Having more theme parks will play an important role in that.
It's never easy when a lot of attractions open within short succession. There will be a degree of cannibalisation for some time but eventually the market will adapt and grow. I think older attractions will have to upgrade in the process. It's a competitive market already. It is only going to get more so as we move forward, and obviously the new larger parks will outshine the smaller ones.
I think what you will see is that everyone will have to find their unique position in the market, but together the market will attract more visitors because of the wide variety of offerings. If you go to Orlando you are not just doing one park, you are probably doing multiple parks. We want to see the same result as Orlando in Dubai. This is not going to work if we all try and compete head to head.
IMG goes global
One of our wider goals is grow the IMG brand internationally. There are a lot of investors around the world that would like to build developments connected to theme parks. However, they might not have the relevant expertise. We have developed a great business model here, have great teams in place and great relationships with international brands. We are one of the few players who can deliver an indoor theme park on this scale. The indoor model has a lot of appeal where people are looking for a model that is not affected by seasonality. I think there is great opportunity out there.
Family fun, family-run
I think there are many plusses to the ownership/structure of the IMG Group. Mr Ilyas and Mr Mustafa Galadari are actively involved in every area of the business, they have a very hands on approach. It is their reputation linked to this, it's not some faceless corporation. I think the greatest validation for the brothers is to walk around the park and see kids smiling at what was only their vision three or four years ago. And they have the appetite for the next part. They've enjoyed the ride, it's been an interesting ride, and we are looking forward to what the future holds.
Lennard Otto was speaking to Owen Ralph