Jane Cooper, formerly President and CEO of Paramount Parks, and chair of the IAAPA board of directors, is currently President and Chief Operating Officer of Herschend Family Entertainment Corporation (HFE), the USA's largest family-owned themed attractions company.
She spoke about Herschend Family Entertainment Corporation, sharing insights gleaned in over a quarter century in the sector.
Paramount Parks
Jane Cooper's career began with a summer job at Paramount Parks in 1972. After 25 years, she was President and CEO. However it had not been her intention, initially, to make her career in the leisure sector. She told Blooloop: "I went to college and studied accounting; I loved it, and I was planning on being an accountant when I graduated." Paramount had other plans.
"The company, at that time, said: 'Hey, why don't you stick around with us for a while?'
"They were entering a growth phase. I think they felt my experience, having been there for a couple of years, plus the fact that I actually had history and education was a good thing." Cooper graduated from the University of Cincinnati, with an MBA from Xavier. She says,"I stayed around, and it really proved to be a great experience." Cooper attributes much of her success to her willingness to raise her hand and try something new.
She says: "The company had a management agreement with a property in California. California is a long way and very different from Ohio. But when they said, 'Would you consider going to California?' I said, 'Of course; that sounds like a great adventure.'
I believe being willing to try different things and wanting to learn new things were key to me getting ahead."
Becoming a business person
Something similar happened when the company was purchased. "I was still in California. The new owners, of course, had a slightly different perspective on what they wanted to do. At the same time, they needed someone who had history with the company, and yet was open-minded enough to listen and embrace some of their ideas as well." Cooper fit the bill perfectly. She says: "I think that really contributed to me going back to the corporate headquarters, and then becoming the president of the company."

Cooper was aware that, even more than is the case now, men predominated in boardrooms. She always focused on being a business person, rather than a business woman. She says: "As long as we were focused on doing business, I never made an issue of the fact that I was a woman. I always felt the same as all of them, and they treated me the same."
She says: "I think the only time I ever felt like it impacted me, is I noticed when you get to a very senior level, they look at you a little differently. When you are a mid-level manager, I think the men are thrilled to have smart women around them. But they can get to a point where they think maybe there's a little competition. Then they change their perspective a little bit."
New beginnings with Herschend Family Entertainment
In 2006, after 25 years with Paramount Parks, Cooper joined Herschend Family Entertainment. The company creates, develops and operates entertainment, tourism and hospitality properties at 26 locations in nine states.
She says: "It's a really small industry, and during my final eight years at Paramount, I was very involved in IAAPA. I was on the board, and was even in the officer ranks at that point, so I really got to know many people in the industry." During this period she met Jack and Pete Herschend, the brothers who worked from the 1950s to turn their company, Herschend Family Entertainment, into one of the largest private amusement park and entertainment companies in America, retiring in the 1990s.
Cooper says: "I knew a lot about the company, and I knew a lot of people that worked in the company. When I left Paramount, the year that I was the chairman of IAAPA and travelling around, we had our summer meeting, in Branson [Branson, Missouri, USA September 19-21, 2005], and I spoke to Joel Manby, their CEO at the time."
A really good combo
She says: "He is a wonderful guy who was from the auto industry; he didn't grow up in the attractions industry. He said, when you finish this, I'd love it if you would come and do some consulting. So that is kind of how I ended up at Herschend. It was a great combination, because Joel was a great leader, but his background is in automotive; I had a background in attractions, and we were a really good combo."
Describing the company, she says: "It's great company that is very focused on not only the mission, but the values. Having grown up in this industry, I love the fact we are really in the people business. Working in such a family friendly, employee friendly environment has really been a great experience."
Herschend Family Entertainment has a diverse and eclectic portfolio, ranging from Silver Dollar City in Branson, MO the original Herschend family theme park, through water parks, aquariums, attractions, lodgings and dinner shows to the iconic Dollywood in the Knoxville-Smoky Mountains metroplex in Pigeon Forge, Tennessee – and, most recently, the Harlem Globetrotters.
What is the ethos underpinning them all?
Cooper says: "I think there are a couple of things that we focus on. Our shareholders generally have three objectives. Number one is to be a great place to work for great people. Number two is to exceed guest expectations. Number three is to do that in a financially responsible way. There is tension in all of those objectives."
She says there are probably more people negatively impacted by not creating a great work environment than by not hitting financial targets. "Compared to any company in our industry, we are so focused on the guest. We really listen to our guest, and we have products for people from 2 to 92. We support every one of those age demographics on a constant basis.
"So while we will introduce a rollercoaster, we will also do a new festival. There is a festival called Festival of Wonder, for example. It is really targeted more to folks that aren't as interested in rides, but are more interested in entertainment. So I think our focus on that. In addition the fact we are always supporting all those demographics, is what really leads to our success. Plus the fact we have the friendliest employees of any theme park I have ever been to."
Benefits of a diverse portfolio
Nevertheless, in terms of managing such a wide ranging portfolio, you'd think it must be difficult to keep all those balls in the air. Cooper says: "Well, you can look at it that way, but I think that what we choose to do is say: because we have some dissimilarities as well as similarities, we take learnings from each different pieces of the puzzle, and try to get better at what we are doing.
Because we have diversity, it also gives some diversified management talent: the theme parks have taken some key learnings away from the aquariums, and vice versa. Aquariums can typically be very science and mission driven, but our focus on entertainment at Dollywood and Silver Dollar City has really helped the aquariums. So we all kind of work together, and I think it's been a good experience."
Technology is impacting all areas of the industry
"Technology is huge. I think there are essentially two pieces of it. One is, how do our customers want to consume our products; how do they want to engage with us? A lot of that is technology-based. They want to be at the park and to click their phone to see the wait time for a ride. Or they want to find out the time of a show, or where they can buy a certain food item. They even want to buy something while they are standing in line.
"Technology impacts how guests want to engage with us. I have a daughter who is 27, and she has nothing but a cell phone. So if you do not engage with her through the phone, she assumes that she is not invited. She will just move on and do something else. So I think we need to make sure that our technology is moving quickly.
"And the other piece of it is, how can we utilise technology in our guest experience? I'm not a huge fan of virtual reality; however, you think about the rides and what they are doing, we just opened Time Traveler [the world's tallest, fastest roller coaster] at Silver Dollar City, a spinning coaster which has been really very well received. You need to be out there from a technology point of view. The other thing we are looking at is how can technology make us more efficient?"
Challenges facing the industry
"I think one of the challenges for the industry is just being able to find enough skilled employees. We are a hands on experience. So our experience is only as good as the employees that we are engaging. We are trying to find different things that we can do to help us be a little bit more efficient. Labour becomes harder and harder to find."
Another challenge facing the industry, she said, is the issue of safety and security.
"The world is becoming increasingly complicated. Safety has always been the number one thing that we do. However, it is key to make sure that consumers feel not necessarily simply that our facility is safe.
"They must also feel they are sufficiently protected against terrorism. I think he whole concept of security in the world is at a higher level and more important than ever to anybody that attracts visitors."
Plans for Dollywood
Around eight years ago, Herschend announced a 10-year plan for Dollywood. Cooper says: "It's been very well received. Our objective was to make Dollywood much more of a destination. So we built our first hotel, which has been really successful."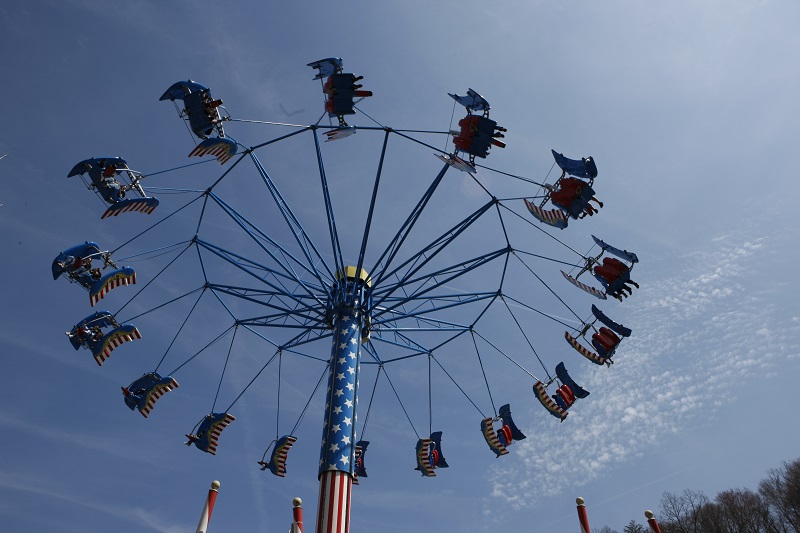 The company is now working on the next five-year plan for Dollywood. "We've been happy with lodgings, so we will continue to expand that piece of the business. We will also continue to add new attractions to Dollywood."
Dollywood, founded in 1985, is jointly owned by Dolly Parton and Herschend Family Entertainment. Its location, the Smoky Mountains, is the number one visited national park in the United States.
Cooper says: "We are currently looking at expanding the footprint of Dollywood. We need to make sure we have more capacity as we continue to grow. We are looking at a couple of big additions that will add more area to the site."
Dollywood has always been a particularly charismatic park for which people find a special place in their hearts. Cooper says: "The combination of the great Smoky Mountain Park as well as Dolly, and what Dolly stands for, makes the whole destination very attractive.
"Dolly is incredibly authentic, and committed to the region of the country. She's a great partner. We could use a few more like her in the world."
The future of HFE
Looking to the future, Cooper says: "I think the exciting thing to us is the economy is very strong. We have had a couple of really great years and are currently working on master plans for all our assets. Based on the strength of our company, we are looking at continual investment within our properties. At the same time we are always looking to add to our portfolio. Anything that fits our mission of creating memories worth repeating, and that is wholesome family entertainment, we really think fits with who we are."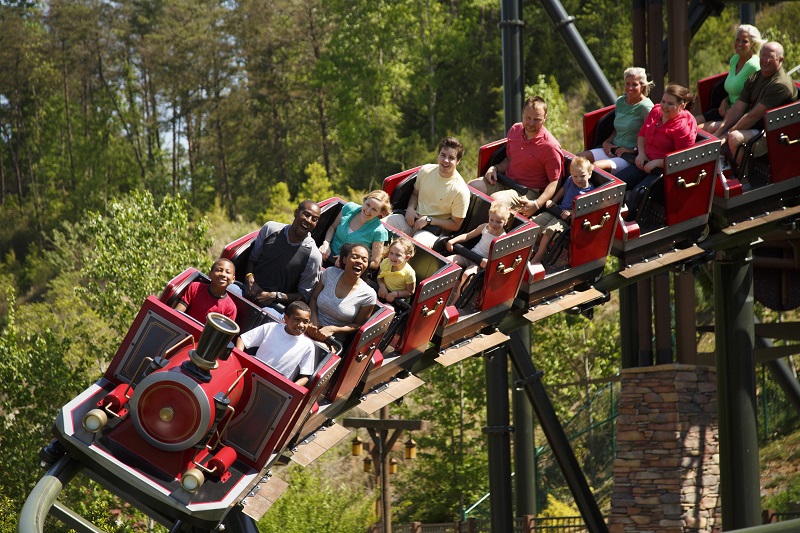 When HFE purchased the Harlem Globetrotters, some wondered whether it was a departure from the company's defining ethos. Cooper says: "People did wonder how the Globetrotters would fit. But they are really about wholesome family entertainment, and have done really well for us. So we try to expand our thinking a little bit. We say what else fits in the wholesome family entertainment realm?"
For HFE, the future is bright: "The economy is great; it's really fun. But you've got to stay on your toes, keep pushing forward. I also think that because the economy is strong, there is increasingly more competition not just in the theme park world, but for families' leisure dollars. It is about how you make sure that what you are offering is compelling, and also suits customer expectations. You will stand firm as long as you can do that."
Images courtesy of Silver Dollar City, and Dollywood.