Jingshui River park (also known as OCT Zhengzhou Jinshuihe Project) is an ambitious development. It aims to establish a new cultural entertainment district for the city of Zhengzhou.
It is a development that comprises the establishment of a new cultural tourism destination, a transformation of the river ecology, and a sustained narrative along the stretch of the river park. This is established through the means of a series of 'rooms' or 'acts'. These are commercial, cultural and recreational. Each is distinct, yet linked, with bridges and walkways offering a variety of perspectives and alternate journeys.
Forrec's Senior Director of Mixed-Use + Entertainment, Steve Shah, explains how this was brought about.
Joining Forrec
Shah's background lies in landscape architecture. Graduating in 1981, he worked in conventional landscape architectural practice for a number of years. Then Gordon Dorrett, then Forrec's vice president, convinced him to try something different.
"We talked, and he showed me some of the work that Forrec was doing at the time. I came up for an interview, and it intrigued me, because it gave me an opportunity to explore a much more creative portfolio of potential projects. I liked the creative atmosphere in the studio and that the studio was a multidisciplinary area, made up of professionals from different backgrounds, from all over the world. It was a great opportunity, and I seized upon it.
He was an associate at the time, so this was a step back. "I kind of had to start all over again – but it was worth it: I have absolutely no regrets. I love what I do, and I love the work that we do here."
Having joined Forrec in 1995, Shah began, learning as he went, doing multiple types of projects. "I was learning as much as I could as fast as I could, trying to get up to speed, and gradually, over the years, started to become interested in the integration of our entertainment experience with more commercial uses, especially retail and larger mixed-use masterplans.
Mixed Use + Entertainment
"We were working with a big developer in India, Unitech, designing a major park in Delhi, and they approached us, and asked if would we be interested in doing a retail project? We said, absolutely. So, we did the first one for them, and then we did a couple of other ones for them, and it just kind ofgrew from there: gradually, over the years, we started to get more and more of that type of work."
There came a point when Forrec developed a more defined organisational structure, and it was decided to establish distinct sectors.
You are actually planning a city
Shah said: "Because we were doing so much of that type of work at the time, we decided to establish a sector devoted to it. At that point, we called it 'Retail and Mixed Use', but later we changed it to 'Mixed Use + Entertainment'."
It has been one of Forrec's fastest growing sectors.
Shah said: "It's interesting, because it incorporates a vast scale of work. The largest has been a master plan for a development of about 10,000 ha, where you are actually planning a city, but you can apply that philosophy of thinking from the guest perspective to a master plan of that size."
Shah's team recently won a competition (the way commissions are often decided) for a large master plan for a big Chinese developer.
The Jingshui River Park Project
He said: "It's 10,000 ha, basically a city, and we won it not because we based the design on a singular iconic structure, but rather because we fundamentally approach the plan of the city from the perspective of real experiences and real authentic urban spaces and experiences.
"The work incorporates very large-scale master plans, to tourism plans, which are maybe 150 ha to 500 ha, right down to smaller, 22 ha, 10 ha: more specific retail environments and mixed-use developments. It's interesting for us, because the scope of work covers such a broad spectrum of size and type.
"And we get to bring the other sectors into what we do, because a lot of it is large-scale master planning, soincorporatingtheme parks, water parks, visitor attractions and hotels, within the master plans itself, so often the mixed use + entertainment sector becomes kind of an incubator for work for the other sectors. We get to work as a group and collaborate, which is also great. It's always different, and it's always interesting."
An overall park for the broader city and the broader community
At first sight, the Jingshui River Park Project was a challenging project to approach.
Shah said: "It was very fragmented. So the first thing we did was to look at comparisons. It's the size of Central Park. This triggered ideas and ambitions, because we could look at creating an overall park for the broader city and the broader community. But at the same time, we could establish individual precincts that could have a distinct character. These could relate more specifically to a series of locations along that five kilometre stretch of river."
Re-establishing the river
One difficulty was the fact that the area in question is broken by major roads and highways.
"But Central Park is also designed that way: the street grid extends in some cases right through the park, so that integration and that extension of the city fabric into the park was an interesting thing to work with. It also had serious restrictions with where we could develop, and what we could develop."
Each block of land had specific uses and restrictions. Some of the land parcels were designated as 'farmland', an area of green that cannot be developed: a policy responding to previous over-development.
A much more environmentally sensitive approach
Shah: "These farmland areas are protected as they want to maintain them as green spaces. It's a much more environmentally sensitive approach. It allows a better balance of treed areas and soft landscaped zones that allow for the natural percolation of water.
"So that was one restriction. The other restriction was that there was a relic site on the property; Jingshui is part of the Yellow River civilisation, so there are archaeological sites around Jingshui province, and digs going on in various places."
This was something Shah's team incorporated into the design and planning.
A major part of the overall initiative was the re-establishment of the river. Shah said: "Over the years, through generations of development and industry, the river that had once run through the area, apart from a few remaining fragments of water, vanished. The area became very much a derelict, brownfield site after the old industry moved out. We worked with a hydrologist to figure out how we could draw water back into the area and re-establish the river."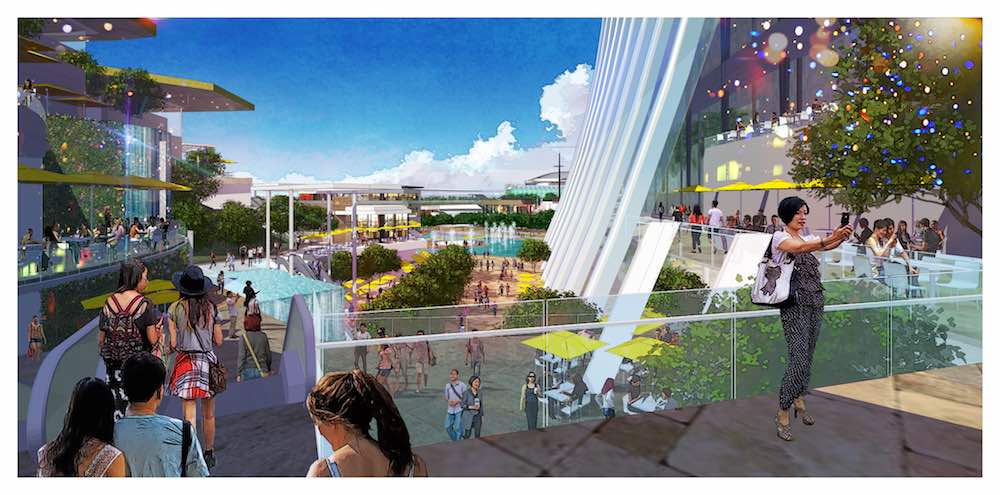 An overall story
The reinstatement of the river works through a circular system. Water is drawn from a canal several kilometres away. It is piped into an ecological system where it is filtered through wetlands. It then flows into the river, down through a series of dams and weirs, and back into the canal.
Shah said: "Having re-established the ecology, we tried to use the river and the mechanisms to modulate the flow and aerate the river as events that we celebrated with an overall story, so using the infrastructure as part of a support to highlight the overall guest experience along the five kilometres. We call the narrative 'water theatre'.
A landscaped infrastructure of walkways and elevated bridges
"We established a series of events, or rooms, or scenes in a play. Between each distinct urban place is a threshold. This is celebrated with an event on the water, and an event on the land. We tried to make a story, an event out of it. As you move down the river you can experience the journey in different ways."
People can, of course, simply walk along the river. But there is an alternative. "We developed a kind of landscaped infrastructure of walkways and elevated bridges. These will take you from scene to scene. So you can rise above the ecological zones below you, walking on these elevated bridges, and experience it at various different levels.
"You could walk up above it and look down into it, or you could walk along the river, or you could take multiple routes through it. It's multisensory. It incorporates multiple experiences and ways to navigate the river and the various events that are along the way."
Cohesion and landscape structures
Integrated into the elevated park infrastructure are a series of pavilions.
"They coincide with the development areas that we are allowed to build on. For instance, in the first scene, which is the ecological wetland, one pavilion is an Ecological Wetland Centre. The other is a restaurant.
The urban landscape infrastructure system allowed us to develop a system to tie together what would typically be a series of disparate development zones.
It allowed us to develop a broader structure of landscape; we were allowed to build landscape structures, with minimal buildings."
Each zone throughout the length of the river park offers a different event or experience. "The journey begins in the ecological wetland, and moves into a very urban theme park.
A deceptively simple realisation of a pastoral vision
"Again we had to work within the restrictions of the relic area and the farmland to develop in the areas we could. We had to figure out a way to tie them all together so that they would feel cohesive.
"From the theme park, the journey continues through other zones. These are the relic zone and the urban core. The urban core is where we were allowed to do an extensive amount of commercial building. This zone has a lot of retail, a big hotel that overlooks the park and apartments. Because they wanted it to be experiential there is a waterpark. There are also a series of visitor attractions incorporated into that commercial area."
Emulating Central Park's Sheep Meadow
Shah's team set up the commercial development in layers. They did this so that the landscape infrastructure extends seamlessly from the park right into the upper levels of the retail.
He said: "If you were in the retail development, you could go up to the second level. Then you could move seamlessly, at that second level, right into the river park areas. And then the commercial development itself is designed in a series of landscaped terraces. You get this seamless integration of the landscape coming from the park areas right into the commercial areas. This ties the whole thing together, in a very guest experience-focused way."
At the end, there is a cultural district, incorporating the deceptively simple realisation of a pastoral vision.
Shah said: "Central Park has an amazing place, Sheep Meadow. This is nothing more than a big, beautiful, grassed oval area surrounded by trees."
It is a space that can function on many different levels for many different purposes. It is also a place of respite and reflection in an urban context.
"So we emulated just that. We shaped this big, open meadow with sports fields and passive recreation. This offers a really nice counterpoint to all the activity along the river at the same time. Again, it serves as a wonderful amenity not only for the broader city, but also for the neighbourhood. So people who live adjacent to it can walk down these green corridors right into the park area. This means it functions, or rather the intent is that it will function, at multiple levels."
An array of richly themed, distinct spaces
In turn, he says, the urban area activates the park with a performance area. Further performance areas, amphitheatres and venues for harbour-front activities are incorporated into the cultural zone.
"There is open space which can support the programming of multiple activities: markets, artists' fairs, performances and concerts."
The realisation of the Jingshui River Park project is a formidable achievement. It provides, in a previously bleak and stagnant underutilised location, a landmark urban park for Zhengzhou. It also supports the broader tourism ambitions at a regional and city scale. In addition it provides for the needs of the community; a place to play, stroll, or enjoy a concert in the park.
In an array of richly themed, distinct spaces, or 'rooms' linked by a compelling landscape system, it is enrichment incarnate, benefitting the ecology, tourism, and the local environment for residents.
Shah said: "Jingshui River Park was a really interesting project for us. We explored high-level narratives to begin with; this is the one that the client focused on, and then we just pushed it forward from there. But it's great because it incorporates so many different things at multiple levels.
"It incorporates an environmental strategy to re-establish the river, the integration into the neighbourhoods, and entertainment, in a very provocative way. It functions in a very simple way for everyday walking or strolling, but it also supports active events and commercial activities as well.
"We had a lot of fun doing it. The whole team is very proud of it. We think it's a little jewel.
And we just submitted it for an ASLA [American Society of Landscape Architects] award. Fingers crossed."
A masterplan is an adaptable roadmap
The project is the result, Shah said, not of personal endeavour, but a result of the commitment and efforts of teamwork.
"Our team of planners, architects, landscape architects and graphic designers worked on the project for over 16 weeks.
"Jingshui River Park is a cool project. Forrec put a mark on something that other companies would have approached very differently. We were able to not only support the environmental initiatives that were necessary to establish the river, but also to infuse our Forrec DNA into it.
"It's about putting yourself in those spaces, and walking through them. And it inherently has a lot of flexibility built into it, and that is important as well. When you are doing any master plan, it has to be adaptable. A larger master plan is, essentially, a roadmap. There will be a certain amount of development at the early stages. But then, in the latter stages, the economy might change, or demands might change. So it does have to be somewhat adaptable."
He concluded, "We had a lot of fun doing it. It was very cool and the client is thrilled with it.