Matthias Li, who retired from Ocean Park Hong Kong at the beginning of July after 26 years, is known for transforming the theme park from a local attraction into a world-class destination.
Having joined Ocean Park Hong Kong in 1994 as Finance Director and Corporate Secretary, Matthias Li was promoted to Deputy Chief Executive and Chief Financial Officer in 2007 and named Chief Executive in 2016.
A number of key developments characterised his stewardship, including the arrival of giant pandas, and a major redevelopment that added over 70 new attractions. He spoke to Blooloop about his career, the park, the COVID-19 pandemic, and his plans.
Matthias Li's career began in banking. Having trained as an accountant in Canada, he joined an international bank, where he remained for 12 years. Then he decided to move his family back home.
"Hong Kong is my home," says Li. "I went to Canada for university and stayed there, but then I wanted to bring back my kids and raise my family in Hong Kong."
He came across Ocean Park Hong Kong's advert in a newspaper:
"They were looking for a finance director. I applied; they recruited me, and I spent 26 years at Ocean Park."
When he first joined, he imagined it would be a stepping-stone, and that he would only stay for a couple of years.
"It turned out to be an exciting career. I grew along with the park, and I enjoyed every moment of it. Ocean Park is not a typical theme park; it is, you could say, a government park."
Matthias Li and Ocean Park Hong Kong
Ocean Park Hong Kong was created in 1977 with a Hong Kong Jockey Club donation on land provided by the government. The Jockey Club, Hong Kong's premier charity and community benefactor ran the park for a decade before donating it to the government.
"In 1987, the government set up an ordinance called Ocean Park Corporation Ordinance that governed the operation of the park as a not-for-profit organisation," says Li. "The focus was to provide entertainment, recreation, and education activities to the local area. We developed as Hong Kong developed, and became a tourist destination."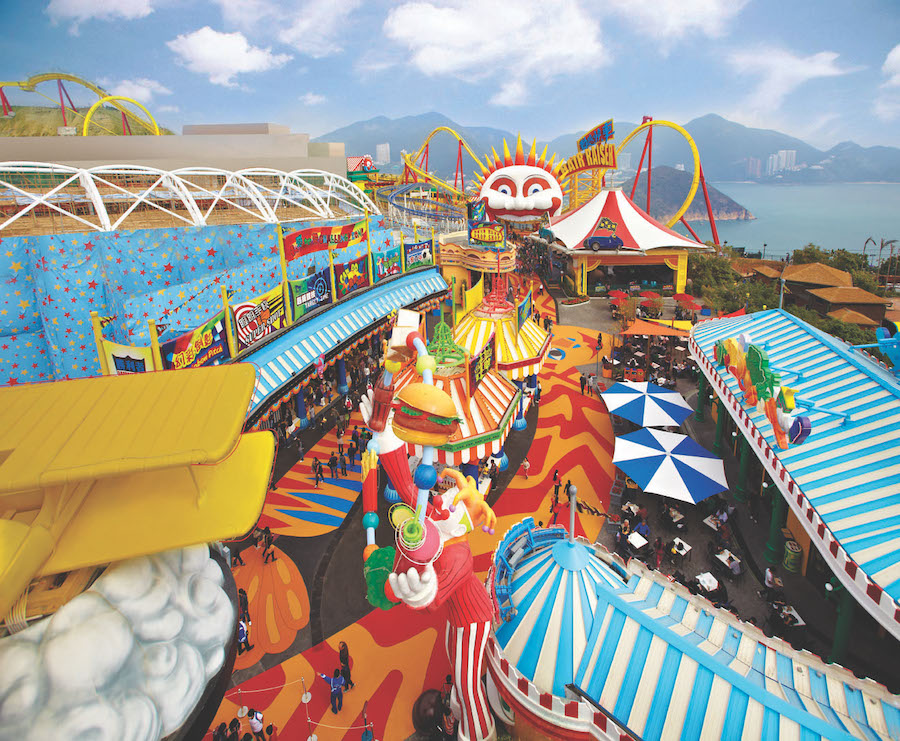 When Li joined the company, he started by running the finance and administration division.
However, he says: "I got myself involved in other areas of the park all the time. For example, I helped set up the conservation foundation. The concept started before my arrival, in 1993.
"At that time we had killer whales in the park. A local movie star wanted to do some filming with them. Instead of being charged a commercial payment, they were asked to donate a sum of money to be dedicated to the conservation of ocean life."
Conservation and public awareness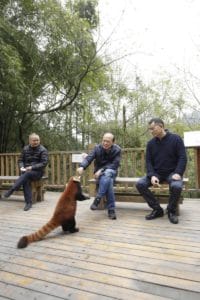 Matthias Li was tasked with working with the zoological people to formalise this conservation foundation. This raises public awareness of the problems facing Asian cetaceans and takes action to protect the Asian ocean.
"In 1995, I set up the Conservation Foundation, which is independent from the park," says Li. "The board trustees are independent, though some are from the park on a volunteer basis. They raise money, and $1 from every park ticket is allocated to the Foundation.
"We also designate one day in the year as a conservation day. On that day all the admission revenue goes to the Foundation. Over the last twenty-somewhat years, we have supported over 500 scientific research projects across Asia, providing support to local scientists to do wildlife research."
Education at Ocean Park Hong Kong
As well as providing fun and entertainment, Ocean Park Hong Kong is committed to education:
"Our focus is on animal and nature conservation education to the local community. After two years at the park, I came up with the Ocean Park Academy, which provides education programs to kids in Hong Kong, from kindergarten to university.
"We would supplement the local curriculum with nature conservation experiences because we wanted to make use of our animal resources and the facilities that allowed kids to learn more about conservation."
"Now, the focus is on STEAM education. We hosted the first international STEAM conference from a theme park perspective in Asia two years ago. We were going to do one this year. But because of COVID-19, we now have to look at smaller or online conferences.
"Over the last 20 years, more than a million school kids have attended our programs. So many of the children who grew up in Hong Kong have had a rich program of education at Ocean Park."
Working with kindergarten schools
In terms of kindergarten provision, there was very little programming around nature conservation in Hong Kong.
"Two years ago, the park, along with a publisher and the Foundation, created a big storybook for little kids. And we handed it out to the kindergarten schools in Hong Kong, free of charge. Now, teachers can use our characters and mascots to teach about conservation through storytelling."
View this post on Instagram
"Our education department is one of the largest at a zoological facility; we have between 60 and 80 people working full-time, providing education programmes."
Working with animals
Matthias Li also became involved in working on the animal side of the business:
"I worked with the zoological team involved with the collections that we had back in 1995. We had fewer than 20 dolphins at that point; in order to maintain a sustainable collection and to ensure genetic diversification, we needed to introduce some."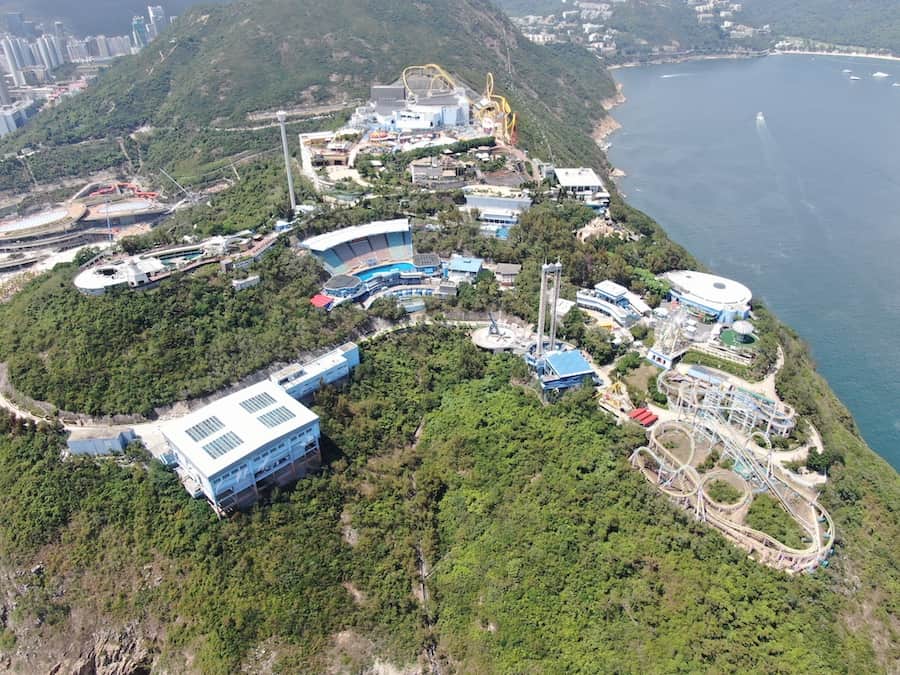 "That was the last time we introduced dolphins from outside. Thereafter, we just needed to balance the genetic diversity. I was also involved with the giant pandas, leading the delegation in 1997."
1997 saw the return of sovereignty from the UK to China. At that time, the central government of China made a gift of a pair of pandas, Jia Jia and An An, to the people of Hong Kong.
Panda care at Ocean Park Hong Kong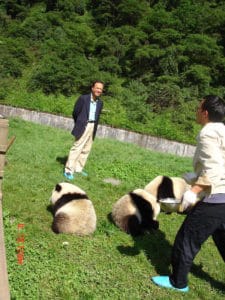 "The government decided that maybe it would be better to have Ocean Park take care of the pandas," says Matthias Li.
"I worked with the government and led the delegation to mainland China, to negotiate and arrange for the pandas' arrival at Ocean Park. I was also the project leader on building the facility and setting up with the bamboo farm in China to supply bamboo to our facilities. But I should also give credit to our animal care people. I think they have a unique understanding and compassion, in looking after the animals."
One of this first pair of pandas, a female named Jia Jia, was the longest living panda in human care, living to 38, and making it into the Guinness Book of Records.
In 2007, on the 10th anniversary of the return to Chinese sovereignty, the government gifted another pair of pandas, two-year-olds Le Le and Ying Ying to Hong Kong. They arrived from the China Conservation and Research Centre in Wolong in Sichuan province.
"I was, again, the project leader. I led the delegation to introduce this other pair of pandas into Ocean Park. Now that pandas have been sent to many places over the globe, we have become the experts in taking care of them, sharing the skills we have developed with other facilities around the world."
Regional challenges
In the period since the return of sovereignty in 1997, the park has experienced a number of challenges, partly due to the Asian financial crisis.
"In the industry, of course, we need redevelopment," says Li. "New attractions coming out periodically encourage repeat visitation. We have always, even before my time, had a programme of development, creating new attractions every other year or two."
"But because of the financial challenges back in 1997 and 98; the Asian financial crisis, the DotCom crash and the avian flu, we ran out of our reserve cash. We could no longer afford to continue building major attractions."
In response, Matthias Li worked with a team to come up with a defence strategy. This involved focusing on less capital expenditure, and the allocation of less money.
"We also decided to come up with seasonal events, so that at certain times, like summer or winter, we could introduce new activities to attract people to come. The first event I worked with the team to come up with was Halloween."
Seasonal events
In 2001, Ocean Park Hong Kong held its first-ever Halloween Bash, comprising a haunted house and around 35 characters.
"We were so successful that Halloween became one of the largest events in Asia, and a lot of parks copied from us," Li says."So our Halloween became a significant brand. There is a story about the first Halloween event. We introduced it in 2001, which was when something terrible happened in the world: 9/11."
The meticulously planned media launch around Ocean Park's Halloween event failed, for obvious reasons, to materialise.
View this post on Instagram
"Our focus had been on attracting the ex-pat community, the international school kids, because we felt Halloween to be a Western brand, and we catered for that market segment. We had to cancel our big media event, but as everything was in place, we decided to go ahead and continue to launch the event.
"The rest is history because instead of the ex-pat community that we thought we'd attract, the local people found the event refreshing and interesting. In fact, it was a great success. We resolved that the next year's event had to be bigger and better. We kept doing that, and gradually it became a signature event for the park."
Major redevelopment
Between 2005 and 2012, Ocean Park Hong Kong carried out a major redevelopment, adding more than 70 attractions:
"Part of the reason for driving the Master Redevelopment Plan (MRP) was the advent of Hong Kong Disney. In 1997, the economy in Hong Kong was very poor. The introduction of Hong Kong Disney was one of the ways in which the government planned to revive the country."
The announcement that Disney would be coming to Hong Kong was made in 1999.
"In those days, we were in the middle of financial challenges ourselves. We now had to deal with this new rival – a very strong international theme park – arriving in Hong Kong. And we had to decide how to respond.
"We looked at parks in similar situations that had survived by doing the right thing, in places like Paris, in the advent of Disney Paris, and Osaka, when Universal arrived. The team strategised and decided to upgrade and extend, with a focus on education and animals, so that we would not be competing with Disney.
"We had to make it compelling, so we decided to invest $5.55 billion HK to expand the park, increasing the entertainment capacity, and so enhancing its attractiveness."
This was, at that point, a stretch, in financial terms.
Expanding Ocean Park Hong Kong
"Under the Ocean Park Ordinance that governs us," Matthias Li says, "We don't have a shareholder; it's more like a dependent trust. We don't have, for example, the ability to raise equity, either from the government or from the market: this investment was self- financed.
"It is rather unusual for a company to be doing large expansions purely on debt financing, but at that time, this was the only arrangement that we could have. So we expanded the park."
The mainland China market opened up as living standards rose and people had more disposable income, and tourism from the mainland increased:
"Hong Kong was the first stop when they started venturing out to experience international travel. We benefited from this. The theme parks added to the desirability of Hong Kong as a travel destination; we experienced very good attendance figures during this period."
Supporting the local community
Even as it became a tourist destination, Ocean Park Hong Kong's ethos meant it continued to support its local demographic:
"Being a not for profit park, we have a lot of programmes to look after, particularly, the local people, which you would not find in other theme parks."
"For all the seniors of 65+, entry to the park is free of charge. Every Hong Kong citizen can come to the park free of charge on their birthday. Anyone on welfare can either come through our charity programme or pay a very low ticket price – about $20 HK.
We look after the local people because our philosophy is the people in Hong Kong, whatever their circumstances, should be able to enjoy Ocean Park."
Ocean Park Hong Kong and COVID-19
Turning to the ubiquitous topic of COVID-19, and its profound impact on the park, Matthias Li says:
"When you run a company or a theme park, you normally have enterprise risk management. We tend to anticipate the risks that we would be likely to face and to develop an action plan to counter these types of risks. I would describe COVID-19 as an extreme risk event that nobody could have predicted."
I would describe COVID-19 as an extreme risk event that nobody could have predicted
"We saw SARS in 2003, but COVID-19 is something never encountered before. It has impacted all parks, and most other businesses, significantly. Basically, we not only have to deal with the crisis; but also what lies beyond, when the crisis is over."
Changing consumer behaviour
There will, inevitably, be a significant impact in the short term, he says:
"However you survive as a company, the way you deal with the future will be crucial. Because this is going to change the operational model, particularly in relation to theme parks. I foresee far-reaching effects.
"Consumer behaviour and consumer expectation will be different. They will be more conscious of safety, of hygiene, of social distancing. They will expect the experience to be less crowded."
View this post on Instagram
"Before COVID-19, a crowded environment of people all having fun was more enjoyable; now, everyone is thinking, 'I shouldn't be getting too close to the people behind, me or sitting next to me.' People behave differently from before.
"Similarly, the company, the theme park, must be more conscientious in providing an environment which is different from before, that will meet the consumers' expectations."
Tourism after the pandemic
Ocean Park Hong Kong is positioned as a tourist destination as well as a resource for domestic customers. Matthias Li says:
"Now COVID-19 has affected the entire tourism and travel industry. I don't know when it will recover. The general consensus is that it will be three years before people are travelling as they used to, if then.
"When the airline industry will resume flights will depend on how respective countries open up; how measures start to be relaxed, so people can travel freely. That will have an impact on the industry, on the theme parks."
"For us, and I think it will happen to other theme parks as well, a stronger emphasis will be put on the domestic market than previously, and towards markets that we have not served before.
"Unfortunately, COVID-19 has created a very deep problem for us, like many other businesses. When you close the park for a few months, you have no revenue. At the same time, no matter how many costs you cut, you still have to pay [overheads]. In our case, we have animals that need to be taken care of, whether there are people coming in or not. So that has been a financial challenge."
A rescue package
Having worked with the government, Ocean Park Hong Kong was able to obtain a rescue package:
"The government put in money to sustain us at least for another 12 months. Then my successor, the new chair and the government will need to refocus, and decide how to position the park, and what should be done to make it sustainable in this new environment."
There is, he points out, no crystal ball to predict how the future will look:
"The only thing we think we know is that the tourism industry, not just in Hong Kong, but in many other countries, will nor recover for a long time. And people will be more cautious about travelling. That will have an impact on parks like Ocean Park."
"In the short term, we will probably put more emphasis on the domestic market. Because we already have a high capture rate. Then we will have to re-focus and reach out to other segments. We might consider how to change the operational pattern, making it more like a facility that people visit with greater frequency."
Maximising revenue
"There is also, as well as hygiene considerations, the capacity of the park. In our case, we could run up to 36,000 people at one time in the park. We will not be able to go back to that level of crowding, because of the need for social distancing, so will need to think about how to maximize the revenue.
"If you have to control attendance, then you must find ways to compensate in terms of revenue. Particularly since, because of the additional measures, there will be a higher cost base."
If you have to control attendance, then you must find ways to compensate in terms of revenue
"The other route to look at is to digitise, in terms of the way we run. For instance, ticketing, marketing, promotions, even our education programs. People who can not come to our park can still undertake our education programs."
Providing education
"Over the last few months, for example, we developed education videos for the kids and put them on YouTube. These allow children to learn about nature conservation, and about how to protect themselves from COVID-19.
"They have been very well received. We have over six million viewers, so the park can maintain its image and its market value when not operating. The industry will probably move towards putting more emphasis on online marketing."
Ocean Park Hong Kong, Li says, is not a typical commercial enterprise:
"The people at the park are very passionate about their jobs, particularly those in education, those in animal care; there are other disciplines, too. There are many loyal staff. When we have difficult times, these are the people who rise to the occasion and face challenges together."
Matthias Li looks to the future
Having spent the last 26 years at Ocean Park Hong Kong, leaving will require some adjustment:
"It will take a while. I will adapt, and find something to keep myself occupied"
He had been planning to do some travelling for his retirement:
"I was planning to pick a cruise in July, a few months back. Then COVID-19 happened, and I got stuck. But I'll find myself new hobbies, do more exercise, as I'll probably have more time. And I look forward to new challenges – some uncertainty, which will keep me interested. The next stage is [about] exploring the future, and the fact that I don't know exactly what it holds is exciting.
"I got this advice from a friend," he adds. "Whatever you get involved with in the future, it must be something you're passionate about; something that is meaningful, or that you think is meaningful. The third criterion is that it is something you feel you are competent to do.
"So these are the three key criteria I'm looking forward to exploring. Out of things that I want to do – to volunteer, or to have more involvement in the industry in a different capacity, in the consultation area of the theme park industry – certainly, I'm passionate; they would be meaningful things to do, and I'm competent, as well, though that, of course, will depend on the role I play."