Brady MacDonald reports on his construction tour of the ride.
Coming this summer to Star Wars: Galaxy's Edge at Disneyland and Disney's Hollywood Studios, Rise of the Resistance will comprise four distinct ride experiences. These combine into one of the longest attractions ever created for a Disney theme park.
The elaborate new attraction will be set amid a rebel military camp next to Black Spire Outpost on the remote planet of Batuu. The Resistance has set up camp in the forest to avoid detection by First Order troops that have established a base in the nearby "Star Wars" village, where the new lands will be set in the California and Florida theme parks.
See also: What to expect when Galaxy's Edge opens at Disneyland and Disney World
"You'll notice that there's a very temporary nature to everything out here," said John Larena, Walt Disney Imagineering executive creative director. "Basically the story we're telling is the Resistance has set up shop here, probably in the past couple of weeks. Everything is ready to get swept up as soon as the mission gets called."
Behind-the-scenes at Rise of the Resistance
Larena recently led an exclusive behind-the-scenes media tour of the Star Wars: Rise of the Resistance attraction under construction in Galaxy's Edge at Disneyland.
A full-sized red A-wing fighter sits in the woods next to a blue-pinstriped X-wing. The ride queue winds through cavernous tunnels amid scattered high-tech military gear.
Recent Galaxy's Edge news: Rise of the Resistance now open at Disneyland / Disneyland unveils virtual queue guide for Rise of the Resistance / R2-D2 joins cast of Star Wars: Galaxy's Edge at Disneyland
"This is an operating resistance outpost," Larena said. "You get the sense that there's an active base and that something big is going to happen soon."
Visitors enter the attraction queue near a Resistance gun turret and they then wander through tunnels carved by an ancient civilization.
"This is an old edifice with some old carvings from people long ago that were here," Larena said. "You have all the rebel high-tech that's contrasting against it."
See also: Inside the Millennium Falcon, the 'hunk of junk' at Disney's new Star Wars: Galaxy's Edge
Rise of the Resistance theming
Painters have added stains to the rock cavern ceilings to suggest water has been dripping for centuries inside the ride queue. Windows formed by hand-sculpted rock work also offer peeks into the elaborately themed land. The views also suggest what may happen next in the attraction. In addition, the high-tech lights and communication equipment covering the cave walls give visitors the sense they are heading into a Resistance compound.

"You're going to be hearing communications between the flight decks and other personnel," Larena said. "And droids communicating with each other, keeping this place running."
See also: Galaxy's Edge debut could bring 200,000 people and 10-hour lines to Disneyland
Cobbled together Resistance equipment from previous military campaigns form the queue switchbacks.
"You're going to see again and again that they've repurposed this space, putting in all their equipment," Larena said. Furthermore, "you see there's an actual droid here powering some of the lights. All of their stuff has been retrofitted into these spaces."
Laser torches
The rebels use hydraulic struts to support pathways and openings cut by laser torches. In addition, perforated steel Marston mats like the ones used by the military are embedded into the ground.
"You can see this was once three separate rooms," Larena said. "The Resistance came in here with their laser torches and cut out the bigger opening here so they can get their big power cables through this space. Presumably this is coming from a generator that's up above there going down to a communications room."
See also: Breaking down the costs of Disneyland's $1 billion Star Wars: Galaxy's Edge
Stalactites have formed where water once dripped from the ceiling into a trough used by an ancient civilization to clean items. The rock formation now doubles as a bench seat where tired visitors can rest their legs while waiting in the ride queue.
In line for Rise of the Resistance
"Speaking as a father that has spent many, many hours waiting in queues, I've always wanted a place that I could sit with my kids," Larena said. "It's a bit of personal victory for me. I think other people will agree."
In the queue, Resistance targets will glow on high-tech video screens next to niches carved into stone walls by ancient civilizations.
See also: Star Wars: Galaxy's Edge opening date. What if Disney did the unthinkable?
"This room was possibly used for some prayers through icons that used to be here," Larena said. "There's a whole backstory of this place that our guests are left to puzzle over and make a story."
Red Room
The Resistance will then store its laser weapons and munitions in locked cages in the Red Room.
"All their stuff is staged in here for the next campaign," Larena said. "They're ready to go. They're ready to arm up and get on their way."
In the next room, visitors weave past lockers filled with fighter pilot flight suits and breathing apparatus.
"Our props people have done a wonderful job working with Lucasfilm to get all the exact stuff that that is actually what is used on A-wings and X-wings," Larena said. "We're not done propping this all out. There will be a lot little clues and things that I think our diehard fans are going to go, "Oh, I know I know what that is.'"
The standby queue and the FastPass line will then intersect in the Communications Merge Room.
"Again, there's a backstory here," Larena said. "If you look up, it might be ancient star maps up there from the previous civilization that was in here. Now it's being used to route the communications cables from above into these Ready Rooms that we're about to go into."
Ready room
An animatronic BB-8 will then greet visitors in the Ready Room. Rey from "The Force Awakens" appears as a hologram. She asks us to join the Resistance and fight the First Order in a dangerous off-planet mission. Our wingman will be Resistance pilot Poe Dameron.
See also: How Disney magic and Imagineering tech make the Star Wars hotel possible
"You've just been asked to leave the planet and get on a spaceship. Well, let's go do that," Larena said. "These doors pull open and our guests spill out into this space where a Resistance ship is waiting for them. Poe's X-wing is off to the side here. You're going to be hearing the engines spooling up. You're also gonna be hearing a flight deck announcement telling everyone quickly let's get on this ship."
Transport ship
About 50 riders will rush toward a transport ship docked next to Poe's full-size X-Wing. Up in the cockpit, the transport is piloted by an audio-animatronic jowl-faced smuggler named Nien Nunb. The ship is then cleared for take-off as the transport doors close. On the cockpit window and monitor screens, riders see Poe climb into his X-wing as the transport ship takes off from Batuu.
See also: Star Wars Land to offer personalised experience based on ride score
"As soon as we get into orbit, things don't quite work out for us," Larena said. "The First Order has tracked us and we get surrounded by a pair of Star Destroyers. There's a big showdown that happens. Poe has to jump into hyperspace to get reinforcements. We then get tractor beamed into a Star Destroyer."
The floor will move and shake throughout the experience as riders stand aboard the transport ship.
"You will physically be moving and you will feel the sensation of yourself taking off," Larena said. "It will be a mild trip."
Aboard a star destroyer
Fifty stormtroopers await in formation aboard the Star Destroyer as the doors to the transport ship open. A few of the animatronic stormtroopers also make slight movements. TIE fighters will swoop past as the second Star Destroyer from the battle hovers in a 100-foot-wide space window.
"When those doors closed, you were looking at Poe's X-wing spooling up, everything getting ready," Larena said. "Now you've been sucked into a Star Destroyer. You've seen it out the windows. Your ship pulled into a Star Destroyer. These doors open and you are now inside that Star Destroyer."
Riders will then see the ship they boarded at the Resistance base as they step off the transport onto the Star Destroyer. First Order troops will bark orders: "Move along, Resistance scum."
Rise of the Resistance, the detention center
Rise of the Resistance riders are next marched through the halls of the Star Destroyer to a detention center.
"You'll then notice this is a very stark difference to what you've seen in the village in the Resistance space," Larena said. "Everything in here is immaculately clean. It's very brutal and hard architecture. This is all about the First Order aesthetic. As a result, you really feel uncomfortable in these spaces. They are certainly not meant for comfort. They're meant to deal with people like Resistance prisoners."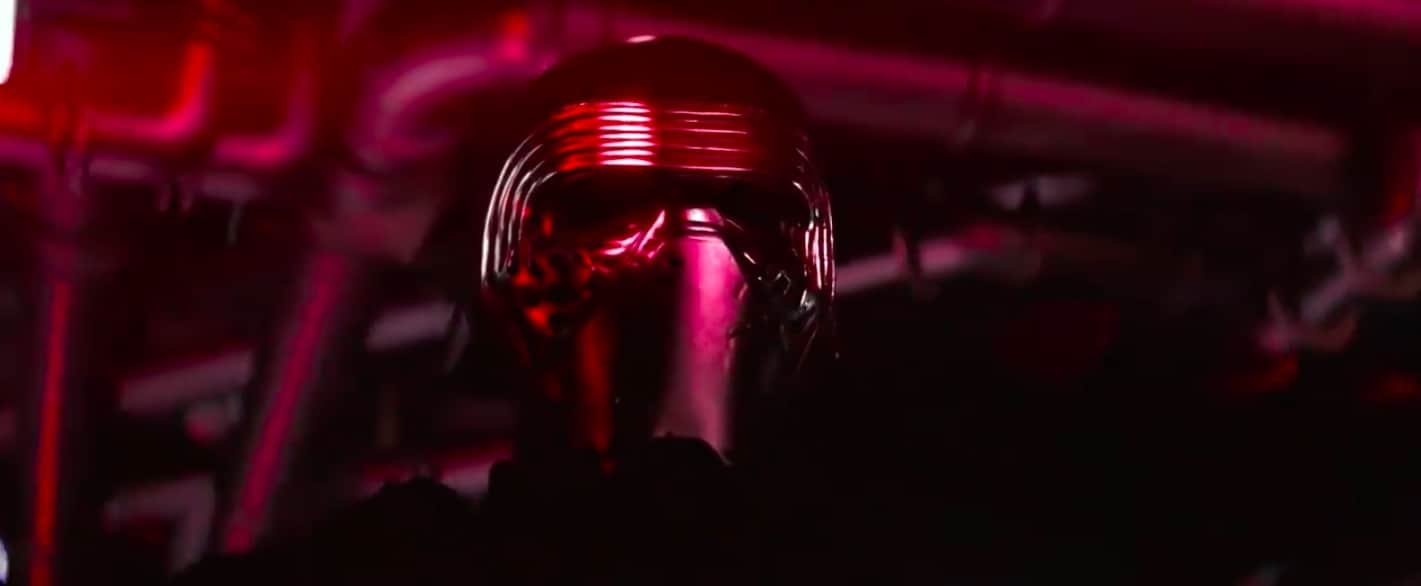 Riders will then be thrown in jail cell similar to the one where Poe Dameron was questioned by Kylo Ren in "The Force Awakens."
"The same sort of thing will happen to you," Larena said. "You're going to get a visit from Kylo Ren and then the rest of the ride is going to happen for you. I can't tell you how. You're going to have to figure your way out of detention."
Trackless dark ride
The Disney tour ended then, about a third of the way through the Rise of the Resistance attraction. Crews were testing the trackless dark ride elsewhere in the attraction.
Throughout the rest of the attraction, riders will find themselves thrown into even more excitement. Specifically, they will be pitched into the middle of a battle between the Resistance and the First Order.
Star Wars: Galaxy's Edge opens at Disneyland on May 31 and at Disney's Hollywood Studios on Aug 29. Disney will open the Rise of the Resistance attraction later this year as part of a second phase of the new land.
All images courtesy Disney Parks.