When looking toward the future for theme parks and resorts, many focus their crystal ball gazing on new rides, attractions, restaurant innovation, or brand tie-ups. But recent research has shown that visitors today also expect theme park technology to improve and create new ways in which they interact with the theme park, for example what the future of the cashless wristband looks like.
Author: Mel Taylor, CEO of Omnico Group
Theme Park Technology as a Service
Virtual reality is a big trend for theme parks today. But interestingly it is not just the rides that can be enhanced by this immersive experience. Recent research has shown that 65% of people who visit a theme park in the US, UK and China would like to see virtual reality used in new experiences and guides around the resort. In addition those same respondents want to see personal digital assistants (38%) and robots as personal assistants (31%). It's clear from this that there is real demand to provide additional service and support to visitors today.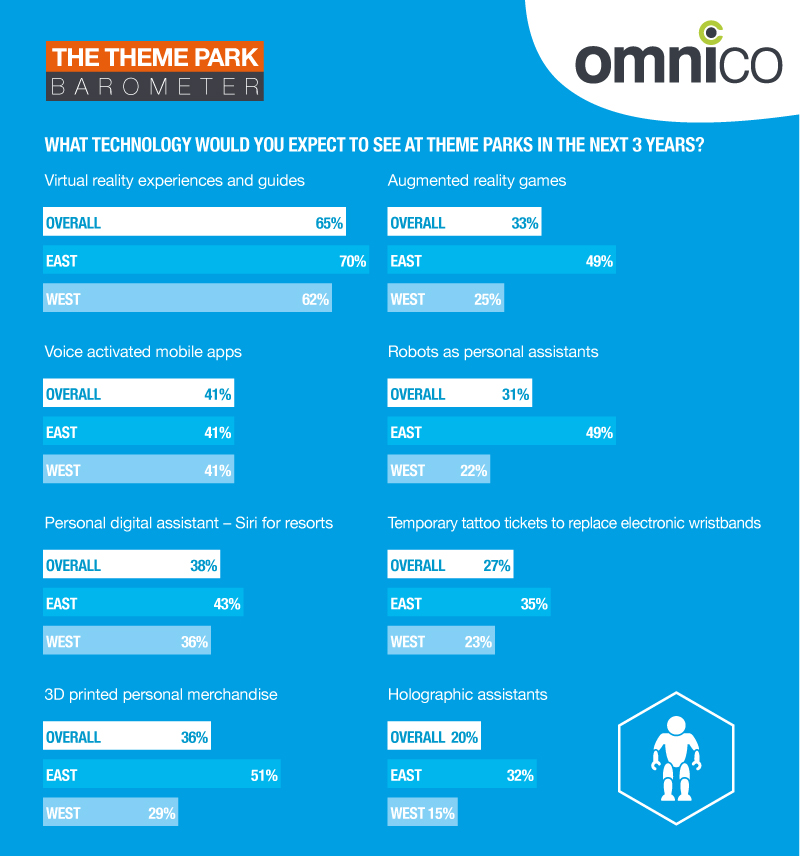 This service-driven innovation is particularly evident in today's consumer homes. Amazon's virtual assistant Echo has recently arrived in the UK, Germany and Austria, after launching in the US. The machines can answer questions, control other internet-connected devices, build shopping lists and link to dozens of third-party services. It is not surprising that with this level of innovation in the home, visitors now expect the same level of service from their theme park experience.
Theme Park Robots
Robots may seem far-fetched when considering the theme park technology of the future, but the 'service robot' industry is expected to have an annual average growth rate of 16.5% during 2016-2020. Already customers visiting Lowe's home improvement stores in the San Francisco Bay Area, will see the LoweBot, an autonomous retail service robot that scans and audits store inventory. Target as well is using inventory taker Tally, and electronics chain Best Buy is using customer service robot Chloe. In Japan's Haneda airport, visitors will soon be greeted by a fleet of humanoid robots called EMIEW3 to guide users to the proper destinations at the terminal.
According to research and market growth, it seems a robotic character may soon be able to greet visitors at the entrance of a theme park and guide them through their experience.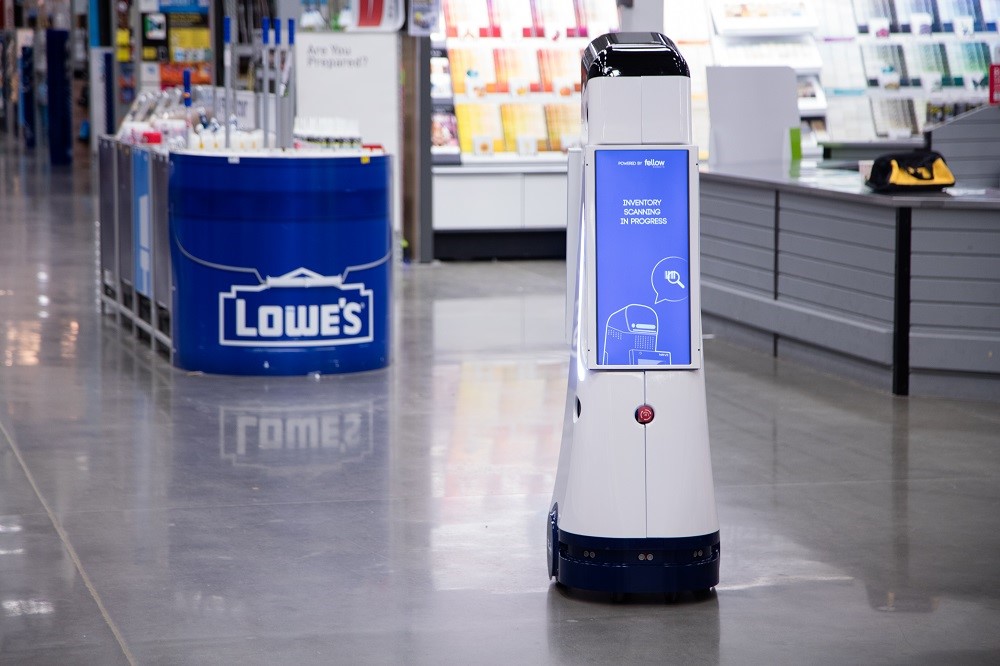 (The LoweBot)
Queue-busting Technology
Queues have become an inherent part of the theme park technology experience, with many operators investing huge amounts of money to tackle the issue. In 2014 Disney World introduced the My Disney Experience and replaced its old paper ticket system. The smartphone app and MagicBand bracelets with embedded RFID chips have allowed guests to schedule ride times, character meet-and-greets, parade viewing, dining and more.
Technology like robots, personal digital assistants and virtual reality guides, may be slightly futuristic. But they're not implausible. The need to provide support in navigating a busy theme park is undeniable. New technology is needed to solve the issues of capacity and queues. Disney recently filed a patent for tracking guest activity at its parks via their shoes using cameras and sensors. This can be used in a wide variety of applications. Most likely it can be used to track guest movement and manage crowds.
Once theme park operators can understand where visitors are and how they're behaving in real-time, they can offer a more personalised, enjoyable experience.
A Cash-less Society
This new theme park technology and the level of innovation obviously expected of visitors today, leads us to question the future of the cashless wristband that has defined to date innovation across theme parks.
The MagicBand is a simple, stylish wristband. Inside it contains an RFID chip and a radio with enough battery to last two years. It may like unpretentious, but the band connects visitors to a vast system of sensors across the park. With the MagicBand there is no need to hand over tickets. There's no need to rent a car or waste time at the baggage carousel. You don't even need to carry cash.
According to a study by the Independent Community Bankers of America, 24% of millennials carry fewer than five dollars in their wallets seven days a week. They also respond well to cashless systems, increasing their spending by 20% on average.
Disney's MagicBand
The MagicBand completely encapsulates this. Now Disney has taken it one step further via the cashless mobile offering at the newly opened Shanghai resort. In Japan however, they are taking the idea of a completely card-less, cashless society to new heights. They are predicting that fingerprint biometrics could be used to pay for services throughout all of Japan by 2020. The aim is of course the next Olympic and Paralympic Games in Tokyo in 2020. To date a total of 300 souvenir shops, restaurants, hotels and other establishments in popular tourist areas will participate in the experiment. There are also plans to expand throughout the whole country.
This isn't an entirely new idea in Japan. They have already been exposed to this kind of theme park technology. In October 2015, a theme park in Nagasaki introduced fingerprint payments for about 30 of its stores and restaurants. In addition, Fujitsu in 2015 rolled out palm vein authentication technology for Japanese payment company JCB. This created the first system in the world to link palm vein information to payment card data.¹
Theme parks are clearly already investing in and utilising cashless devices, whether via wristbands or mobile apps. There is opportunity however for them to develop and integrate the technology even further across more of their park attractions, retail and hospitality outlets, even to the hotels as well. The entire 'single resort experience' should be underpinned by an entirely cashless experience.
Technology Investment
Visitors today are unfortunately a changeable bunch, particularly when it comes to the latest technology. This creates a frustrating dilemma for theme park operators. On the one hand they want to invest in new attractions to drive an increase in footfall and remain relevant. But on the other hand, they need to continue investment in customer experience technology. This is needed to ensure a seamless, convenient and enjoyable trip. Choose to invest poorly, or not at all in one or the other, and their competitiveness in today's market decreases. Theme parks that rest on their technology laurels, risk getting left behind.
Read the full Theme Park Barometer report here: www.themepark.omnicocommerce.co.uk
¹ http://www.information-age.com/seven-things-ask-when-creating-custom-iot-device-123461236/