On the occasion of his 70th birthday, the  speaks to Blooloop about his lifelong career in the business. Friends and colleagues also pay tribute to a man who has truly earned 'industry icon' status.
Over 120 million people have visited Europa-Park since it was founded by a 24-year-old Roland Mack and his late father Franz Mack in July 1975. Located in the town of Rust, close to the borders of France and Switzerland, Germany's largest amusement park was recently voted best in the world for the sixth year running in the Golden Ticket Awards.
Mack Rides has an even longer pedigree in the industry, with roots dating back to 1780. The former builder of showmen's wagons and travelling rides has flourished under Roland Mack, who studied mechanical engineering at the University of Karlsruhe.
Since establishing modern production facilities in its hometown of Waldkirch, 40km from Europa-Park, the manufacturer has significantly expanded its global footprint.
Whether it's the company's roller coasters, water rides or transportation systems, today more than 95 per cent Mack Rides' output goes abroad. This includes many of the world's leading theme parks.
In 2011, Roland Mack became the first German chairman of the International Association of Amusement Parks and Attractions (IAAPA). As an IAAPA Hall of Fame inductee, he sits alongside industry greats such as Walt Disney and George WG Ferris as well as his own father.
Mack has been awarded many other prizes during his career. These include the Bundesverdienstkreuz (German Federal Cross of Merit 1st Class) and Chevalier de la Legion d'Honneur, one of the highest honours awarded by the French state.
A European family union
A strong supporter of the European Union, Roland serves as a special ambassador for families at the Council of Europe. This is fitting, as his park brings families together in themed lands celebrating many different European nations.
Over the past 44 years, the Mack family has invested more than €900 million, without a cent of public subsidy. This May, a family foundation was established to secure the long term future of Europa-Park and lead it into the next generations.
The company has a clear structure, with independent managers who report to the family. With 4,150 team members and over 10,000 indirect jobs, the park is one of the leading employers in the state of Baden-Württemberg.
Roland has two sons with his wife Marianne Mack. Now, Michael Mack (aged 40) and Thomas Mack (38), are responsible for the daily running of Europa-Park together with Roland's brother, Jürgen Mack (61).
As an architect, Roland's 29-year-old daughter Ann-Kathrin Mack has also made a significant contribution. She has been working on Krønasår, the park's newest hotel, and its neighbouring Rulantica waterpark.
Roland Mack celebrates his 70th birthday on 12th October. Now, as he enters his eighth decade, Europa-Park is about to begin a new chapter. Opening on 28th November, Rulantica is the venue's eagerly-awaited second gate. But the park's founder isn't ready to retire just yet.
Here, in his own words, Roland reflects on a lifetime in the business of making people smile:
The evolution of Europe's theme parks
"In general, I think the quality of theme parks in Europe has gone up over the years. We are are all buying bigger rides, and there is a lot of beautiful theming.
"But I think the biggest change during my career has been the big parks developing into destination resorts. Alton Towers, Phantasialand and the Efteling now all have accommodation. Liseberg is going to build a hotel and a second park within the next few years.
"Other parks, including the parks under the corporate groups, started to build hotels after we opened our first hotel in 1995, three years after the opening of Disneyland Paris. They saw that if Europa-Park, in an area where there is not a big city or millions of people living nearby, can make it work, maybe they can be a destination too.
"I can feel another step coming. Now we are investing in a second park, I think there will be a very big focus on what we are doing. If Rulantica is successful, there will be more investment in second gate destinations across Europe."
A resurgence in theming and storytelling
"I have a feeling that themed rides and storytelling are coming back. There was a strong period in the 1980s. Then it stopped as people moved more towards coasters. Now I see it returning. People are also making more investment in transportation methods.
"Our Arthur ride at Europa-Park has a very nice Inverted Powered Coaster system which allows you to tell stories in an extended way. You can stop and turn the ride vehicles, send them backwards, sideways, speed them up and slow down.
"It also has sound on board. It's a beautiful combination of experience, storytelling and mechanism. This is perfect for big parks like Motiongate Dubai [on Dragon Gliders], and now it is going to happen in China.
"Another themed ride we are opening soon is Snorri Touren. This is located underneath the Scandinavian village. It tells the story of Rulantica and is going to be a very pretty ride for families. It's a combination of many experiences, with beautiful visions, animatronics, animated films and cars that can turn."
Ride success stories
"Arthur has been a very successful ride for us at Europa-Park. It's now in its fifth season and transports about 3.5 million people every year.
"With EuroSat in our French quarter, I think we have achieved the perfect combination of coaster and VR. We split the five trains into separate stations for the CanCan Coaster and EuroSat Coastiality. We are taking a little money for the VR entertainment, but it has proved very popular."
"There is a lot of ride capacity in the park, but we also have a lot of guests. Some days we have over 40,000 people, so there is still room for two, three or four big capacity makers in the future.
"One ride I think would be a really perfect fit for us is the Time Traveler [Xtreme Spinning Coaster], which we sold to Silver Dollar City. It's a fast ride, but I think it's still a family ride. It has wonderful cars and a perfect track layout. In general, I would really like to have a ride like this in our park, but the waterpark was a big investment."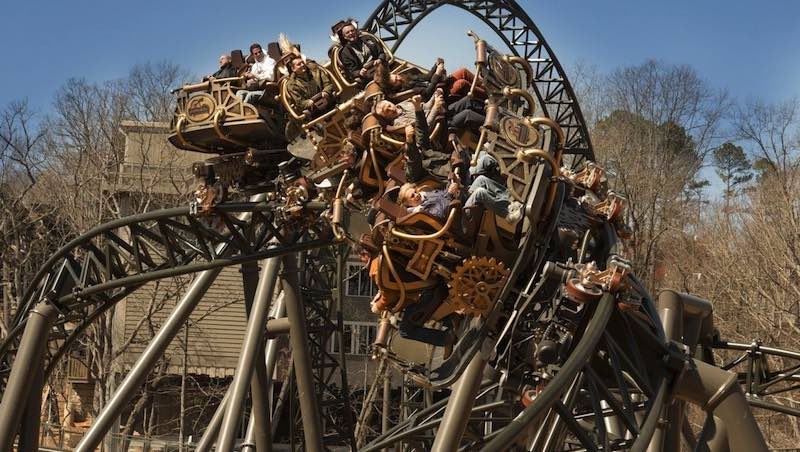 The relationship between Europa-Park and Mack Rides
"We have never been as close as we are now between Mack Rides Europa-Park. I have a very good crew running the daily operation of the factory in Waldkirch. Yet as a shareholder and former managing director, I am still very close to the development of the company when a decision has to be made.
"Is Europa-Park a show floor for Mack Rides? Yes and no. Firstly, we have to make the public happy. We always wanted Europa-Park to be a family park. But we couldn't stay away from big roller coasters as we target all groups."
"Because we are very close to the town, it can be a problem if we have very tall rides that make a lot of noise. Now we can deliver coasters that do not need a lot of height because they use linear motors.
"But really, big themed indoor rides are perfect for us because the entertain the whole family, and they keep our neighbours happy.
"One of my favourite rides in the park is not a Mack ride, but it's very successful – the Voletarium. It's a [flying theatre] simulator ride where you can experience flying over Europe. I think the theming and the location works really well. I'm very proud of it."
A booming hotel business
"We are already a destination park, but I think with Rulantica we will be more attractive to families from far away. We have made a very pretty atmosphere around the waterpark and Krønasår – The Museum Hotel. We did a lot of plantations, put in over 1,000 trees and built hills and lakes.
"I never thought we would have as many hotels as we do now. However, we felt very soon after we opened the first hotel that it was too small. So, we built a second one, a third, fourth, fifth and now sixth hotel.
"Krønasår was already booked out this summer without Rulantica. So you can feel that if the waterpark opens and the length of stays grows, we are going to be under capacity with the hotels.
"There are some other hotels being built around us by big groups like Holiday Inn and Marriott, which is building a hotel with its Moxy brand close to our hotel Bell Rock.
"When we were trying to build our first hotel, the big groups all said they would not invest. They didn't believe in a hotel very close to a theme park. But they were wrong. Maybe that was a good thing because it meant we could make this business on our own."
Shops and recreation
"One thing that is not a big trend in Germany is theme parks and shopping. I hear that there is big business with shopping malls in other parts of the world; a half day of shopping combined with entertainment such as cinemas, VR etc.
"This can be a kind of competition for theme parks, but shopping and parks together can work very well. You can see Disney and Universal in America both have shopping around their parks. We have no shopping malls close to Europa-Park. McArthurGlen has been asking us if they could invest in a shopping village because we have the people here.
"In Germany, we are very strongly orientated towards family businesses and smaller shops. Local politicians have spent so much money making the old cities more beautiful and getting cars out of the main street. So they are heavily against shopping malls outside cities."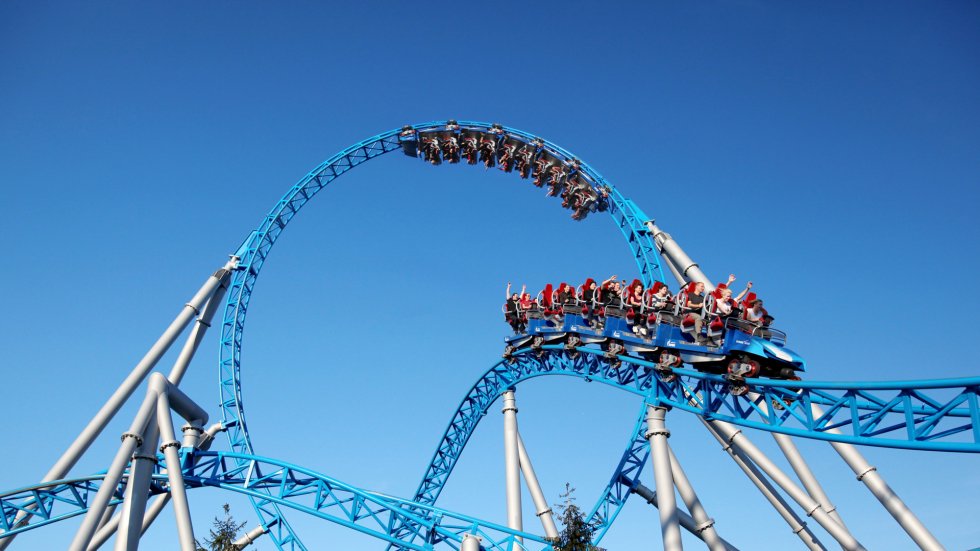 Europa-Park by train 
"It is not a problem to reach our park by car, because we have a lot of parking spaces. That will be the same at Rulantica.
"We are still fighting very heavily to get the people to our place by train. This would be a perfect solution to get rid of cars coming to the park. Disney [Paris] is doing 65 per cent of its visitors by train. We are 3 to 4 per cent because we do not have a station that is close enough.
"The line between Frankfurt and Basel has only two tracks. As long as we have no more tracks, they will not allow the trains to stop close by the park. We are talking to the government. Finally, I'm sure we will succeed. But because it's an infrastructure of billions of euros to build the whole line, it will take some time to make it happen."
Scandinavia rises from the ashes
"The fire we had in the Scandinavia area of the park last year was one of the most awful situations in my business life. You build up something like this over a lot of time, with a lot of heart. Then you see it burning down within hours. Luckily, no people were hurt, so our safety systems were perfect. But the area burnt down very heavily.
"The lucky thing was that it was in the corner of the site. So we could get all the trucks and big pieces in when we rebuilt it, without stopping the daily operation of the park. We worked day and night to get Scandinavia back again.
"It's very tough now in Germany because the construction companies are completely full. That affected the timescale, but I think when we finish everything next year, we will have a better product. This will include the new Pirates of Batavia. This will replace the original Pirates ride in our Dutch themed area, which also burnt down last year."
A high tide raises all ships
"There are a lot of people doing a good job in this industry. The people at Nigloland in France have a beautiful park of high quality. I think Plopsa is doing a good job. It is not a family business, but it's close to a family business. My brother was in America recently to collect the Golden Ticket Award at Silverwood in Idaho. That was also a very nice, family-owned park.
"I am watching also the development at Efteling with interest. They have a beautiful park and beautiful additions. Not only because they are going to get two Mack rides in 2020/21, but also with their accommodation.
"I think if you work on quality, safety and do a good job, that helps the whole industry. It doesn't matter if they are a competitor. If the quality is high, it's good for the whole industry because it makes people come back. But if you have a bad experience in a park, then maybe you don't visit a second park the next weekend."
Roland Mack's dream guests
"I was asked recently by a French television channel who I would like to invite to the park for my 70th birthday. We have had so many people over the years. Chancellor Merkel was here many times, also the president has been here. We've had stars, singers, football players. So many interesting people that I admire.
"I met two popes in Rome during my lifetime, but you will not be able to get a pope to visit the park. I was a big Beatles fan. Two of them could still come. If I could only invite one, it would be Paul McCartney. He is still young enough to visit a beautiful German theme park."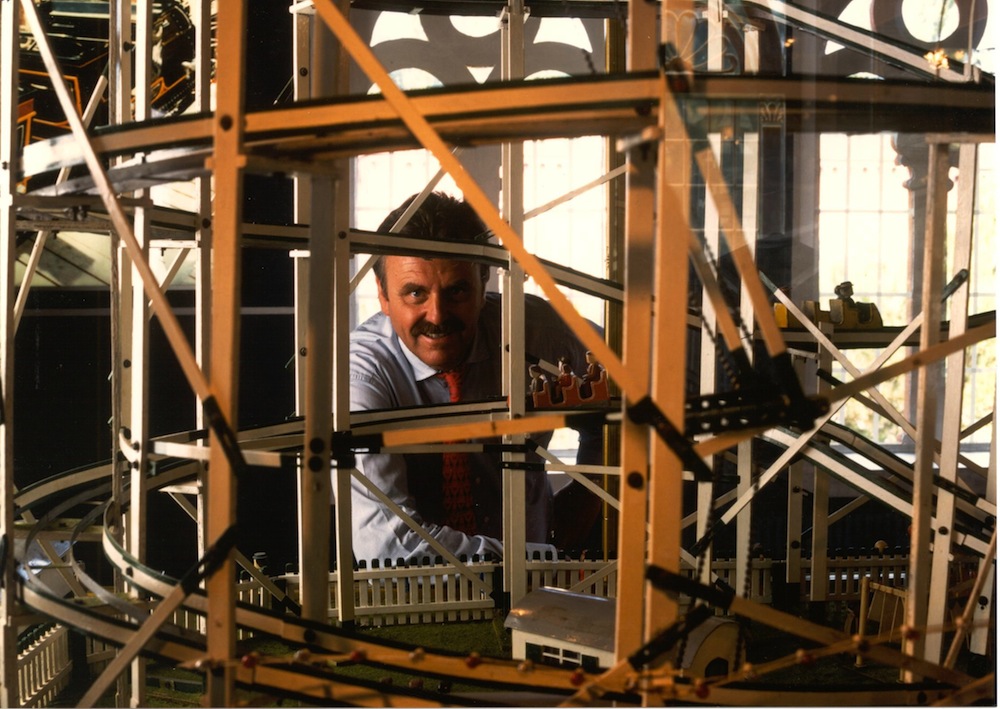 The ride continues
"I'm really not prepared to retire. I have no hobbies, my hobby is my business and my park. That makes me happy. What I don't like is daily things which are repeating now for over 45 years. I am happy that I am rid of those. So I won't leave the business, but I am going to be more in a supervisory position.
"The goal of the Mack entrepreneurial family is to secure the almost 240-year-old traditional company in the long term. The eighth-generation has taken over management. The ninth-generation has already been born.
"The success of the company is determined by how the transition to the next generation works. Good numbers are simply not enough. I was fortunate enough to experience these nearly 50 years of work in good health. That is not a matter of course. I have decided almost everything in my life. And I also want to decide for myself how the handover to the next generation goes."
Family is everything (but the park is my baby)
"The nice thing with a family business is that you can change roles. You need not step back completely. But you can have more time for yourself and still be involved with the development of your baby.
"I am incredibly proud of what has become of our children, Michael, Thomas and Ann-Kathrin. They are independent, great personalities, have very good roles and are full of emotion and warmth. My brother Jürgen and I form a very successful team. He is more the Minister of the Interior and I go more outward.
"From the very first day, my wife Marian has supported the development of Europa-Park with full force. None of this would have worked without her at my side. That is absolutely certain." 
The attractions industry salutes Roland Mack
Through his efforts at Europa-Park, Mack Rides, IAAPA and beyond, Roland Mack's impact on the theme park and attractions business is widespread. The following tributes highlight how he continues to be a source of inspiration to industry friends and colleagues far and wide.
Dr Wolfgang Schäuble, President, Bundestag (German Federal Parliament)
"Roland Mack is much more than the master of rollercoasters. 'Some talk about metal, we bend it'. That´s a common self-description of entrepreneurs from Baden-Württemberg. It wouldn't be a big surprise if this slogan was created by Roland Mack.
"What he tackles takes shape and often serves as a casting mould for imitators. Unfortunately, the actual Europe is often more complicated than the playful version at Europa-Park. Roland knows that too. The Upper Rhine was simultaneously a combat area, stage and home front. Far away from Berlin and Paris − but always right in the thick of things. Today the borders are connecting lifelines. Achieving the vision of a united Europe required the boldness and courage of a Roland Mack."
Jürgen Gevers, Managing Director, VDFU (German Association of Amusement Park Operators and Suppliers)
"Roland Mack is a founder and honorary member of our association. We are very proud of him being a vital part of the VDFU and value his strong ongoing commitment.
"With his positive personality, his hands-on mentality and outstanding entrepreneurial skills, Roland has developed Europa-Park into a world-leading theme park that embodies the idea of ​​a common Europe. We'd like to congratulate him from the bottom of our hearts and thank an outstanding personality."
"Roland's vision has transformed Europa-Park into a world-class destination and inspired the global attractions industry. As IAAPA's first chairman from Germany, his commitment and focus on safety in the industry has left a lasting impact on the association and its members.
"Roland supports and gives back to the industry. His passion, knowledge and expertise have made him a trusted and respected global leader. Thank you, Roland, for all you have done for our industry and IAAPA."
Amanda Thompson OBE, Managing Director, Blackpool Pleasure Beach (IAAPA chair 2020)
"Roland Mack is the biggest private amusement park owner in the whole of Europe. He encourages other family businesses to take part and join our industry. He is a key bridge-builder, and that's what he was when he served with IAAPA. He's a fantastic man, he has taken great care of me throughout my career, and I'm proud to call him a friend."
"Roland's contribution to the attractions industry is simple: he gave us Europa-Park. The impact he has had on the park is, in my opinion, due to three qualities. He has an amazing ability to always look at the experience from the guest's perspective. He is curious and he always asks the question. Always. He has continued to learn and grow throughout his life.
"Finally, Roland's partnership with his brother – and the rest of the Mack family – is important. Together they manage Europa-Park with a long-term perspective, not just thinking about the next quarterly report, but the next generation."
Greg Hale, Vice-President and Chief Safety Officer, Walt Disney Parks and Resorts (IAAPA chairman 2017)
"I personally want to wish Roland Mack all the best for a very happy birthday, Most importantly, I would like to take this moment to thank Roland and share how much I admire and value his important safety contributions to IAAPA and the industry.
"He made safety a priority during his time as chairman that not only significantly advanced safety for our industry but helped pave the way for future IAAPA safety initiatives."
John McReynolds Senior Vice-President, External Affairs, Universal Parks & Resorts (IAAPA chairman 2016)
"Roland is not only the patriarch of Mack family investments within Europa-Park and Mack Rides but a patriarch within the worldwide IAAPA family. Someone we all look up to, who is always probing, asking questions that will take his company and the industry at large to the next level.
"I'm proud to call Roland and his entire family friends. I can't thank him enough for the kindness he has shown me personally throughout the years."
Su Zhigang, Chairman/Founder, Chimelong Group, China
"I have known Roland Mack for well over a decade. Prior to meeting him in person, I had heard about Mack Rides and Europa-Park. I was amazed by these two world-class organisations, especially Europa-Park as the number two park in Europe, second only to Disneyland Paris.
"I was even more amazed by the similarity and structure of our two organisations. Both are privately owned and operated by key family members, achieving great success on their respective continents. By means of this short message, I wish Roland all the best on his 70th birthday."
John Collins OBE, retired park owner, operator and former Tussauds Group executive (past IAAPA and BALPPA chairman)
"Roland's contribution to the industry has been two-fold: building one of the greatest amusement parks in the world, and being instrumental in carrying on the tradition of Mack Rides as one of the greatest manufacturers in the world.
"I remember my first visit to Europa-Park. Apart from the original castle, they had a handful of early Mack rides. One could not possibly have imagined that delightful small park would evolve into the world-class destination theme park it is today. I can honestly say Roland Mack is a very, very dear friend of mine and a true legend in his own lifetime."
Fons Jurgens, CEO, Efteling
"Efteling warmly congratulates Roland Mack on his 70th birthday. We have great respect for what he has contributed to our industry in those 70 years. Both in his role as a manufacturer and supplier of high quality rides, and as a highly valued director of one of Europe's top theme parks.
"We hope that Mack Rides and Europa-Park will benefit from Roland's inspiration, knowledge and experience for a long time to come. As a husband, father and grandfather, we wish him many memorable moments with his family as part of his celebrations."
Jack Schoepen, Captain Jack, Belgium (ex-Bobbejaanland)
"My family has known Roland Mack since the 1980s. He was our example at Bobbejaanland, where we were pleased to buy nine Mack rides.
"I would like to take this opportunity to wish a happy birthday to the most capable person in the amusement industry!"
Chip Cleary, Senior Consultant, Europa-Park (former IAAPA chairman and president)
"I think the most important contribution Roland Mack has made to this industry is to foster a culture that almost any dream is possible. So long as you are willing to push through the disbelievers, manage the risk, always deliver more than the quests expect and build quality and detail into everything. But most of all stay true to your dream."
"Roland Mack is a true inspiration and example for how to develop a successful theme park and manage it in an almost perfect way. With Europa-Park, he has been playing in the Champions League for years!
"Delivering high quality to the visitors, having medium-term visions, daring to invest, putting family values first, having an eye for detail – this really makes the difference. Most of all, Roland stays accessible for everybody."
Helmut Fischer, Director, Tripsdrill amusement park, Germany
"Roland Mack has majorly inspired the entire theme park industry – not only through Europa-Park. Under Roland's leadership, Mack Rides has developed a lot of innovations from which parks in Europe and the rest of the world are benefiting.
"The whole team at Tripsdrill cordially congratulates Roland on his birthday. Best wishes for the future, including above all, good health and continued success!"
Rob Norris, Owner, Seabreeze Park, New York (past IAAPA chairman)
"I got to know Roland very well the year he was chairman of IAAPA. I was treasurer at that time and we worked closely on a variety of initiatives. It's the engineer in him that knows how to solve problems. And he does this in a way that earns respect from those around him.
"During his year as chair, Roland really helped to unify and demonstrate we are truly one global IAAPA. That was his mission and he accomplished it!"
Happy birthday, Roland Mack!
Here at Blooloop, we'd like to join the rest of the attractions industry in wishing Roland Mack a very happy birthday.