SeaWorld Entertainment is opening the second Sesame Place theme park in the US, scheduled to open in spring 2022. Sesame Place San Diego, from SeaWorld and Sesame Workshop, will be the first Sesame Place on the West Coast.
As Sesame Street celebrates its 50th anniversary, the immersive attraction will feature the fun and learning of Sesame Street, exciting family rides, water slides, live character shows, parades and interactive experiences.
The 17-acre Sesame Place theme park will open at the former site of the Aquatica water park. It will boast seven themed dry rides and an interactive musical play area. This is in addition to 11 water attractions including a 500,000-gallon wave pool, as well as an interactive Sesame Street Neighborhood.
A brand new Sesame Street park
Clint Brinker, corporate project manager, global theme park development, is leading the new Sesame Place San Diego theme park project. He has been working for SeaWorld Parks & Entertainment since 2018.
"I came to SeaWorld Parks & Entertainment specifically for the Sesame Place San Diego project," he tells blooloop. "Prior to that, I started out my early career in the US Navy, in the part that focuses on construction engineering. I eventually got out after 12 years of active duty. I went into the reserve as an engineering officer, and found my first theme park job."
He had always wanted to build theme parks:
"I've been working in theme parks ever since. I'm living the dream."
He has worked for all the major operators and his first job was working on Shanghai Disneyland.
"I've had the good fortune of having great roles and great mentors. This has opened up the opportunity for me to lead the construction, design, build, and opening of a brand new Sesame Street park."
A long-lasting partnership
Brinker describes the development of Sesame Place San Diego:
"SeaWorld Parks & Entertainment has been the theme park partner in the US with the Sesame Workshop since 1980 when they opened the original Sesame Place park near Philadelphia. It started out very small and evolved into what it is today, which is something very similar to our Sesame Place. It is a blended park: both a dry park with rides and shows, and it's also a water park."
"Through that partnership with the Sesame Workshop, SeaWorld planned to open a second Sesame Place park in the US, which they announced several years ago. Through a lot of the development aspects of how you go about deciding to build a new park, they decided to build here in San Diego, so we now have a West Coast as well as an East Coast Sesame Place, after all these years."
Like its sister park, the new attraction will be a blend of rides, shows, dry play, and meet-and-greets, alongside fun water rides.
Sesame Place San Diego draws on much-loved IP
The Sesame Street IP has a universal and enduring appeal. It has charmed and educated generations of children on a global scale.
"Sesame Street is an American treasure which has, since 1969, become an international treasure. They do a lot of global outreach and have created a version of the show in so many different countries where they adapt many of their characters to embrace the culture, all in the name of creating an entertaining opportunity for preschool-age children, to play and learn, giving them a place to become stronger, smarter and kinder."
"They have just celebrated their 50th anniversary, which was a really big deal. I was fortunate enough to be a part of that. They just continue to get bigger and better every year, and it's amazing."
Favourite characters
Throughout its 50 years of history, the Sesame Workshop has sought to promote diversity and inclusion. It tackles complex topics including racism, HIV, homelessness and incarceration in a straightforward, child-friendly fashion.
It has always included human cast members from all racial backgrounds and has puppets from a diverse range of ethnicities. There are wheelchair-using and neurodivergent puppets, opening up conversations celebrating difference, and promoting inclusion, without ever being didactic or preachy.
Everyone is represented, and everyone has a favourite character.
"Mine is Oscar the Grouch," Brinker says. "If you ever see a picture of me, you'll notice that I wear an Oscar the Grouch hard hat. When I was little, Burt and Ernie were my favourites, just because of their dynamic, and then perhaps Big Bird. Everyone loves Big Bird. But as you become an adult, your taste changes.
"That's another great thing about Sesame Street. Whatever your age, we all have someone who we can identify with, and that represents us."
Sesame Street and inclusivity
The Sesame Street IP is synonymous with inclusivity.
He comments:
"It's a strong focus. Inclusivity changes over time and cultural understandings adapt, so they adapt as well."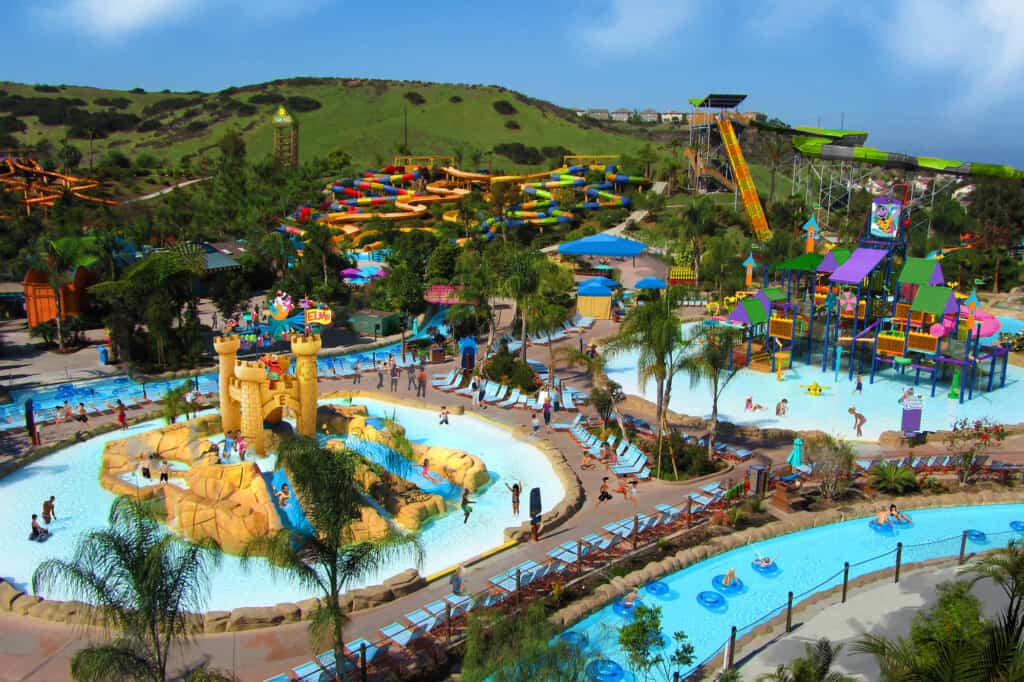 As well as teaching children about numbers and the alphabet, Sesame Street and its cast of puppets teach children around the world to respect diversity and promote inclusion, with more than thirty co-productions of the program viewed in more than 150 countries, as international versions of the programme tackle country-specific sensitivities in a non-Western context.
A certified autism centre
Sesame Place San Diego is a certified autism centre.
"In terms of inclusivity, autism awareness is very important," says Brinker. "The original Sesame Place park in Philadelphia was the first certified autism centre. It was a big deal to see a theme park become a certified autism centre; SeaWorld and Sesame Workshop really pioneered that. Now, opening a second Sesame Place here, we are going to carry that legacy on, and open as a certified autism centre."
This, he explains, involves considering all aspects of inclusion in terms of families with autistic members in this environment:
"It can be very noisy, and a challenging environment for people on the spectrum. We prepare for that in the design of the park, as well as in the specialist training of all of our staff members. That is probably one of the largest components.
"We have a planning guide online. This helps guests to read ahead and understand what the experiences will be like before they come; preparation is very important for those families. Then we have two large, airy quiet room spaces in the park. These have comfortable seating and create a place where family members can recharge and take a break from the hustle and bustle of the park while they're here.
"The whole goal is to create an inclusive environment where all families can have fun together."
Sesame Place San Diego and COVID-19
The pandemic impacted the development of Sesame Place San Diego:
"We were some months into construction when we had to shut down because of COVID, which affected our timeline. We had originally planned to open in the spring of 2021. We're now opening in March of 2022, so we moved our timeline by about a year.
"Throughout, it was a big challenge in terms of how to continue to keep the project going, and keep the word out there. But we persevered through this. I think that our guests in Southern California and nationally and internationally are very ready to get back to the parks. They are going to be very excited when we open in March.
"I'm extraordinarily excited about it."
As far as future plans are concerned, he says:
"We're opening completely full; this park is going to be absolutely loaded with attractions."
Seasonal events to come
The location for Sesame Place San Diego was originally Aquatica:
"We did this as a kind of park flip. So, within the fully complete water park, we've added a completely original live theatre show. We also have our award-winning Sesame Street Parade, and the brand new Neighborhood Area, which is a fun, interactive play area, and an authentic representation of the studio set that you see on TV."
"We have seven rides including a family roller coaster, a musically themed dry play area, and many character meet and greets or character opportunities, both physical and digital. Our neighbourhood area is interactive. It's just a lot of fun.
"We plan to be open year-round, which I think is important. We are going to have seasonal events. These will start to evolve through the seasons after we open, with Halloween, Christmas and other seasons represented. That is something that will totally change the face and the experience of the park, from the music to the way you meet the characters, who will wear their fun costumes.
"In the very near future, then, guests will see the park transform with the seasons. Beyond that, we have plans to expand the park, and to add new, exciting things to the park."
Rides at Sesame Place San Diego
The park's rides will include Elmo's Rockin' Rockets, which let kids hop in one of Elmo's rocket ships to fly up, down, and all around on an imaginary trip through outer space, and Sunny Day Carousel, a cute, colourful, classic ride that is perfect for all ages.
The Cookie Climb ride engulfs kids in a cloud of cookie crumbs as they pull themselves to the top of Cookie Monster-themed towers, and hang on tight for a fun-filled ride back down to the ground.
There is also Abby's Fairy Flight. This is a family swing ride themed after Abby, the fairy-in-training from Sesame Street and Rosita's Harmony Hills. The ride affords children of all ages the chance to climb, crawl, and create beautiful 'música' as they play on the rolling green hillsides.
The Rub-A-Dub Sub invites kids to buckle up and get ready for a bubbly adventure aboard Ernie's toy submarine, the S.S. Duckie, which goes around and around both forward and backward, bringing smiles to everyone on board. Meanwhile, the Sesame Street Soar & Spin lets guests choose their favourite furry friend's balloon and go up high for a bird's-eye view of the park.
Guests can also enjoy Super Grover's Box Car Derby, a family-friendly coaster full of fun hills, big turns, and mini-dives.
In addition, children can visit the classic Sesame Street Neighborhood with the iconic 123 stoop. The activity will be immersive, with both physical and digital character experiences.
Fun for all
The aim is to attract a broad demographic:
"Obviously, with every park, the local community is very important. It is crucial to embrace what your local guests are looking for."
"That being said, Southern California, and especially San Diego, is a massively important international tourist area. Both for the many guests who travel from all over the West Coast and across the US, and also for the international visitors who travel to Southern California and San Diego from all over the globe. We are targeting getting the message out to everyone, including the international audience."
Sustainability at Sesame Place San Diego
Sustainability has been a large part of the park's creation. Brinker says:
"Of course, every time you design a property of any sort, but especially a theme park, sustainability is a big concern.
"In terms of theming, you always want to design attractions that are going to be evergreen for decades; at best they become timeless classics. In our case, we have the strong benefit of the IP that we work with."
"Sesame Street has remained evergreen ever since it started. So, our characters are enduring, and all our attractions, therefore, have that benefit.
"From an engineering perspective, we always try our best to engineer with best practices and work with our different vendors and manufacturers to create rides and attractions that are, first and foremost safe, that are exciting and fun, and that will endure."
Sesame Place San Diego is scheduled to open in March 2022.