Play may be the purest and most nourishing form of human experience. Engaging guests in play is the common thread connecting all experiential destinations.
By Tim Madison, Raven Sun Creative
The more an institution can understand the principles of play across all destinations—from a museum to a theme park—the better equipped it will be to realize distinctive goals and forge a unique bond with its own guests.
One of the most fundamental human drives is the need for experience. And it is one that's often taken for granted. We seldom seem to acknowledge exactly how essential the acquisition of experience is for human well-being.
As young children, we satisfy much of this need through play. Play is critical for our mental, emotional, social, and physical development. We also use it to make sense of the world and ourselves. It is simultaneously an act of learning, recreation, and self-expression. Play, at its best, is the purest and most complete expression of living. But what are the elements and principles of play in this case?
The Elements of Play
Exploration – Answering the call of curiosity to investigate the world and probe possibility
Discovery – Finding something new and meaningful
Interaction – Being an agent of change and reacting to change
Connection – Forming meaningful links between ideas, things, and others
Self-expression – Bringing your inner life—thoughts, feelings, and ideas—into the outer world
Because childhood play is fundamentally imaginative it serves as a magical gateway to a broad realm of different experiences.
As we grow older, we tend to compartmentalize the world. We divide it into serious, high-value pursuits—work, relationships, formal education—and the frivolous and unproductive extras. It becomes harder for our literal, rational, self-conscious selves to slip into self-directed imaginative play.
Yet we never lose our appetite for play.
For adults, play may not serve the same developmental purpose. However, it remains essential nourishment for the mind, body, and soul. We still need stimulating, enriching experiences that allow us to explore, discover, interact, connect, and express ourselves.
The most satisfying guest experiences activate all the elements of play in harmonious combination. Whatever the destination's mission, it is always tasked with engaging the whole human.
The missions and value propositions of guest destinations will vary dramatically. But there are certain commonalities to creating well-rounded, enriching experiences.
Principles of Play
There are three main principles of play when it comes to designing experiential destinations:
Honour the guest's agency.
In an experiential environment, whether it's the Fairytale Forest of Efteling or the spaces of the teamLab's Borderless Shanghai, guests derive pleasure from a sense of agency. Much of the satisfaction of play comes from the feeling of being an active participant in their own stories; the chance to shape their own experiences.
A simple but elegant example of this can be seen in Tokyo DisneySea's 20,000 Leagues Under the Sea. Here, guests can direct their submarine's searchlight via a joystick. It scratches that primal itch to explore and discover.
Giving guests opportunities to flex their autonomy can vary. For example, offering an engaging layout of an exhibition space or using sophisticated interactive technologies. But the basic principle is to empower the guest to make rewarding decisions.
Tell engaging stories with your guests.
Being involved in a story is a whole-brain experience. Storytelling is so central to childhood play because it provides access to an infinite range of imagined experience. A great narrative engages the parts of our brain that would be activated if we were actually experiencing the events being described firsthand.
In the context of an experiential destination, the most satisfying story experiences provide room for the guest as a participant, interpreter, and co-creator. Destination storytelling is much more than a linear plot delivery system. Every guest is already telling their own story. The goal of a destination is to provide the environment, experiences, and creative content to enrich and elevate the guest's personal story.
Build an extraordinary world.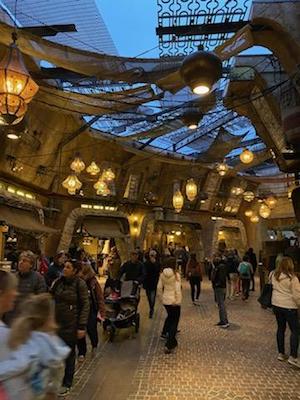 Play is also about the journey into self-discovery. We are our most authentic selves when we are at play. Rather than an escape from reality, the best play experiences offer extraordinary circumstances for us to realize our potential.
Young children need little to envision an extraordinary world. However, the rest of us require a little more to feel transported.
Guests need playscapes with an exceptional sense of place. Ones that pique the curiosity, reward the mind and senses, and provide multiple layers of meaning and discovery. A destination with a compelling, one-of-a-kind identity that fires the imagination is a place that people treasure for a lifetime.