By Tim Madison, Raven Sun Creative
Divergent thinking is the essential rocket fuel of the creative process and innovation. It's also an underused resource. So, what is the power of divergent thinking and what can organisations do to tap into its full potential?
Any act of creative problem-solving requires two principle mental processes: convergent and divergent thinking.
Convergent Thinking uses logic to draw from an established body of knowledge to work inwards toward a singular correct conclusion. It is also sometimes described as "spotlight thinking."
Divergent Thinking emphasizes using free-ranging imagination to work outwards to generate a diversity of possible solutions, unbound by presumed constraints. It's also known as "floodlight thinking."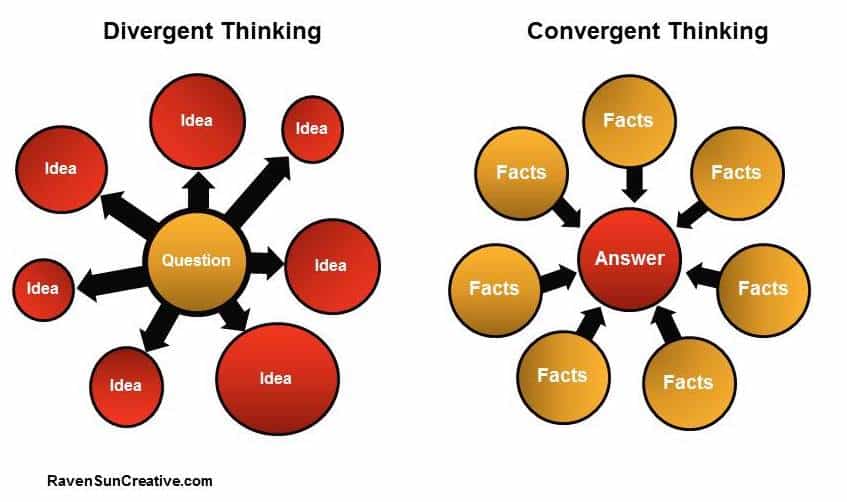 Divergent thinking is the open end of the innovation funnel. We associate it with originality, breakthrough innovation and unexpected recombination, as well as the ability to break free from the status quo.
Convergent or divergent thinking?
Some examples of brilliant divergent thinkers? Buddha. Socrates. Leonardo da Vinci. Nikola Tesla. Marie Curie. Steve Jobs. The average five-year-old child.
As we grow into adulthood, most of us then trade our ability to think divergently for the ability to efficiently arrive at "correct" answers – convergent thinking. We tend to be far more efficient at using past knowledge to direct a spotlight to a singular correct solution. We're better at knowing what works than seeing what's possible.
Convergent thinking can also become the dominant form of cognition in institutions and business cultures. When that occurs, it limits the organisation's ability to innovate and differentiate itself from the competition. The wide end of the innovation funnel starts to contract.
Smart integration
However, the solution is not to abandon convergent thinking. It's about building relationships and fostering complementary strengths between both forms of thinking.
Optimising the creative process in an organisation requires the smart integration of divergent and convergent thinking.
So, how does that concept of integration translate into actionable practices?
There is a wide and wonderful spectrum of methods for stimulating divergent thought in the workplace. In terms of universal principles to embrace, though, we've zeroed in on three that highly innovative organisations seem to share. We'll look, too, at several examples of divergent thinking in action from both inside and outside the experiential entertainment industry.
1. Give divergent thinking its space in the process
Getting the most out of both divergent and convergent thinking means structuring a process where each has the dedicated space to work. The most effective creative and design processes establish a rhythm that alternates between both divergent and convergent phases.
Nike is a prime example of a company that excels by building space into the process. The company's incredibly fertile and free-range brainstorming process is complemented with cutting-edge 3D prototyping. The ability to iterate, test, and validate empowers designers to think radically in the discovery and ideation phases.
Discovery (divergent thinking) Obtain a big picture understanding of a particular challenge from as many perspectives as possible. Strip away assumptions. This is the stage where robust divergent thinking is often underutilized.
Definition (convergent thinking) Synthesize information and tighten the focus to define the specific nature of the problem to be solved. This process yields the final creative brief.
Ideation (divergent thinking) Wide-open ideation in response to a clearly defined problem.
Iteration (convergent thinking) Create a working solution through iteration, prototyping, testing, and validation.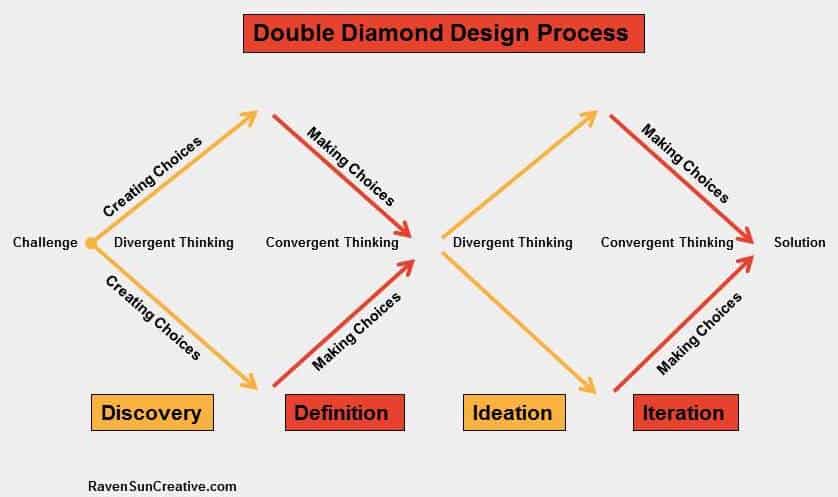 The Double Diamond design model was first developed by the Design Council in 2005.
2. Lead with divergence, then follow through with convergence
Skilled creative leaders foster trusting, collaborative environments that provide team members with the freedom to diverge from norms along with the structure and direction to be productive.
Salesforce was named by Fast Company as one of the world's most innovative companies and regularly ranks high on "best workplace" lists. The cloud-based software company puts an emphasis on a collaborative culture that functions as a healthy, integrated ecosystem. Key features are flexible workspaces designed to support innovative work, as well as collaborative technology, and shared metrics for success.
3. Build divergence into the DNA of your creative team and dynamic
The divergent creative genius may be a rare animal. We can create our own collective genius through team composition. By ensuring a diversity of voices, perspectives, and disciplines on a creative team we can build a shared brain capable of seeing further, thinking deeper, and imagining more.
By ensuring a diversity of voices, perspectives, and disciplines on a creative team we can build a shared brain capable of seeing further, thinking deeper, and imagining more.
One of the most striking examples of this in the museum sector is the Exploratorium at Pier 15 in San Francisco. The innovative museum includes visitors in the co-creative process of exhibit development.
The museum also doubles as a creative laboratory where diverse teams of Exploratorium creators give guests opportunities to interact, collaborate, and inform projects. Integrating a diversity of points of view into the process this way has made the Exploratorium a leader in museum experience design.
Conclusion
Divergent and convergent thinking need one another to be productive. Of the two major organisational problem-solving muscles, though, divergent thinking is almost always the weaker one.
The organisations we think of as the most innovative – for instance, Apple, Netflix, Amazon, Tencent, Unity, SpaceX, Unreal – are the ones that have productively harnessed divergent idea generation. Any business or brand can take steps to strengthen that divergent muscle and invigorate its creative culture.
All images by Raven Sun Creative