Next season, the park's upping the stakes with the much-anticipated CraZanity, the world's tallest pendulum ride which promises speeds of up to 75-miles-an-hour.
As if that wasn't enough to send heart rates rocketing, the park is currently gearing up for its blood-curdling, Hallowe'en horror experience, Fright Fest. And, it's even scarier than last year.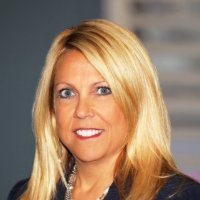 Blooloop spoke to President of Six Flags Magic Mountain, Bonnie Sherman Weber (left), about VR, brand niche, psychographics and, of course, epic roller coasters and dark rides.
Magic Mountain weaves its spell
Weber's links with Six Flags Magic Mountain go right back to her days at high school. She worked at the park as a seasonal employee. "I started in the culinary area, working at one of our food locations," she says. "I was a business major, and became full-time, managing half the food service division while at school. They actually paid for part of my education."
After graduating, she worked her way through the marketing ranks. "I worked through promotions, PR, and was Vice President of Marketing and Sales for nine years."
At this point she left, joining Warner Bros. Consumer Products as Director of Worldwide Marketing.
"I was fortunate enough to work on the Harry Potter brand," says Weber. "I was on the opening team of the Wizarding World of Harry Potter in Orlando. It was one of the highlights of my career."
However, she then had the opportunity to come back to Six Flags in 2010. "I was offered the job of park President, and that is where I have been ever since," she says with discernible pride.
The attractions industry 'gets into the blood'
"It's funny," says Weber. "A lot of people in our industry start out as I did, as a seasonal employee. They think this isn't where they'll wind up. However, there's something that gets into your blood."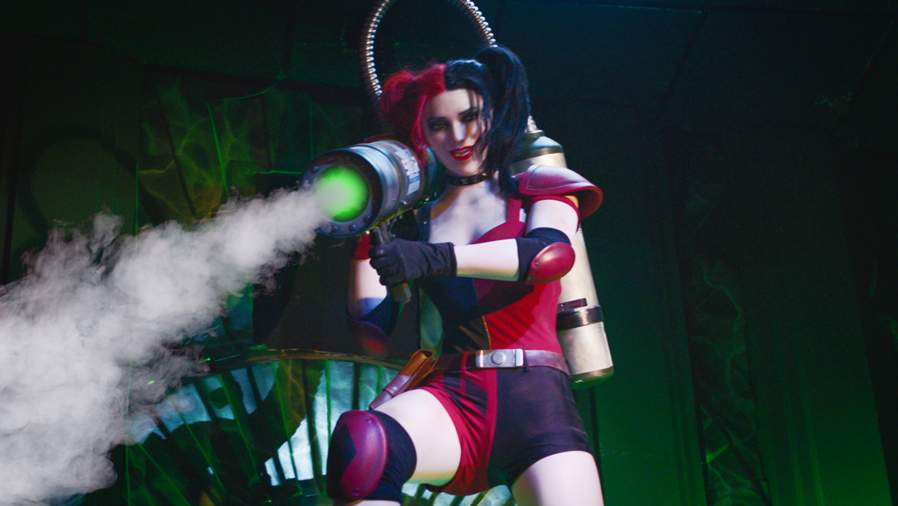 "It is an amazing industry, creating memories for people, making them happy, making them smile," says Weber. "It's also an industry where you're able to touch a lot of people's lives, and develop people, and see them grow.
"I personally was able to develop skill-sets at a young age that have helped me to become who I am today. I think it is an amazing industry that provides unique opportunities."
Identifying the brand niche
Six Flags Magic Mountain is a 262-acre park located in the Santa Clarita neighbourhood of Valencia, north of Los Angeles. It opened on May 30th 1971 as Magic Mountain. Six Flags bought the park in 1979 adding their name to the title. The park has around 3,000 employees and an astonishing nineteen coasters: more than any other park in the country.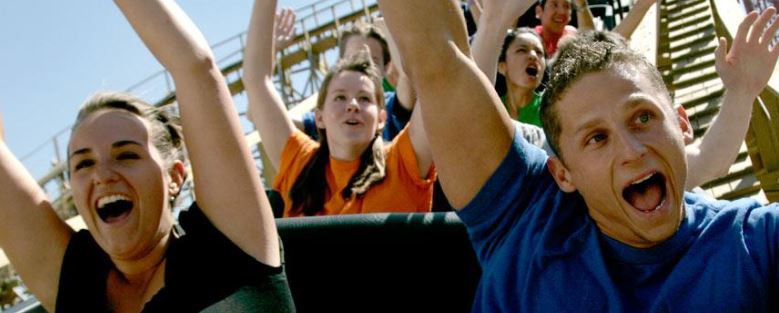 "Way early on we identified our brand niche as the thrill in this market. Interestingly, in 1995 we opened a waterpark (Hurricane Harbor) to complement our product. We were the first theme park company to have a double gate in California, specifically Southern California.
"We have continued to evolve, adding major thrills and major rollercoasters. Part of our product involves big events like Fright Fest, the number one voted Hallowe'en event in the country."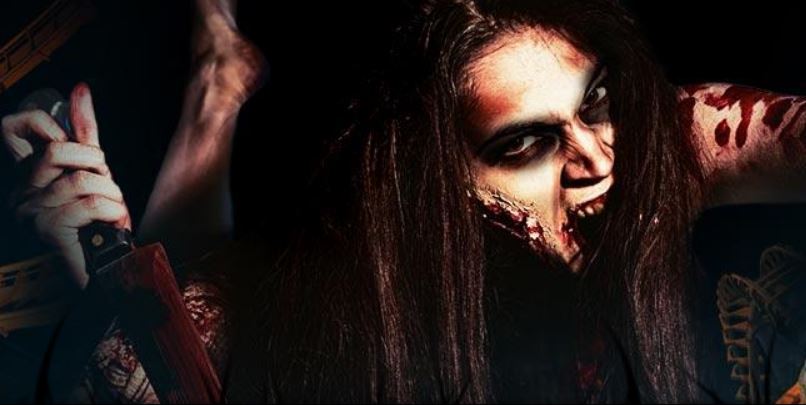 Fright Fest
Fright Fest, presented by Snickers, sees zombies and ghouls take over the park in the run-up to Hallowe'en. This year, the frights and surprises include a new haunted maze, a terrifying Scare Zone, a DJ dance party and a behind-the-scenes VIP tour.
Damned 'N Disguise: Scare Zone transforms Metropolis into a morphing masquerade. In this spooky party zone, the living shift into the undead before visitors' very eyes.

The park's newest maze is Dead End where visitors journey through confusing corners and dreadful dead ends to the darkest outskirts of the scary Willoughby Estate.
Club 6-feet Under kicks off at 9.30pm each night at the Metro Park Pub. A devilish DJ serves up a feast of spectral sounds and monster mashups. Meanwhile the Hidden Haunts VIP tour takes visitors around obscure areas of the park, telling real-life haunting tales.
"Then there's Holiday in the Park, which really broadens out our portfolio," says Weber.
Creating a 'wow' zone
Whenever the park adds a new attraction, the policy (which spans the past six or seven years) has been to create a dramatic 'wow' zone. "It's an attraction but also an entire area, which really impacts the property."
The park has undergone a complete transformation over the past few seasons. This year it announced it was entering the destination travel market.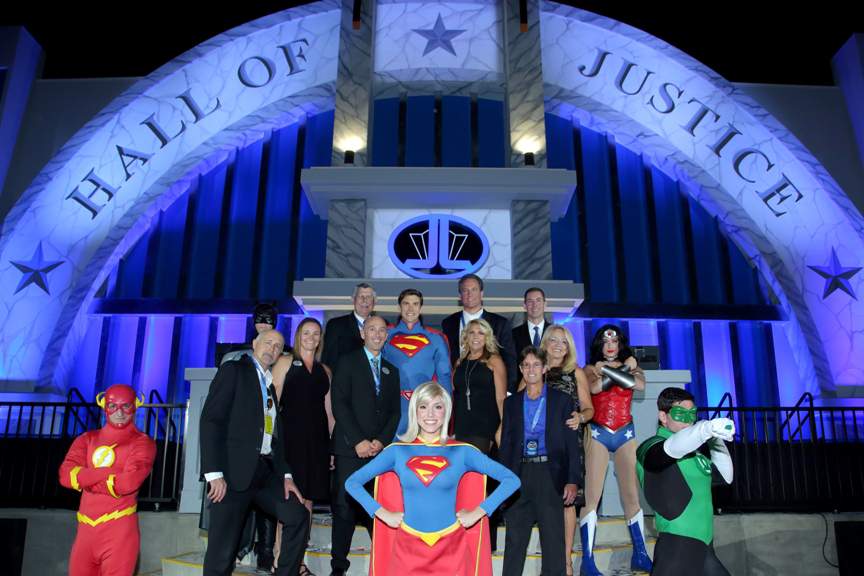 "We will be a 365 day operation, beginning in January 2018," says Weber. "It is so exciting. I just can't wait to sit back and look at what this property will be ten years from now."
Six Flags Magic Mountain's spectacular roller coasters are central to that new positioning. Not for nothing is it known as the roller coaster capital of the world. Its skyline is dominated by mammoth coasters such as Goliath, X2, Viper, Full Throttle, Ninja, Scream and Tatsu.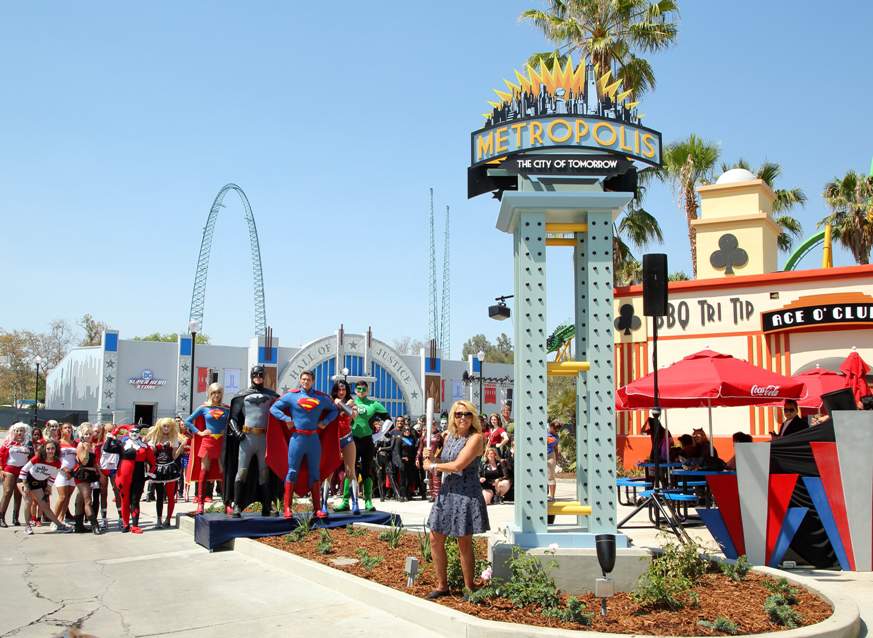 Justice League: Battle for Metropolis
In July of this year, the park opened its new dark ride, Justice League: Battle for Metropolis.
"Given our marketplace, we took an award-winning attraction that had already opened at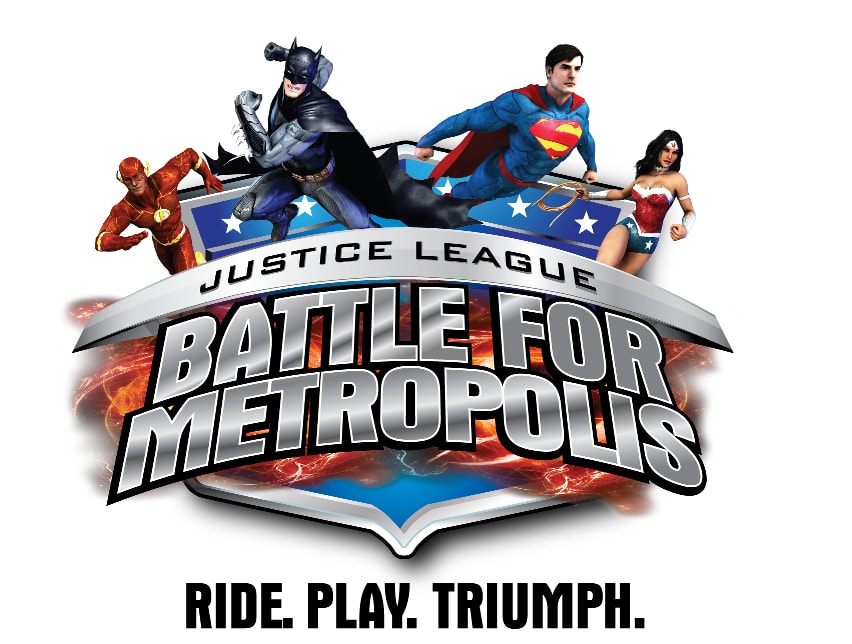 six of our other Six Flags parks," says Weber. "It is a tremendous attraction. We basically added some more bells and whistles to make it stand out in a market like Los Angeles."
Justice League: Battle for Metropolis is a cutting edge, fully immersive dark ride in 4D.
The ride was created by Sally Corporation, the dark ride and animatronic manufacturing experts based in Jacksonville, Florida.
Oceaneering was responsible for the ride vehicles. Alterface provided the interactive gaming elements.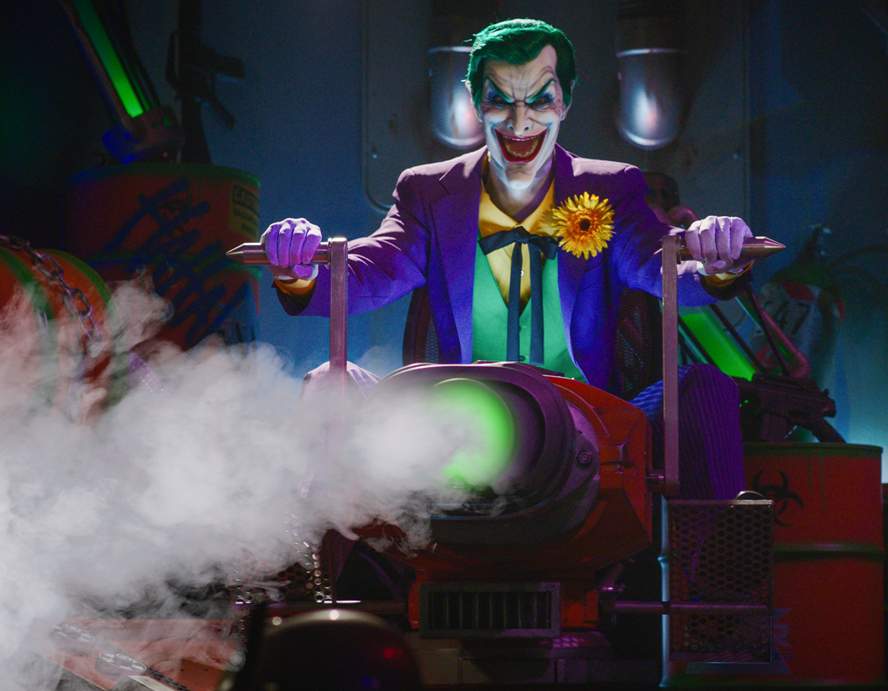 The ride features animatronic figures and targets projected on a fog screen. The equal of anything from Disney or Universal, the ride combines motion-platform vehicles with an interactive shooting video game on a series of 3D movie screens.
There's even a virtual coaster. Guests ride a simulated corkscrew inversion while shooting at the armed 'LexBot' army. A vertical loop is part of a car chase as they help DC Comics' Justice League save the city of Metropolis from Lex Luthor, The Joker and other villains.
A ride designed to 'shatter expectations'
"We took state of the art technology," says Weber. "We looked at the best dark rides around the world. Then, we added them to the Justice League and DC comics brand to create the Justice League: Battle for Metropolis."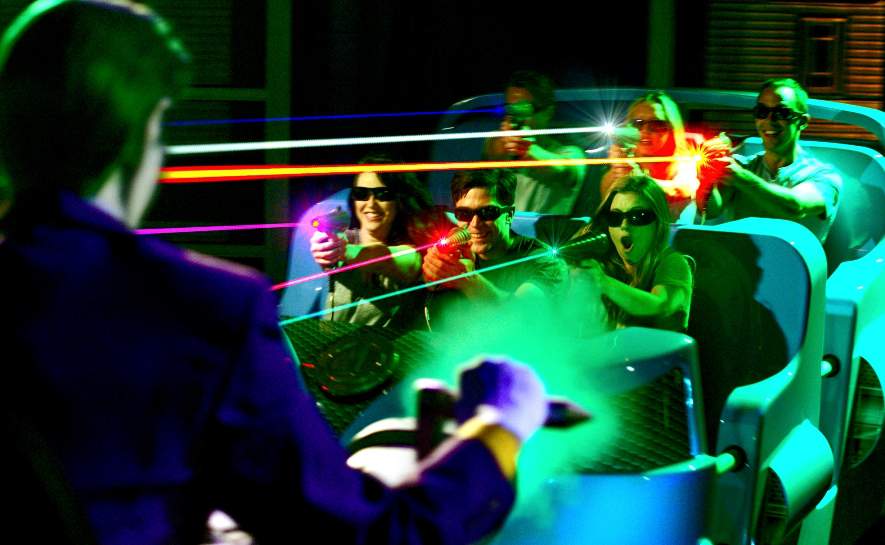 "We said we wanted to shatter expectations. There is no doubt we achieved that. People, whether they are park guests, young, old, savvy theme park veterans, or the most critical guests, all come off that ride blown away with the attraction."
Leading the way with VR
The advent of virtual reality, once perceived as a threat to LBEs has, in fact, been a game-changer. It has proved an ideal partner to live coasters, allowing even the smaller parks to refresh and re-invigorate their offering. Weber views Six Flags as one of the leaders in incorporating VR into attractions.
"Last year, we saw VR at Expo in Orlando," she says. "We turned the technology around, and applied it to several of our attractions at Six Flags in the first quarter of 2016. It's amazing, because what it does is to provide a sense of urgency, and the ability to change up content.
"We changed out The New Revolution to a different concept for the holidays. It really provides our guests with another reason to come out and visit. The experience is quite unique."
The New Revolution is a steel roller coaster manufactured by Anton Schwarzkopf and designed by Werner Stengel. It opened to the public in 1976 and was the first modern roller coaster to feature a vertical loop. In 2016, the coaster received a makeover that included a virtual reality experience for riders.
"In terms of the future, we are looking at a variety of different ways of enhancing our guests' experience using VR technology in a bunch of different forms," says Weber.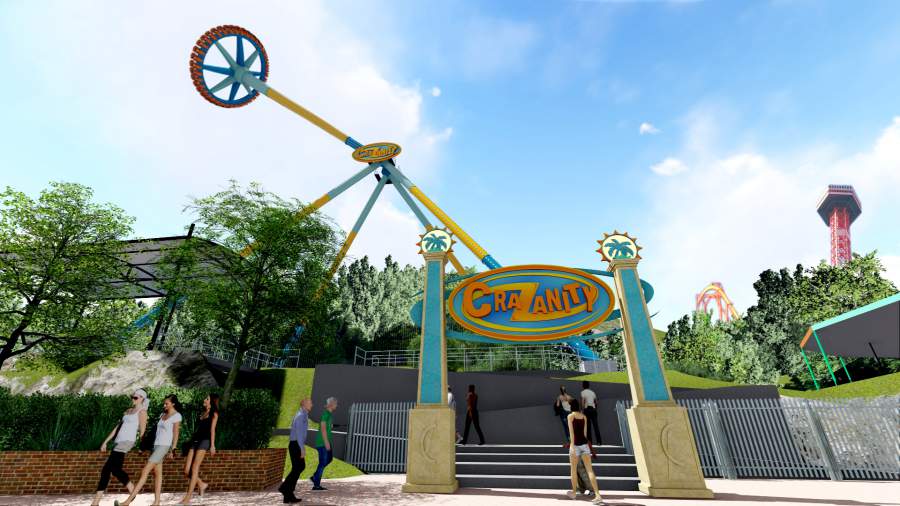 The best collection of thrills in the world
The Six Flags Magic Mountain target demographic is, loosely, teen/young adult. However, Weber says it's more of a psychographic.
"Basically, it is the thrill-seeker mindset that we attract, rather than a specific age group," she says. "You can be young or old. It's all about loving thrills and, of course, we have the best collection of thrills in the world."
That collection is about to be augmented with the arrival of CraZanity, slated to open next spring in the park's newly themed Boardwalk area. The world's tallest pendulum ride promises speeds of up to 75-miles-an-hour as it swings riders to and fro.
Community spirit
Weber is involved in IAAPA, and has industry friends all over the world. "Another thing I love about this industry is the people," she says.
"It's a community. I think the beauty of the theme park industry is that it is always on the cusp, always on the cutting edge. It provides an escape from everyday life. Therefore it has lasted the test of time, and will continue to do so in the future.
"It is our job as industry professionals to seek out technology and keep it relevant to our consumers and our guests. But it's what our industry does the very best. I look forward to a really bright future within our industry, both domestically and globally.
"We're just really excited about the future of Six Flags, specifically Six Flags Magic Mountain. We're thrilled with everything we will be able to provide from January and beyond. We think this property has tremendous opportunities, and we can't wait to see where we can take it.
"It's a very exciting time to be part of Six Flags."