Opening this summer, Disney's two Star Wars themed lands promise ground-breaking rides and unparalleled immersive experiences. But the 5 Star Wars: Galaxy's Edge food and drink locations will also deliver unique, alien eatertainment.
Intergalactic travelers visiting Star Wars: Galaxy's Edge at Disneyland and Disney's Hollywood Studios will find plenty to eat and drink in the Black Spire Outpost village on the planet of Batuu.
Hungry after making the Kessel Run in less than twelve parsecs aboard the Millennium Falcon? You should try some smokey barbecue ribs from a Kaadu beast found on Naboo. Or a deep fried Tip-Yip bird from Endor. Or maybe some space meat cooked by a podracing engine.
See also: What to expect when Galaxy's Edge opens at Disneyland and Disney World
Thirsty after that hyperspace leap to the outer rim of the galaxy on a Resistance transport ship? May we recommend a Jedi Mind Trick cocktail or Bad Motivator IPA beer. Or better yet, an ice cold glass of Blue Milk, the signature drink of the Star Wars universe.
5 locations for Star Wars: Galaxy's Edge food and drink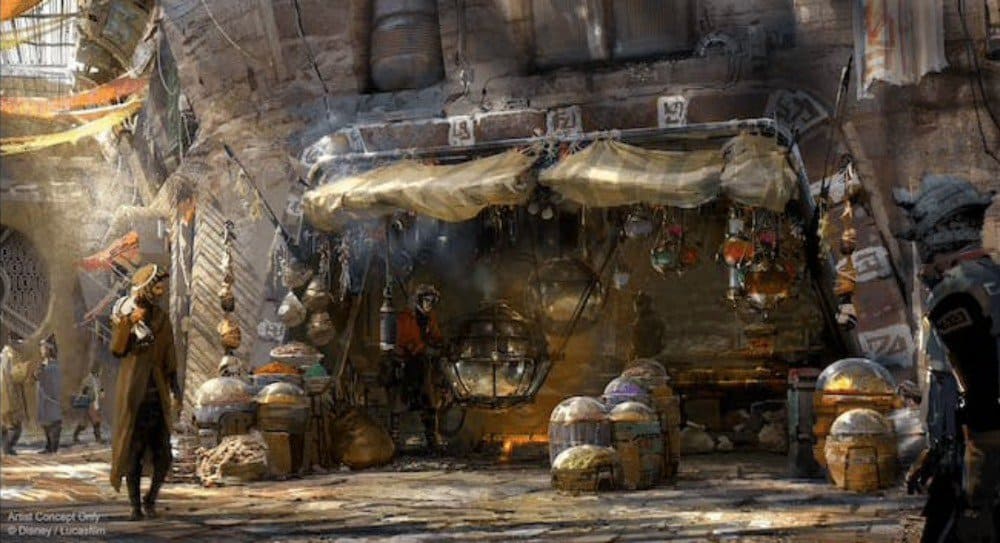 Five locations will serve food and drink in the new 14-acre Star Wars lands coming to the Disney theme parks in California and Florida.
The creatures and plants found in the Star Wars universe served as inspiration for the Disney culinary team as they prepared a menu of familiar Earth-based foods for the Galaxy's Edge themed lands.

Each food and drink menu item sold in Galaxy's Edge will have an in-universe Star Wars name and otherworldly appearance as well as a description of its earthly ingredients.
See also: How Lucasfilm and Imagineering created the elaborate backstory for Star Wars: Galaxy's Edge
"We know that we are stuck with serving food within our planet, but we had to think about it differently," said Brian Piasecki, Disney World culinary director for concept development. "We had to think about some of those flavors of Morocco and those flavors of Asia because of that yin and yang, that sweet and that spicy. It all became very important in the development of the story."
Let's take a closer look inside the restaurants, bars and food stands coming to Star Wars: Galaxy's Edge and what's on the menu at each location.
1. Oga's Cantina
You're going to need a stiff drink after a long interstellar journey to Black Spire Outpost on the Star Wars planet of Batuu, the setting for Galaxy's Edge. Oga's Cantina is just the place.
"Every self-respecting spaceport has a cantina," said Walt Disney Imagineering portfolio creative executive Scott Trowbridge. "This is the best place on the outpost to catch up on the gossip, to meet some interesting characters, also make a new friend, maybe make a new enemy."
Step inside the wretched hive of scum and villainy and you're likely to find a bartender mixing alien cocktails and a DJ droid spinning otherworldly tunes.
Watch out for that bounty hunter in the dark corner of the cantina. He wants to talk to you about the galactic credits you still owe a space pirate.
Oga's Cantina was designed to look reminiscent of the Mos Eisley bar where Luke Skywalker met Han Solo in the original 1977 "Star Wars" movie. Despite the cinematic influences, Oga's still retains its own unique character.
Marinating alien creatures
"If you think about 'Star Wars' films, they almost always have a great cantina as part of their experience," said Imagineering executive creative director Chris Beatty.
"So we've seen the one on Mos Eisley, which had the Modal Nodes playing over in the corner. We've seen the one at Maz's Castle. We also got to see one in 'Solo' where Han and Chewie first met Lando Calrissian. So, of course, our planet has to have a local watering hole."
Bartenders will appear to draw cocktails from glass tanks above the bar seemingly filled with marinating alien creatures.
"The bar, when it's done, is filled with all kinds of containers and different apparatus that have creatures in them that have come to life that are being used as garnishes for drinks," Beatty said during the tour. "They'll have amazing taps and different things that will bring the bar to life for our bartenders to activate this space."
Out of this world drinks
The spaceport cantina will serve an alcoholic drink menu that includes a Fuzzy Tauntaun (Fuzzy Navel), Bespin Fizz (Cosmopolitan), Bloody Rancor (Bloody Mary), Outer Rim (Margarita) and Yub Nub (Rum Punch). The Jedi Mind Trick will be a savory, bitter-style cocktail with grapefruit and botanical flavors.
Cantina patrons can also order a Bad Motivator IPA beer, Imperial Red wine and Spice Runner Cider.
See also: Disney World prepares to unveil a new slate of nighttime extravaganzas
The lineup of non-alcoholic cantina cocktail "potations" includes a Jabba Juice, Carbon Freeze and Black Spire Brew.
Oga's will also serve a non-alcoholic twist on the Star Wars land's signature Blue Milk. The Blue Bantha Milk and Cookies combo comes with a non-dairy plant-based chilled milk served with a Bantha cookie chaser.
The limited food menu includes Oga's Obsession, a petri dish filled with dried fruits, blueberries, raspberries and Pop Rocks.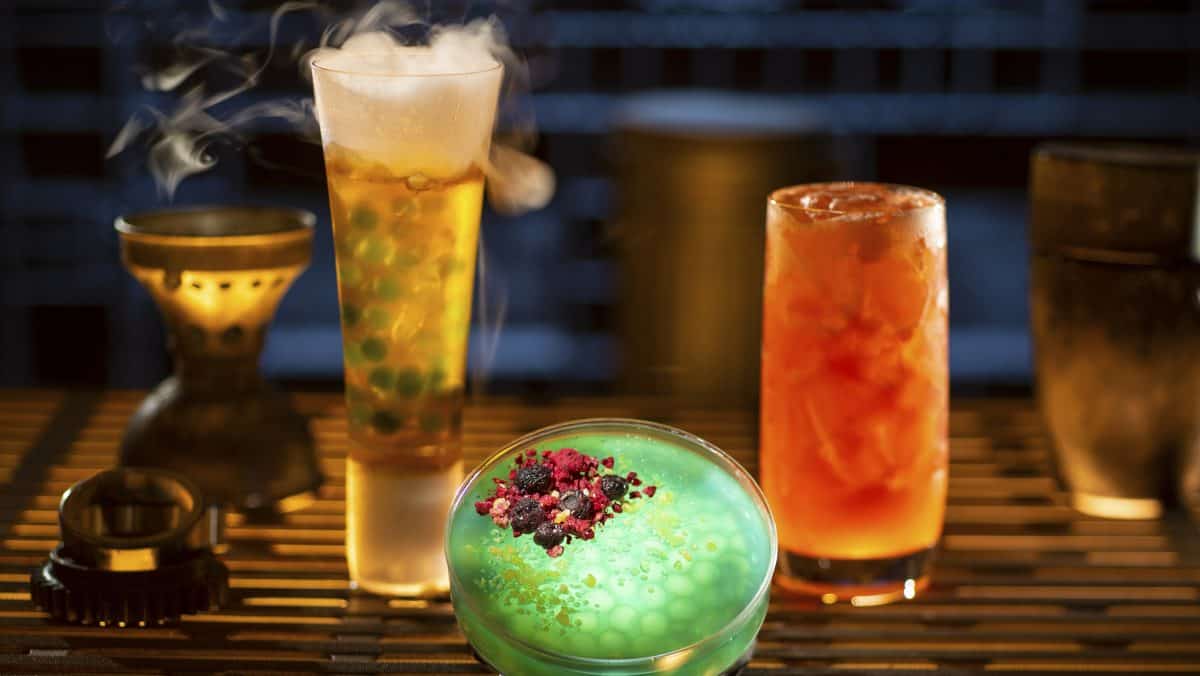 2. Docking Bay 7 Food and Cargo
You're going to be hungry after your long journey to Batuu and Docking Bay 7 is the biggest and best-known restaurant in Black Spire Outpost.
The quick-service restaurant offers an intergalactic twist on the latest food hall and food truck trends. Expect a spicy kick to many of the menu items.
See also: Inside the Millennium Falcon, the 'hunk of junk' at Disney's new Star Wars: Galaxy's Edge
"The flavors in Galaxy's Edge and Docking Bay 7 are going to be very bold, a lot of spice forward," Piasecki said.
It won't be hard to find Docking Bay 7 in Black Spire Outpost. The eatery will be located directly across from the docked Millennium Falcon. A Sienar-Chall Utilipede-Transport ship with its cargo doors flung open will be perched atop the cylindrical-shaped restaurant.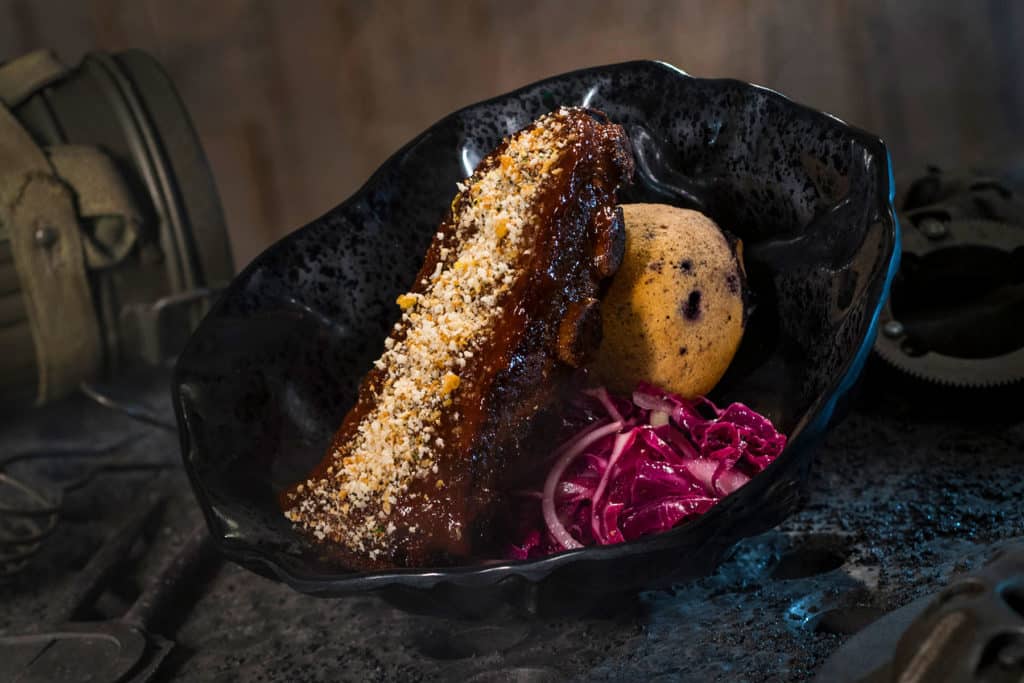 The weathered and battled-damaged food truck-like spaceship atop the restaurant makes stops throughout the galaxy. It collects ingredients and feeds the famished, according to the backstory for the eatery.
What's on the menu at Docking Bay 7?
Inside Docking Bay 7, visitors will eat under a cargo pod being lowered into the hangar-like dining room from the food freighter docked on the restaurant's roof.
See also: Rise of the Resistance – inside Disney's new Star Wars: Galaxy's Edge attraction
Hungry Star Wars fans will dine inside special effects-laden shipping containers that double as seating areas. Barrels and crates will serve as chairs.
The heavily-propped cargo containers will have different themes. Each will be run by a Black Spire vendor. There will be a fishmonger, a fruit vendor and an alien distillery. The fishmonger pod also has a carbonite freezing machine to preserve the catch of the day.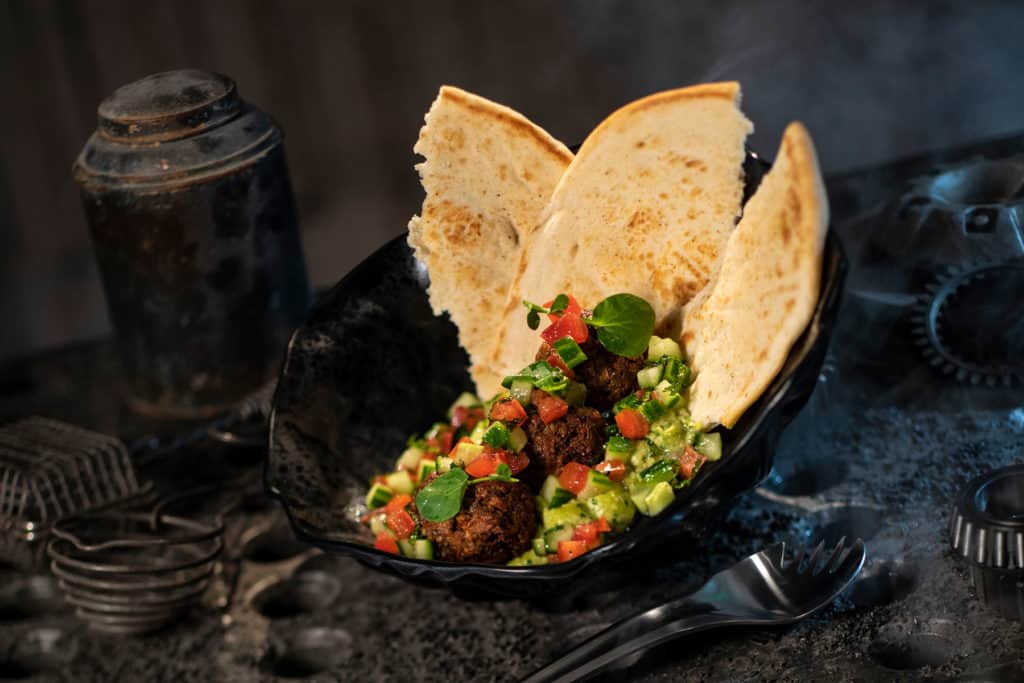 "It has special effects and steam coming out of it," Beatty said. "It's just stacks and stacks of weird fish and creatures that have been frozen in carbonite."
The Docking Bay 7 menu includes Smoked Kaadu Ribs (spicy and sweet pork ribs), Fried Endorian Tip-Yip (fried chicken tenders), Felucian Garden Spread (plant-based meatballs with herb hummus), Yobshrimp Noodle Salad (shrimp with arrowroot noodles) and Oven Roasted Burra Fish (dijon-crusted mahi-mahi).
See also: Breaking down the costs of Disneyland's $1 billion Star Wars: Galaxy's Edge
The restaurant's signature drinks include Moof Juice (fruit punch) and Phattro (iced tea and lemonade blend).
3. Ronto Roasters
The eternal battle between the light and dark sides of the Force will take a culinary form at Ronto Roasters as the menu plays off a mix of sweet and spicy flavors.
Sausages will be roasted on a rotisserie spit next to hand-torn turkey jerky that looks like hanging strips of leather.
"This location is super fun because it's all about meat and it's all about heat," Piasecki said.
A spit of "space meat" will appear to be cooked over a fire stoked by a repurposed podracing engine.
See also: 10 ways to have the most luxurious VIP Disneyland experience ever
"It's shaking and rattling," Beatty said. "It's heating this giant foil that sits at the bottom. There's space meat that's on a rotisserie spinning around."
Several of the items on the Ronto Roasters menu will have a spicy kick.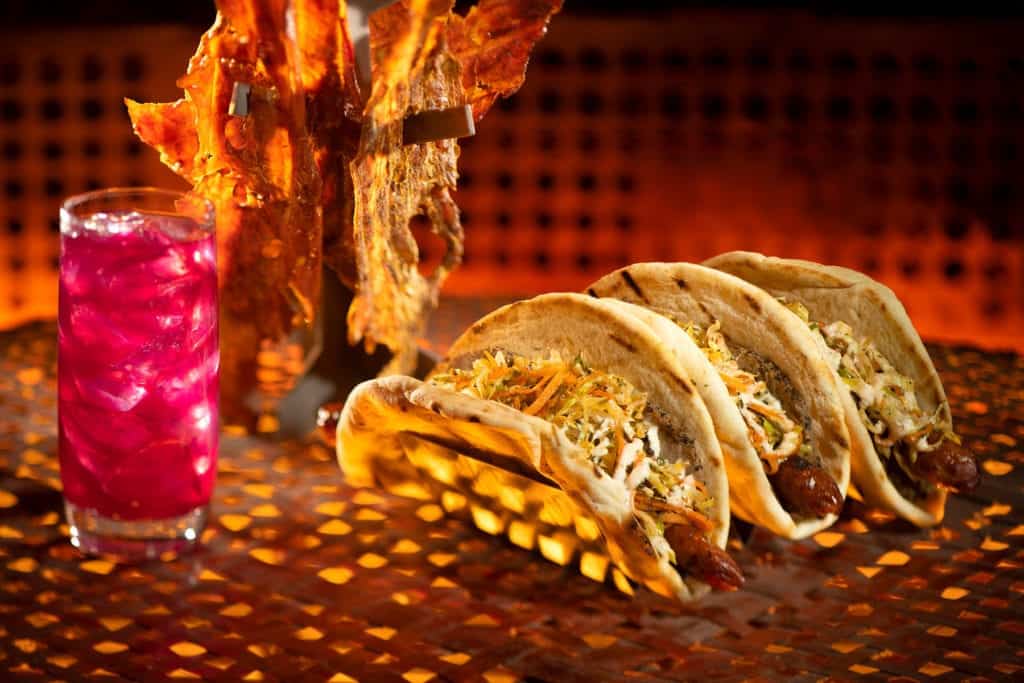 The handheld Ronto Wrap sandwich has a spicy Portuguese-style sausage and sliced roast pork with a Szechuan peppercorn "clutch sauce."
The turkey jerky comes in two flavors: Spicy herb or sweet teriyaki.
See also: How Disney magic and Imagineering tech make the Star Wars hotel possible
Even the raspberry lemonade Sour Sarlacc has a spicy mango kick.
4. Milk Stand
The best-known drink in the Star Wars galaxy will have its own stand in Black Spire Outpost.
The Milk Stand will offer two flavors, Blue Milk and Green Milk. This will be in addition to the Blue Bantha take on the beverage served in Oga's Cantina.
Luke Skywalker drank Blue Milk during a meal at his family's moisture farm on Tatooine in the original "Star Wars" movie. Green Milk was introduced in "The Last Jedi" when Luke milked a sea creature known as a Thala-Siren while on Ahch-To.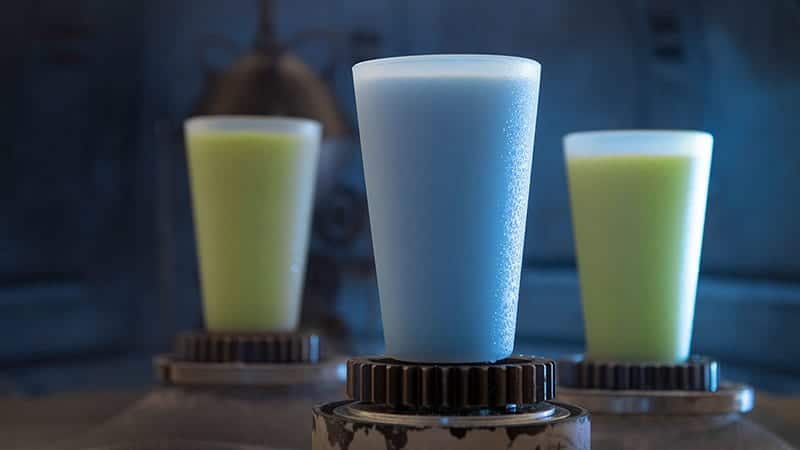 The non-dairy, plant-based milk will be similar to a soy, almond, coconut or rice milk.
"It's not actually milk," Trowbridge said. "Walking around Florida in the middle of August, the last thing you want is a hot glass of milk. It's refreshing, delicious and great."
Blue Milk has berry and melon flavors while Green Milk boasts tropical and citrus flavors.
See also: Galaxy's Edge debut could bring 200,000 people and 10-hour lines to Disneyland
The Blue Milk and Green Milk sold at the Milk Stand will be a frozen, like a smoothie or milkshake. The Blue Bantha at Oga's will be a chilled milk.
The Milk Stand's walk-up counter will be located in an outdoor courtyard in Black Spire Outpost. Glass containers filled with Blue Milk will hang from a tattered red and gold canopy.
5. Kat Saka's Kettle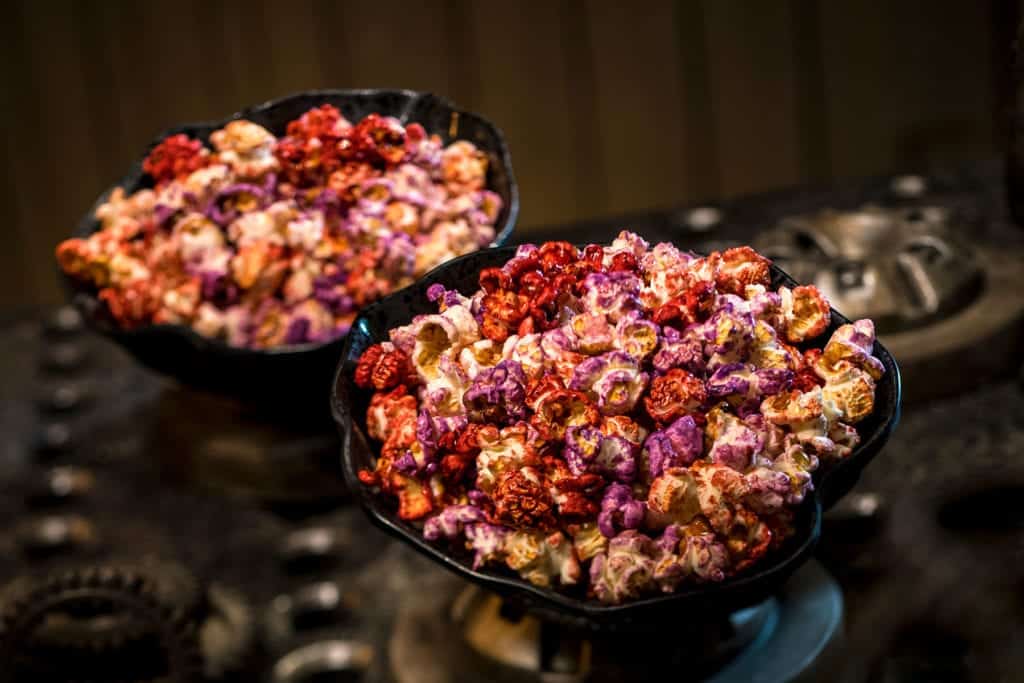 The popcorn stand in the Black Spire marketplace will be run by a local farmer. The farmer harvests grains and collects spices from around the Star Wars galaxy.
The colorful popcorn mix sold at Kat Saka's Kettle will have a combination of sweet, salty, savory and spicy flavors.
Star Wars: Galaxy's Edge opens May 31 at Disneyland and Aug. 29 at Disney's Hollywood Studios.
All images of Star Wars: Galaxys Edge food and drink © Disney Parks