Star Wars: Galaxy's Edge will have a soft-opening May 31 at Disneyland. But what can fans expect in terms of Galaxy's Edge wait times and long lines at the new themed land?
Star Wars fans heading to Disneyland for the reservation-only "soft opening" of the new area can expect long Galaxy's Edge wait times. There will be big lines to get into the themed land, the Millennium Falcon ride, the build-your-own lightsaber and droid experiences, the cantina and even the marketplace shops.
"It'll probably look like photos of people waiting in line for food at disaster relief locations," said Len Testa, president of Touring Plans, an online subscription service that lets users create custom theme park itineraries.
Touring Plans uses big data and statistical analysis to calculate daily crowd sizes and ride wait times at theme parks. It forecasts three-hour queues for the Millennium Falcon: Smugglers Run attraction. It also expects hour-long lines for the experiential shops, restaurants and cantina.
Soft opening
Disneyland visitors will need a free reservation to get into Galaxy's Edge during an initial soft opening period between May 31 and June 23. Visitors with reservations will be restricted to a four-hour time limit during the 24-day soft opening. "Boarding pass" groups will enter the highly anticipated new land at timed intervals.
Each registered guest staying at the Disneyland Hotel, Disney's Grand Californian Hotel or Disney's Paradise Pier Hotel during the soft opening will receive one Galaxy's Edge reservation.
The three Disneyland Resort hotels have a combined total of just under 2,500 rooms. That's about 7,500 to 10,000 daily visitors to the area, assuming 3 to 4 people per room. This is likely to cause long Galaxy's Edge wait times.
Disneyland has also begun issuing Galaxy's Edge reservations to non-hotel visitors.
Four-hour windows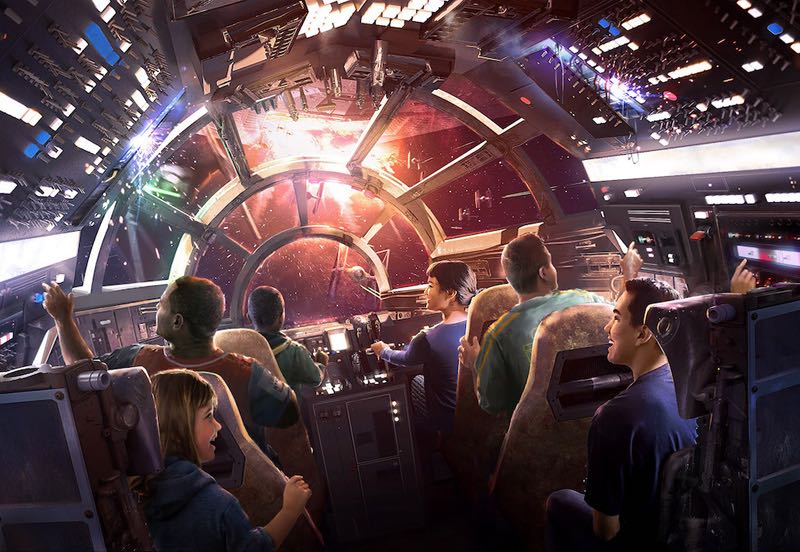 Touring Plans estimates the capacity of the 14-acre Galaxy's Edge themed land at about 15,000 people. But the crowd size experts expect Disneyland to keep capacity at about 10,000 visitors throughout the day during the soft opening period. That works out to about 2,500 people per hour during any four-hour window.
During a 16-hour operating day, Disneyland could let a total of 27,000 people into Galaxy's Edge, Touring Plans estimates. Touring Plans anticipates that Galaxy's Edge visitors will be admitted in five overlapping four-hour windows — 8 a.m. to noon, 11 a.m.-3 p.m., 2-6 p.m., 5-9 p.m. and 8 p.m. to midnight.
Expect Disneyland to issue coloured wristbands to boarding pass groups. This will make it easier to determine when each visitor's four-hour time limit has expired.
Disneyland is intentionally limiting the area's attendance during the opening weeks. This is to deliver an "exceptional guest experience" while the park assesses the operating capacity of the new themed land, Disney officials said. Nevertheless, long Galaxy's Edge wait times are still expected.
Smugglers Run
Only one of the two Galaxy's Edge attractions will be operational on opening day. The Smugglers Run flight simulator will let riders climb into the cockpit of the Millennium Falcon and take the controls of the fastest hunk of junk in the galaxy. The Rise of the Resistance dark ride will open later this year. FastPasses for the Smugglers Run ride won't be available during the soft opening.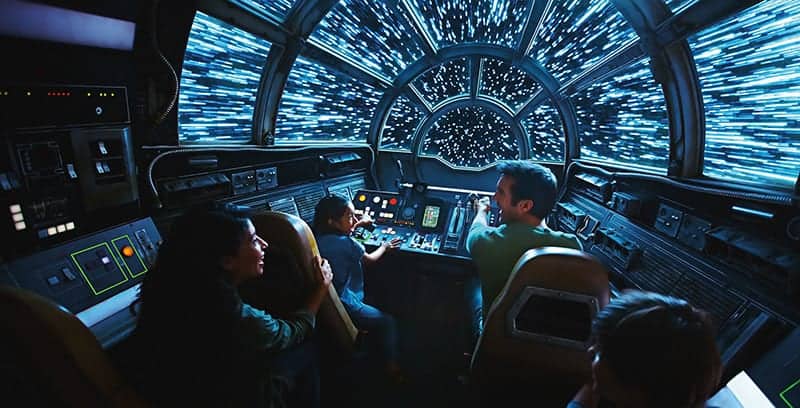 Touring Plans predicts that Disneyland will try to keep the wait time for the Smugglers Run attraction at about three hours or less. Anything more would use up the entire four-hour time limit allocated to each visitor during the initial soft opening period.
Smugglers Run has an estimated capacity of 1,800 riders per hour. That means up to 5,400 people could be waiting in line for Smugglers Run at any time.
Visitors in line for Smugglers Run will be offered atmosphere talent, mobile app games, snack vending options and bathroom passes.
Build your own lightsabers and droids
Savi's Workshop – Handbuilt Lightsabers will let young padawans strong in The Force build their own lightsabers. Small groups of 14 builders at a time will enter the workshop for the 20-minute build experience.
The line to get into Savi's Workshop in the Black Spires Outpost is expected to be at least an hour during the soft opening period, according to Touring Plans. Wait times will depend on how many workshops are inside Savi's.
Next door, the Droid Depot will offer a similar build-your-own droid experience. Droid fans will assemble R2- and BB-unit droids at about a dozen workstations inside the shop.
There will be no reservations for the build-your-own droid and lightsaber experiences during the soft opening.
Food experiences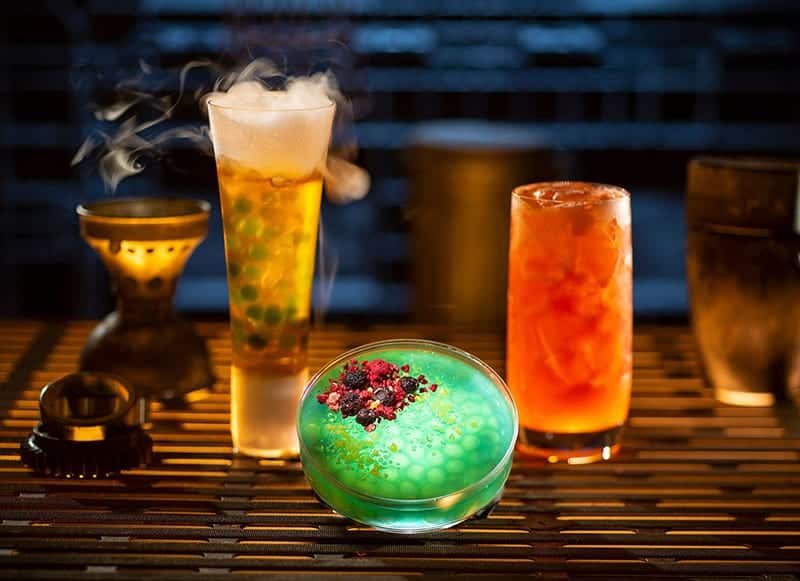 Oga's Cantina will serve alien-inspired cocktails and non-alcoholic "potations" along with beer and wine. Oga's won't take reservations during the soft opening period.
Oga's Cantina has an estimated capacity of 150 people. Wait times of at least two hours during the soft opening period are expected, according to Touring Plans estimates.
"It's likely that Disney will enforce time limits on the cantina," Testa said during an email interview. "I wouldn't be surprised if it was 30 minutes maximum per person. Even then, that's only 300 people per hour so the lines can grow pretty quickly."
The Docking Bay 7 Food and Cargo quick-service restaurant and the Ronto Roasters food stand will serve an intergalactic menu of foods from throughout the Star Wars galaxy. No restaurant reservations will be available during the soft opening.
Galaxy's Edge restaurants could see 90-minute waits, Touring Plans estimates.
Merchandise queues
Several of the shops in Galaxy's Edge will feature audio-animatronic figures and special effects that will make the retail locations attractions unto themselves. The small stalls along a marketplace colonnade of village vendors will have limited capacities for browsing shoppers.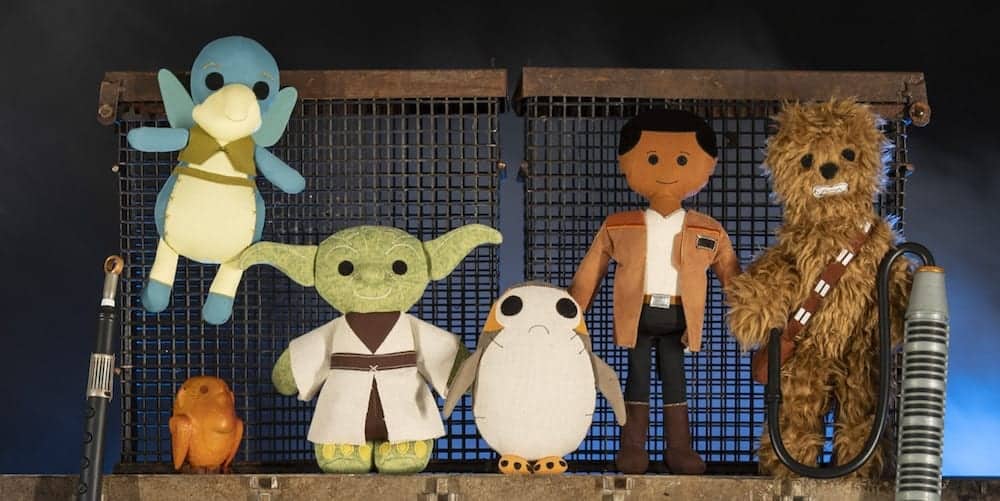 Touring Plans expects there will even considerable Galaxy's Edge wait times to get into the merchandise shops. Shoppers could spend 90 minutes in line to make purchases, Touring Plans estimates. "They'll take people's money as fast as they can," Testa said.
Galaxy's Edge wait times
Anyone who expects to ride Smugglers Run, build a lightsaber, assemble their own droid, eat at Docking Bay 7, grab a drink at Oga's Cantina and do a little shopping during the first few weeks after Galaxy's Edge opens will be sadly disappointed. It will be next to impossible to do it all in Galaxy's Edge during the soft opening period.
"Everyone who's going knows what they're getting into, so everyone should handle the long lines pretty well," Testa said. "One of the big variables is going to be the weather. If it's hot or it rains, that could sour the mood pretty quickly."
Disneyland rarely discusses attendance numbers. It declined to comment on the size of the crowds or wait times anticipated for the soft opening period of Star Wars: Galaxy's Edge.