In this, the first of a series, we look at what to expect when Galaxy's Edge opens.
The Star Wars: Galaxy's Edge themed lands coming to Disney theme parks in Florida and California will let visitors pilot the Millennium Falcon, wander through a smuggler's alley, drink cocktails in a disreputable cantina and interact with aliens and droids.
Star Wars: Galaxy's Edge opens in summer 2019 at Disneyland in Anaheim, California and late fall 2019 at Disney's Hollywood Studios near Orlando, Florida.
See also: Star Wars: Galaxy's Edge debut could bring 200,000 people, 10-hour lines to Disneyland
Walt Disney Imagineering has crafted an elaborate backstory for the immersive themed lands. Visitors will step into a spaceport outpost on a remote planet at the distant reaches of the Star Wars universe. A pair of E-Ticket attractions will drop visitors into the middle of outer space battles.
Themed lands
Restaurants will serve a menu of alien food and drink rather than theme park staples like churros, corn dogs and funnel cake. Marketplace shops will sell "in universe" merchandise that appears to be hand-crafted by local vendors. Familiar and lesser-known Star Wars characters will interact with visitors throughout the day in an ever-evolving storyline. And in Florida, a Star Wars hotel will welcome guests to an all-inclusive virtual journey to a galaxy far, far away.
The twin Galaxy's Edge projects are the latest Disney themed lands to create a walk-through world that lets visitors step into a movie scene. Disney scrambled to create immersive themed lands based on a single intellectual property after Universal Studios built a string of popular Wizarding World of Harry Potter lands in Florida, California and Japan. In response, Disney added Cars Land at Disney California Adventure in 2012 and Pandora: World of Avatar at Disney's Animal Kingdom in 2017.
Let's take a closer look at the backstory, setting, attractions, restaurants, shops, characters, aliens and droids that visitors will find in Star Wars: Galaxy's Edge at Disneyland and Disney World:
1. Backstory & Setting
The 14-acre Star Wars: Galaxy's Edge themed lands will be set in the Black Spire Outpost on the remote planet of Batuu, located on the outer rim of the Star Wars galaxy. Disneyland and Disney World will have nearly-identical Star Wars lands.
Imagineering worked with Lucasfilm to create a detailed backstory for the outpost and the planet. That story guided designers from the "blue sky" development phase through construction of the lands.
In Star Wars lore, Batuu is known for towering lush trees and mountain spikes. The remote planet on the galaxy's edge once served as a busy crossroads along popular trade routes. The once-bustling planet was left behind with the birth of lightspeed and the rise of hyperspace travel.
The last frontier at Star Wars land?
The decline of the planet left Batuu home to smugglers, rogue traders and adventurers. Batuu became the last frontier between the known Star Wars universe and uncharted space. The still-thriving spaceport of Black Spire Outpost became a safe haven for those looking to avoid attention.
Black Spire Outpost is surrounded by the stumps of once-towering petrified trees that became spire-like rock formations. The outpost takes its name from one of the petrified stumps known as Black Spire. Construction crews created the massive tree stumps out of extensive faux rock work.
Circular buildings and marketplace alleyways are built onto and around the tree stumps in Black Spire Outpost. Throughout the lands, visitors will spot familiar Star Wars spacecraft and war machines — from from the Millennium Falcon to X-Wings to AT-ATs.
Original theme music recorded by "Star Wars" composer John Williams and the London Symphony Orchestra at Abbey Road Studios will serve as the soundtrack for Galaxy's Edge.
2. Millennium Falcon: Smuggler's Run
The Millennium Falcon: Smugglers Run flight simulator ride will serve as the marquee attraction of Galaxy's Edge.
Smugglers Run puts riders in the cockpit of the fastest ship in the galaxy as they battle Imperial tie fighters during a secret mission with multiple story lines. The goal: Bring back a pile of loot to a vengeful space pirate. Riders will be tasked with a mission by Hondo Ohnaka. He is a space pirate from the "Clone Wars" and "Star Wars Rebels" animated television series.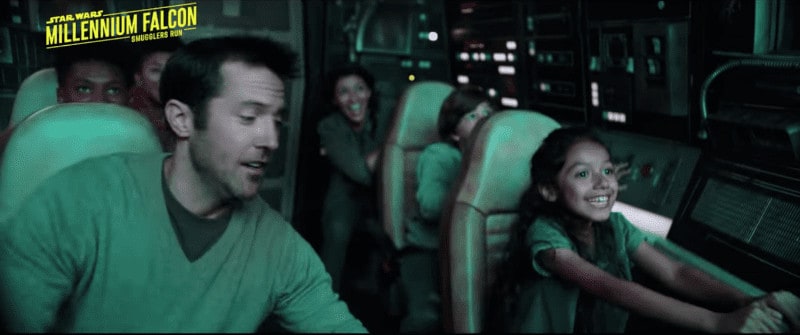 Each member of the six-person crew will be assigned a task. Pilots sitting in the front will navigate the ship through an intergalactic battle. Gunners in the center of the cockpit will fend off tie fighter attacks. Engineers stationed in the rear must maintain the flight systems and repair any damage to the ship.
Han Solo's iconic spaceship
The E-Ticket attraction will use real-time video rendering technology that responds to the way riders manipulate 200 cockpit controls.

The Millennium Falcon flight simulator ride, codenamed "Big Bird" during the development phase, will be housed in a 115,000-square-foot building, according to Anaheim building permits. City records put the cost of constructing Smuggler's Run at $55.7 million.
See also: Breaking down the costs of Disneyland's $1 billion Star Wars: Galaxy's Edge
The attraction interior will feature at least 20 scenes, with several "A/B scenes" suggesting multiple storylines.
Before entering the attraction, visitors will walk through a full-sized replica of Han Solo's iconic spaceship. The Corellian YT-1300 light freighter will be docked within a semi-circular spaceport at Galaxy's Edge.
https://www.youtube.com/watch?v=ssgGCjpFP4Q
3. Star Wars: Rise of the Resistance
Imagineers have described the Star Wars: Rise of the Resistance trackless dark ride as the most elaborate and immersive attraction ever built by Disney
The Star Wars: Rise of the Resistance attraction promises a race-against-time battle between the First Order and the Resistance. A portion of the attraction passes through the hangar bay of a Star Destroyer. At one point, riders will encounter two giant AT-AT walkers. The climax of the ride will feature a face-off with villain Kylo Ren.
The 8-person ride vehicles will be designed to look like First Order fleet transport carriers. Astromech droids programmed with ship schematics and security access codes pilot the transport vehicles.
The Rise of the Resistance trackless dark ride was codenamed "Alcatraz" during its development phase. It will be housed in a 165,000-square-foot building, according to Anaheim building permits. The attraction interior will feature at least 18 scenes. City records put the cost of constructing Rise of the Resistance at $77.9 million.
Before boarding the attraction, visitors will walk through a full-sized replica of a Resistance troop transport vehicle.
https://www.youtube.com/watch?v=TSxE-b2YDAQ
4. Restaurants
You won't find any fast food kids meals, buckets of popcorn or Mickey Mouse-shaped pretzels in Star Wars: Galaxy's Edge. Restaurants, food stands and snack kiosks will serve a menu of alien fare not found in any theme park.
The food and beverage locations at Galaxy's Edge will include Oga's Cantina, Bantha Tracks and an upscale dinner club.
Oga's Cantina will be run by alien proprietor Oga Garra. Costumed actors portraying Oga are expected to "work" behind the bar at the Galaxy's Edge tavern. Star Tours droid RX-24, aka Rex, will serve as DJ.
Early concept art depicted droids serving other-worldly cocktails to "truly adventurous" customers in the local tavern.
Oga's Cantina will be the first public location to serve alcohol in Disneyland history. Oga's cocktail list will include a drink called Blurrgfire.
An exclusive dinner club will offer local delicacies of the outer rim and feature live entertainment by alien performers.
Luke Skywalker drank Blue Milk in the first "Star Wars" movie, and it will be served at Bantha Tracks.
Docking Bay 7 is expected to serve as a counter-service restaurant. A weathered and battled-damaged food freighter cargo ship carrying "tasty fare" is docked atop the restaurant.
5. Shopping
All of the Galaxy's Edge merchandise in Merchant Row and Smuggler's Alley will look and feel like it belongs in the Star Wars universe rather than a Disney gift shop.
The retail shops in the street market will sell story-specific merchandise. Concept art shows merchants selling futuristic pots and rugs from their small shops beneath red and orange canopies strung between sandstone buildings.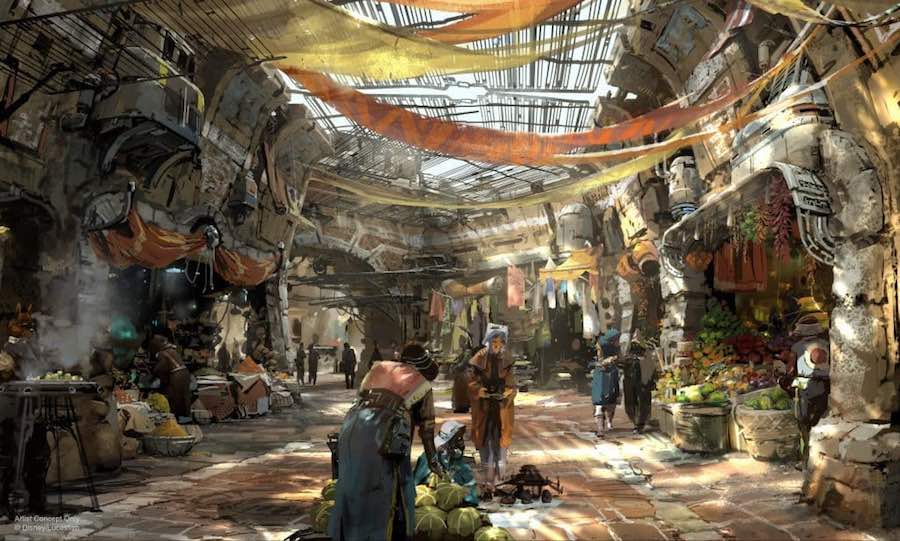 A Toydarian vendor, presumably in animatronic or virtual form, will preside over the The Toydarian Wares toy shop. The winged junk dealer Watto from "The Phantom Menace" was a Toydarian. The toy store will sell stuffed dolls designed to look hand-made by local vendors. Among the dolls: Chewbacca, Yoda and Kylo Ren.
Cute and cuddly (as well as creepy and scary) creatures will populate The Creature Stall shop in the marketplace. Imagineering promises some of the caged creatures will appear to "come to life," likely with the help of animatronics. Customers will be able to purchase loth cat dolls from the Star Wars Rebels animated television series.
6. Character Interaction
Disney will be putting a heavy emphasis on storytelling and character interaction in the Galaxy's Edge themed lands.
Imagineering plans to create an immersive and interactive environment that allows every visitor to live their own Star Wars hero story.
You never know what you might see in Black Spire Outpost. First Order soldiers patrolling the small town. Rebel fighters camping out in the nearby forest. Smugglers hiding from bounty hunters in secret passageways.
The new lands will feature walk-around characters and creatures that interact with visitors. Each character will play a role in a continually-developing storyline that evolves and progresses throughout the day.
Visitors play a role, too. Fail in your mission aboard Smuggler's Run and a bounty hunter might tap you on the shoulder looking for Hondo's lost loot.
The cast of interactive characters will include: Space pirate Hondo Ohnaka, pilot and smuggler Nien Nunb, cantina proprietor Oga Garra and bounty hunter Harko.
Like other areas of Disneyland, Kylo Ren and Chewie will be on hand to pose for meet-and-greet photo opportunities.
Galaxy's Edge will also be filled with familiar Star Wars characters. These will include those that roll (BB-8, R2-D2), walk (C3-PO, Dok-Andar) and crawl (cuddly loth cats).
7. The Star Wars Hotel
The Star Wars hotel planned for Disney Hollywood Studios in Florida takes the cruise ship notion of a captive audience and applies it to a landlocked themed hotel.
See also: How Disney magic and Imagineering tech make the Star Wars hotel possible
The Star Wars starship hotel will draw upon Disney's theme park and cruise ship know-how. It will add Walt Disney Imagineering's next-gen technology and cutting-edge patents to create a first-of-its-kind immersive storytelling experience.
Think of the Star Wars hotel as an intergalactic cruise ship docked at Galaxy's Edge that embarks on a virtual journey.
The fully-immersive experiential voyage begins as soon as guests step into the starship-themed hotel and leave the real world behind. Employees dressed in alien costumes staff the front desk. Remote-controlled butler droids assist with luggage. Stars and planets hover in virtual windows as spaceships fly past. Visitors don jedi robes and join the rebel resistance. All in support of a continuously-evolving story that unfolds over multiple days and nights.
A Disney survey for a potential Star Wars land
Disney conducted a survey before they officially announced the Star Wars hotel. They asked respondents about their thoughts on a two-day story-driven entertainment experience paired with a two-night stay in a starship-themed hotel room with virtual views of outer space.
The survey described character chance encounters, lightsaber training, ship explorations, personalized secret missions, inclusive meal service and signature dinners. It also outlined dinner shows, live entertainment, cantina bars and exclusive theme park admissions.
Walt Disney Parks & Resorts Chairman Bob Chapek referenced the survey when he announced the Star Wars hotel at a D23 Expo and the questionnaire appears to have served as a blueprint for the project.