Even attractions are getting involved, seemingly recognising the important role they can play in supporting visitors and raising awareness.
Lately, we've seen museums, restaurants, shops and theme parks offering more services for people who are struggling mentally, or for those who just enjoy getting fit and healthy. Wellness and wellbeing, both physical and mental, are no longer just the realm of the gym, or the GP.
Even Burger King has launched a range of 'Real Meals', created in collaboration with Mental Health America (MHA) – because "no one is happy all the time".
Burger King supports Mental Health America with 'Real Meals'
https://www.instagram.com/p/Bw6_DANFh5Z/
Similarly delicious and inspiring, Meow Wolf previously hosted a pop-up of The Depressed Cake Shop to get people talking about mental health issues and to raise money for mental health charities.
The Depressed Cake Shop, which launched in 2013, features grey cakes with a small amount of colour to symbolise hope.
"100 per cent of profits will be donated to local mental health resources to increase the availability of free counselling services," said Meow Wolf. "Sad cupcakes, crying cookies and various grey-scaled confections will help bring people together, spark dialogue and raise funds for mental health resources."
Depressed Cake Shop raises funds for mental health
Much like the Depressed Cake Shop, Action for Happiness' Happy Cafés are popping up around the world, providing people with friendly and welcoming places to meet others.
Happy Cafés focus on happiness and wellbeing. They offer literature, posters, pamphlets and postcards all relating to happiness. The first Happy Café was in Brighton, followed by more than 100 cafés in the UK and globally, including the first in London.
It's not all about food, though. The Holburne Museum in Bath is doing great work, running the Pathways to Wellbeing programme. It promotes mental health and wellbeing through creativity using the museum's collection and exhibitions, as well as heritage sites in Bath.
As well as the Holburne Museum, Pathways to Wellbeing museums and galleries are Bath Preservation Trust, American Museum & Gardens, and The Edge & Andrew Brownsword Gallery.
The Holburne's 'Pathways to Wellbeing' programme
The four partner museums and galleries provide visitors with safe and supportive museum-based creative sessions. Guests can do art activities, develop new skills and exhibit their work at local heritage sites.
The museums also host community events, including the Holburne's 'Creativity and Wellbeing' coffee mornings.
"Using the museums for creative activities has also aided my wellbeing – definitely," said one Pathways to Wellbeing participant."I was isolated, overwhelmed and very down before I had this opportunity. I didn't have much confidence. And although these feelings are still there, I have so much more to look forward to."
The programme runs until 2022. It has supported more than 200 people with mental health issues and social isolation, as well as homelessness.
'Using the museums has aided my wellbeing'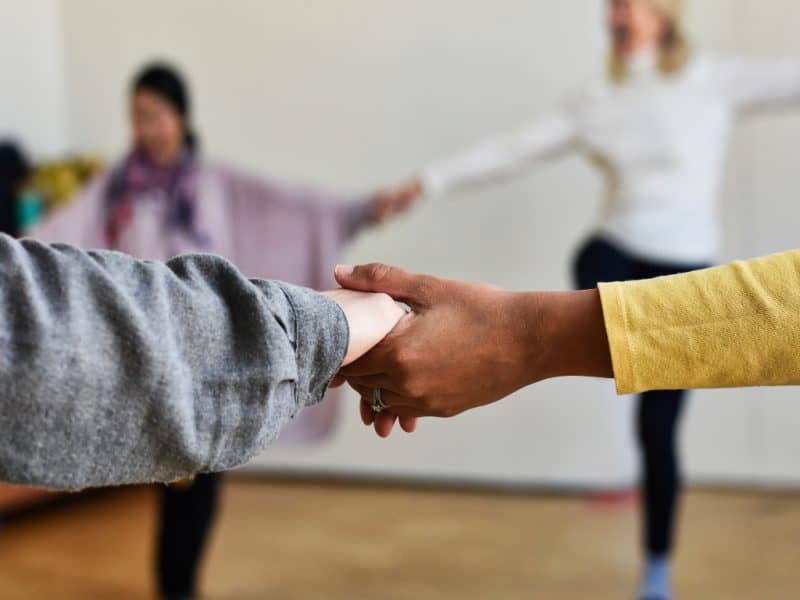 In Canterbury, you'll find the Beaney House of Art & Knowledge, a therapeutic museum that aims to improve visitors' health and wellbeing. Based on research that museum collections have restorative and therapeutic qualities, the Beaney has created an award-winning health and wellbeing programme.
'Mindfulness Mondays' helps guests learn how to relax and look slowly at the museum's collection. In addition, monthly sessions of gallery visits, object handling and socialising help people with dementia or social isolation.
Also at the Beaney are monthly art-making, tactile tours and object handling for visually impaired adults.
The Beaney is part of the 'Happy Museum' programme, which supports wellbeing with a focus on sustainability. Happy Museum has worked with attractions including Chester Zoo, Design Museum, Leeds Museums and Galleries, and many more.
Supporting wellbeing with the Happy Museum programme
Beamish is an open-air museum in County Durham. It boasts a health and wellbeing programme of activities that has been praised by the Royal Society for Public Health.
To develop the programme, Beamish works with various organisations across the region, including Alzheimer's Society and local NHS support groups. Beamish's health and wellbeing offerings include skills workshops, group sessions, 'Musical Mondays', and 'Walk Durham' – a weekly health walk.
As for wellness, the Natural History Museum is currently putting on a series of yoga and wellness classes under a large moon artwork by UK artist Luke Jerram.
Yoga under the moon at the Natural History Museum
Museum of the Moon is the setting for a variety of classes. This includes dynamic vinyasa yoga, slow flow, hatha yoga, yoga nidra, and kundalini yoga.
Other wellness sessions celebrate the phases of the moon. A guided meditation class is followed by a gong bath, which use sound to relax the mind and body. In each class, guests enjoy movements and poses that connect to the moon artwork above.
Disneyland Paris is getting involved, too. Last year, the theme park hosted a massive yoga class with 700 participants. This year, the attraction is also holding a whole wellness weekend. This will be a celebration of health, happiness and yoga at Disneyland Paris.
Disneyland Paris offers health, happiness and yoga
In the US, Two Bit Circus recently put on an immersive virtual reality (VR) wellness experience, EmbodyMove, at its Micro-Amusement Park.
Based on traditional mindful practices, EmbodyMove uses interactivity and sensors as players take a shared journey through nature. A camera monitors pose position, while pressure-sensing yoga mats track users' weight distributions.
The more accurate the pose, the more the virtual environment changes around players. People can also prompt each other and step together in physical sequences that centre, balance, extend and strengthen.
Two Bit Circus fuses wellness with virtual reality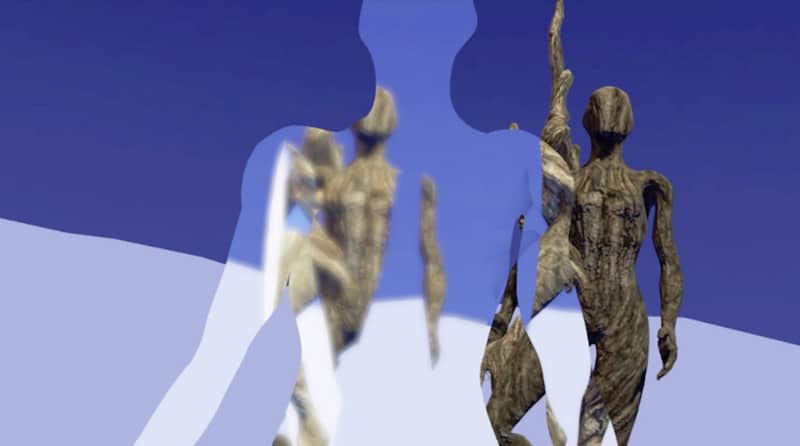 Elsewhere, the National Museum Cardiff held a wellbeing festival with activities including mindfulness, martial arts, drawing classes and yoga. Also at the National Museum Cardiff was strength training, meditation, Tai Chi, and self-defence. Other schemes here include 'Autism Awareness' and 'Dementia Friends'.
Speaking of Tai Chi, the Roman Baths in Bath offer weekly sessions of 'Tai Chi on the Terrace'. These are with a qualified instructor.
If you prefer your wellness with a side of shopping, Westfield and British Vogue also recently teamed up to create a 'Weekend of Wellness', with interactive events and activities for the body and mind. The event included free beauty, food and fitness classes, workshops and treatments.
A whole wellness weekend with Westfield and Vogue
At the 'Anti-Pollution Pod', guests were given SkinSolver treatments from Dermalogica. The pod also had filters to purify the air and remove airborne microbes and pollutants,
The 'Wellness Bar' served nutritious and energising foods, including the vegan F!lth Burger and KeVita kombucha drinks, while the 'KeVita Hub' gave out pure and organic kombucha drinks.
Visitors were also able to talk to the British Vogue team about wellness in 10-minute consultations. In addition to this, they could join wellness workshops and fitness classes, including sessions for children at Cosmic Kids Yoga.
In the 'Meditation Zone', visitors could try out the Calm mindfulness app's most popular techniques for stress reduction.
Research finds aquariums can improve mood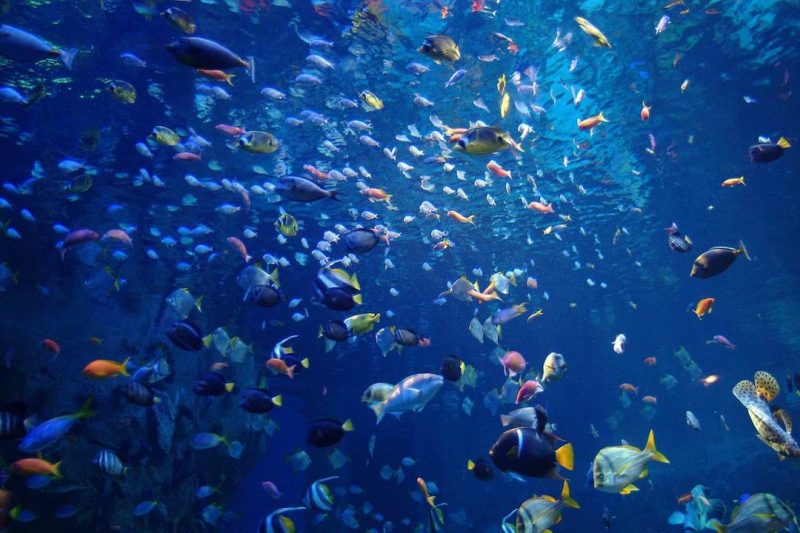 We'll spare you a list of aquarium's promoting mental wellbeing and wellness. Because, as it happens, all aquariums are at it.
Aquariums brimming with fish have restorative powers. They prompt positive responses from visitors, according to a study published by Landscape Research. The study was conducted by experts from the National Marine Aquarium, Plymouth University and European Centre for Environment and Human Health, University of Exeter Medical School.
The initial study found that viewing fishy displays resulted in noticeable reductions in blood pressure and heart rate. Higher numbers of fish helped to hold people's attention for longer and improved their mood.
Underwater yoga surrounded by sharks and rays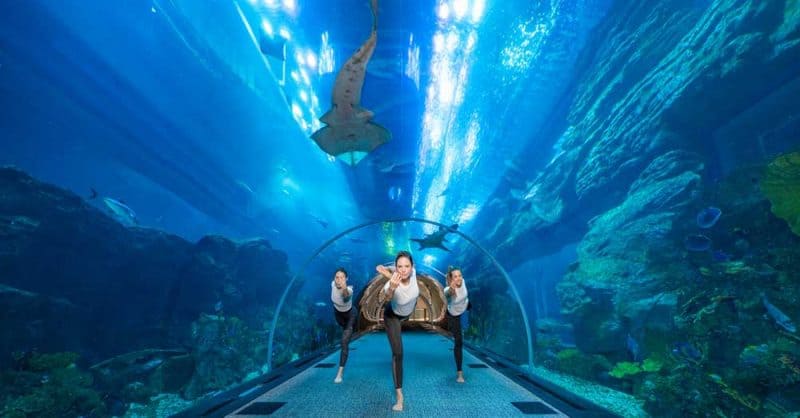 If you need a bit more than staring at fish, then look to Dubai Aquarium & Underwater Zoo, which has celebrated World Wildlife Day for the past three years with underwater yoga sessions.
The 270-degree acrylic aquarium walkthrough tunnel makes a peaceful yoga venue, with classes surrounded by sharks and stingrays.
Wellbeing services at attractions – the verdict
People are increasingly looking to get active and destress, and the attractions industry is increasingly on hand to help.
There is certainly an emerging trend for wellness. And we reckon it's safe to say that a growing number of theme parks, museums, aquariums, and so forth will be providing more in the near future.
As for mental health and wellbeing, the conversation continues to grow at such a rapid pace. Attractions are almost certainly going to follow in the footsteps of others to offer more services.
That said, there's a very big difference between a spot of yoga under a moon artwork and serious mental health problems.
It's great that attractions are giving people more options. However, if you're really struggling, we would encourage you to visit your GP, or get in touch with Samaritans on 116 123 (www.samaritans.org) or Mind on 0300 123 3393 (www.mind.org.uk).