Attractions.io, a leading creator of mobile visitor apps, has partnered with Paultons Park to offer a complete in-app social distancing solution.
Attractions.io is pleased to announce that it is providing an in-app social distancing solution for Paultons Park, allowing the much-loved UK attraction to operate safely once it is able to reopen, following the coronavirus pandemic.
The company has added new functionality to the Paultons Park app, such as virtual queuing and mobile ordering capabilities. This means that guests can avoid crowded queue lines for rides and refreshments. The update is expected to go live in the next few weeks.
Social distancing
Paultons Park's guest-facing app is already popular with visitors as it helps to plan a day at the park and make the process simpler. For example, it allows them to import their tickets into the app to prevent queues at the entrance.
"The app already helps visitors make the most of their day out, and delivers ongoing improvements to guest satisfaction," says Rob Griffiths, Head of Marketing. "This made it the obvious solution to build upon, equipping our visitors with a tool that not only helps keep them safe but also improves their experience."
Virtual queuing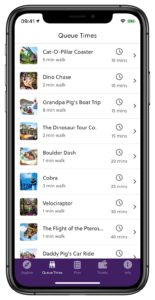 Visitors will be able to join a virtual queue for each ride or attraction through their smartphone. This means they can continue enjoying the park while they wait, rather than standing in line. They receive a message once it is their turn.
With the app, guests can plan their day at the park easily and all in one place, by viewing wait times, joining virtual queues and buying fast track passes.
Mobile food ordering
The app will also allow guests to avoid queueing for refreshments, as well as reducing the need for shared touch screens and interactions with staff. They can browse menus, order food and drink and make payments, all through their phone. Visitors can even choose when and where they would like to collect their refreshments and will be notified when their order is ready for pickup.
After a trial of in-app food ordering last summer, the park saw the average transaction size increase by 38%, compared with traditional sales. The app features automatic up-sells and cross-sells, as well as abandoned order recovery.
In-app ticketing
By using the Paultons Park app, visitors benefit from easy access to their tickets and membership passes, allowing them to simply scan and go when they arrive at the turnstiles. The park operator can also use the app to provide targeted offers, for example, multi-day tickets. This helps to encourage repeat visits and increases revenue.
The extra functions of the app will make it easy for visitors to enjoy their visit safely while practising social distancing. They will also receive information and updates in real-time.
James Mancey, Operations Director at Paultons Park says: "The safety of our guests and the quality of the 'Paultons Experience' have always been our top priorities. Since closing our doors on 20th March in response to the developing coronavirus situation, we've been working hard to create an environment that's both safe and enjoyable for guests to visit once we're able to re-open.
"The app will play a vital role, as it helps us solves multiple social distancing challenges in a single platform that is already proven to add value for guests and improve their experience, rather than disrupt or detract from it. We're excited to extend our great relationship with Attractions.io to make this vision a reality. "
Mark Locker, CEO of Attractions.io says: "As the industry moves towards re-opening, it's clear that having the right technology in place to manage the on-site experience and keep guests safe will be more vital than ever.
"Since the start of the pandemic, we've been eager to use our expertise to support our customers in overcoming the unprecedented challenges of COVID-19 and we're delighted to be able to support Paultons Park in their preparations to open safely and successfully."
Last month, Attractions.io hosted a webinar to help attractions understand how to use technology to communicate better and mitigate the impact of the pandemic.