Uswitch has revealed that Disney's Magic Kingdom is the world's most eco-friendly tourist attraction, after scoring the most popular attractions on their commitment to sustainability.
The company looked through the sustainability statements published by 27 of the world's most visited tourist attractions, and analysed their commitment to sustainability.
This was based on low emissions, water reduction, recycling schemes, re-wilding efforts, renewable energy and sustainable transport, giving maximum scores of 60.
Walt Disney World's Magic Kingdom in Florida topped the list as the most eco-friendly attraction, as it has made the biggest conscious effort to decrease its impact on the environment.
A solar farm now provides Walt Disney World with more renewable energy. As concern over the effects of climate change increases around the world, attractions are busy developing green agendas, whether they are reducing plastic, going solar, or offering vegan options.
Magic Kingdom scored 56 out of 60 on the eco-ranking, while Universal Studios Orlando ranked eighth with a score of 41.5 out of 60.
Other attractions that made the cut include Niagara Falls, the Eiffel Tower, the British Museum, the Natural History Museum, and the Tower of London.
Magic Kingdom scored highly on eco-ranking by Uswitch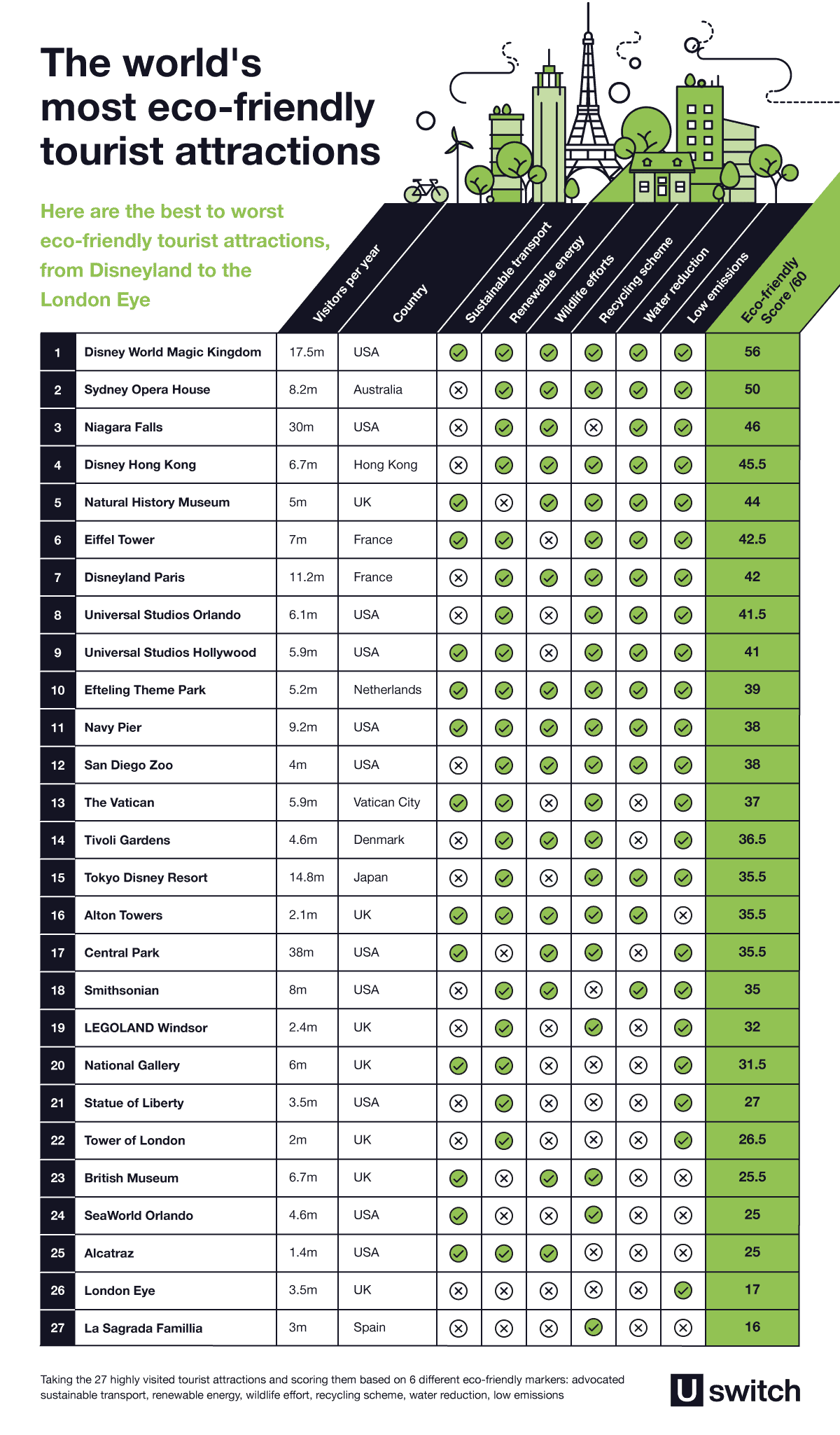 Check out the full list below:
Walt Disney World's Magic Kingdom
Sydney Opera House
Niagara Falls
Hong Kong Disneyland
Natural History Museum
Eiffel Tower
Disneyland Paris
Universal Studios Orlando
Universal Studios Hollywood
Efteling: World of Wonders
Navy Pier
San Diego Zoo
The Vatican
Tivoli Gardens
Tokyo Disney Resort
Alton Towers
Central Park
Smithsonian National Museum of History
Legoland Windsor
National Gallery
Statue of Liberty
Tower of London
British Museum
SeaWorld Orlando
Alcatraz
London Eye
La Sagrada Familia
Meanwhile, craft brew company Brewdog plans to "deliver beer in a way that is better for the planet" by opening drive-through attractions in the UK, Germany, Australia and Ohio.