Walt Disney World has released more details ahead of its 2022 launch of the Star Wars: Galactic Starcruiser. The highly immersive two-night holiday experience will let visitors live out their own Star Wars adventures and become the hero of their own story.
Disney is presenting the new attraction as a new kind of "storyliving", taking guests deeper into the world of Star Wars than ever before. The Halcyon starcruiser features comfortable cabins, quality dining experiences and all-new entertainment, and while onboard guests will be able to alter their own storyline as they interact with characters, crew and other passengers.
Immersive Star Wars adventure
After guests have checked in at the Star Wars: Galactic Starcruiser terminal at Walt Disney World, they will board launch pods and jump into hyperspace, watching through the window as the earth recedes and the Halcyon appears. Once docked, they will find themselves in a multi-day, interactive story, featuring both familiar and new characters.
During their stay, they can learn the ancient ways of the lightsaber and explore their own connection to the force, visit the ship's bridge to learn about navigation and defence and enjoy breakfast, lunch and dinner inside the Crown of Corellia Dining Room, including a live Twi'lek performance one evening.
Guests will also be taken to Batuu, where they can explore Black Spire Outpost as they search for a hidden Resistance base.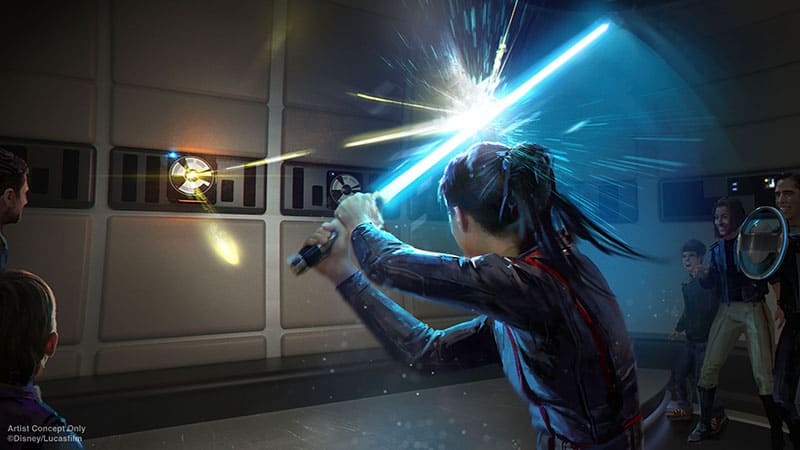 Realistic lightsaber on show
Star Wars: Galactic Starcruiser guests will be the first to see a new realistic lightsaber in action, designed by Walt Disney Imagineering Research and Development to create dramatic in-person moments.
Each window onboard the starcruiser has an ever-changing view of the galaxy beyond as the journey unfolds. Within the ship, there are also hidden spaces to discover.
A model of the Halcyon starcruiser is currently on show inside Walt Disney Presents at Disney's Hollywood Studios. Images shared last year show that construction on the new attraction is progressing.
Last month, Walt Disney World also rolled out Disney MagicMobile, a seamless and contactless way to access MagicBand features from a smart device.