Disneyland Paris' expansion is expected to create 1000 jobs, double visitor capacity and triple the number of hotel rooms. There is also speculation about a third theme park by 2030.
The €2bn expansion which was announced in February, includes renovating existing areas for Marvel and expanding the park to add Frozen and Star Wars areas, in addition to new attractions, shops and restaurants around a centrepiece lake.
A report from the Telegraph also speculates about wording in the consultation document which could suggest that a third theme park may be in the pipeline, quoting the objectives of the resort to double "theme park visitor capacity by opening new attractions in the two existing parks and possibly building a third theme park".
The extension has been under consideration since Euro Disney was originally built in Marne la Vallée. The Walt Disney Studios Park was originally built in 2002 and this expansion will complete the park.
Frozen and Star Wars lands
It will cover a total of 31 hectares. 12 hectares will form the new Star Wars and Frozen lands, and a centerpiece lake. The rest will be the backstage areas of the park.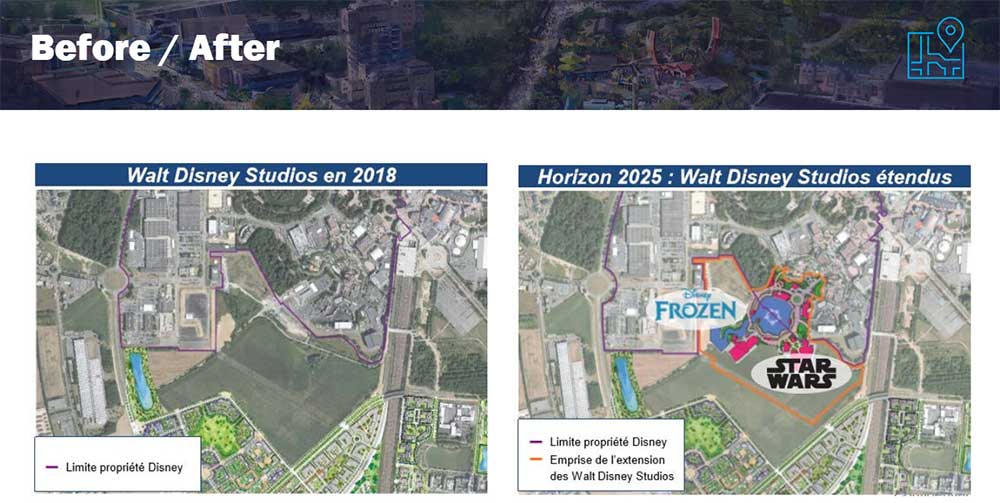 The theme park's webpages dedicated to the project say: "Our guests are always looking for new and different experiences with us when they visit, and this expansion will include different lands dedicated to some of Disney's most popular franchises — Frozen and Star Wars — creating a better offering for our guests.
"These new areas will literally be places where guests can be part of the story, meet the characters from the films and be part of these worlds like only Disney could do. We are really early in the development, but expect this expansion will include new attractions, entertainment and dining areas."
The development will be a multi-year, multi-phase project. Construction work will start during 2019, with phases rolling out from 2021. A target completion date is set in 2025.
The consultation web page also says: "Studies are under way to estimate the possible increase in the number of employees between now and the delivery of the project in 2025. Many professions will be required during the project …"
The project is led by Euro Disney Associés SAS, which is in charge of the commercial operation of Disneyland Park and Walt Disney Studios Park, and by EPAFrance, public developer for Sector IV of Marne-la-Vallée. Consultation is ongoing.
https://www.dailymail.co.uk/travel/travel_news/article-6438453/Disneyland-Paris-double-visitor-capacity-build-theme-park-2030.html