Want to beat the lines at Disneyland Resort? Visit on a Thursday, or in January. Research by the Los Angeles Times shows these are among the periods with the shortest wait times for popular attractions.
To help even out the number of guests, the resort has been raising prices on peak days and expandng its ride reservation system.
Queuing times at Disneyland Resort have been on the rise over the past two-and-a-half years. The LA Times analysis found that the average wait for its most popular atttractions in the first six months of the year was 24.4 minutes. That's a 28% increase over the same period in 2015 when the park drew record attendance.
Get lucky in January
The day with the longest average wait times was May 20 of this year, when it took 42 minutes on average to get on a ride. The park hosted one of several graduation night parties on that date. On January 22 this year, however, the average wait time for the most popular attractions was only 7.6 minutes.
New attractions, as you'd expect, draw the biggest crowds, at least initially. At Disney California Adventure (DCA) park, the former Tower of Terror experienced an average wait time of 93 minutes the first month after it reopened as Guardians of the Galaxy: Mission Breakout – as pictured top of page. The maximum wait rose to five hours.
Also at DCA, Radiator Springs Racers had an average wait of 86 minutes, up from 73 minutes in 2015. The ride with the longest wait at Disneyland park was Space Mountain. Guests had to queue for an average of 65 minutes, up from 48 minutes. Only one popular attraction, Splash Mountain, has seen wait times decrease since 2015, down from 38 to 28 minutes.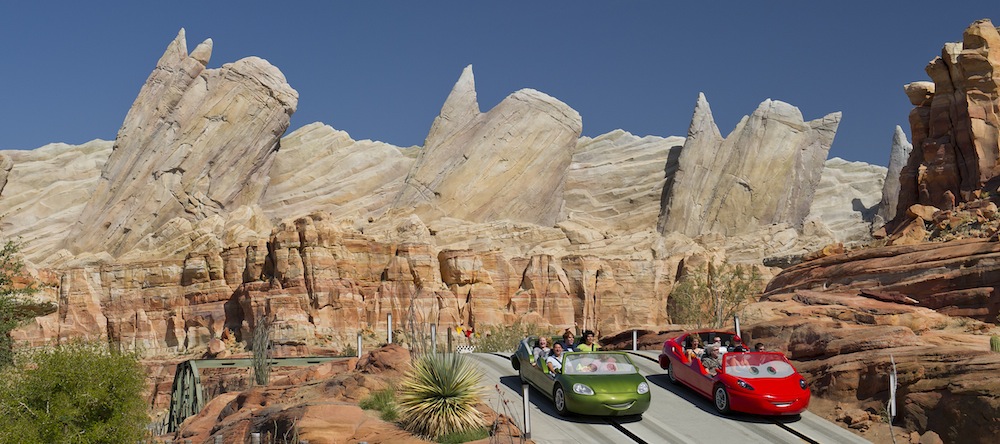 Stay away on Saturdays
Among other findings, the LA Times data shows:
• Saturdays, no surprise, have the longest average queue times (25 minutes)
• The shortest wait times are typically on Thursdays
• The longest average wait times are at the end of December and July as well as mid-May, around the start of spring break for most schools and colleges
• September and January are the best months to avoid long lines
"We continue to work on managing demand by expanding the resort and adding new attractions, balancing offerings at our two theme parks, and providing seasonal pricing to help spread visitation throughout the year," says Disneyland Resort spokeswoman Suzi Brown.
Rising prices and the challenges of squeezing in new attractions
Adding new attractions is less easy than raising prices. Unike its Florida counterpart, the 157-acre California resort's parks are landlocked by major roads. To make room for the upcoming Star Wars land, Disney had to demolish three attractions, a restaurant and several office buildings in Anaheim.
One-day ticket prices have jumped by nearly 70% at Disneyland Resort since 2007, to $124 + tax per park. An annual pass with no blackout dates now sells for just over $1,000. Sales of some passes have been temporarily cut off at times to help thin the crowds.
"People are going to Disneyland in droves regardless of lines, prices or weather, and Disney knows this," notes Aaron Goldberg, author of The Disney Story. "They have a captive audience."
For full wait times for Disneyland Resort's most popular attractions over the past two-and-a-half years, plus other interesting analysis, follow the link below.
All images copyright Disneyland Resort
https://www.latimes.com/business/la-fi-disneyland-wait-times-20170712-htmlstory.html