Dream Island has unveiled the characters heading to its themed zones for meet-and-greet opportunities. These include Smurfs, Hello Kitty, Dracula and the Teenage Mutant Ninja Turtles.
According to a press release, the theme park in Moscow will host nine regular meet-and-greet sessions with 27 fan-favourite characters.
"Meet-and-greet sessions with animated heroes is an essential part of theme parks all over world and our Dream island won't be an exception," said Dmitry Ragozin, head of shows and entertainment at Dream Island.
Dream Island visitors will get the chance to meet Hello Kitty and her friends Daniel Starr and My Melody, as well as the Teenage Mutant Ninja Turtles – Donatello, Leonardo, Michelangelo and Raphael.
Mowgli and Baloo in the Lost World of Dinosaurs
At the Dream Race zone, guests will meet Olya and Maxim, while Snow Queen's Castle features three snowmen and a polar bear.
Over in Hotel Transylvania, characters popping up include Dracula and his daughter Mavis, Murray the Mummy, and Frankenstein (Frank).
Lost World of Dinosaurs, also referred to as Mowgli in the Country of Dinosaurs, will boast Mowgli and Baloo.
In Fairy Tale Village, visitors will be greeted by Papa Carlo (Buratino) and Tortilla the Turtle, while Smurfs Village characters include Smurf, Smurfette and Papa Smurf.
Meet snowmen and polar bear at Snow Queen's Castle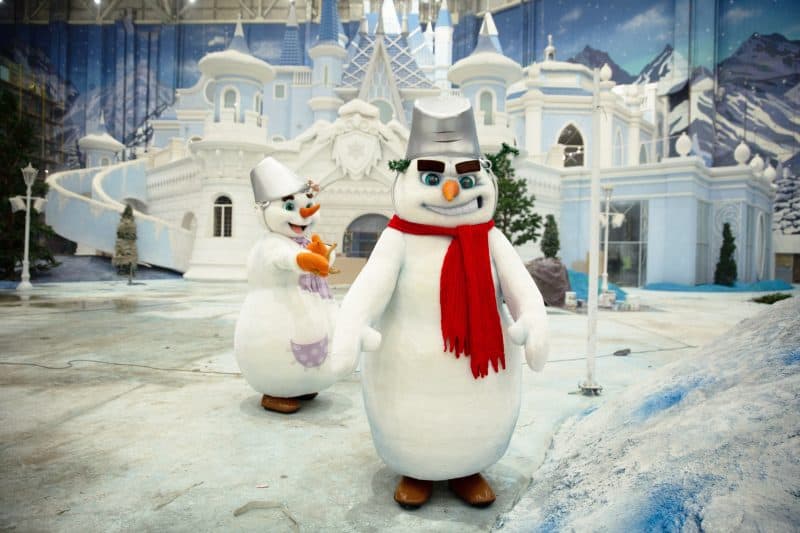 "In each of the eight themed zones visitors will be greeted by favourite heroes, with whom it will be possible to take photos, take autographs or just hug," said Ragozin.
Ragozin added that Dream Island has attempted to achieve "maximum realism", and each hero is "a valuable character with its history, emotions and behaviour".
"We create real worlds, and our heroes inhabit them. So visiting our theme park is going to be a wide-scale immersion into a dream world and a joyful adventure for all kids and adults."