King Kong has made his debut at CarthageLand.  Italian ride and attractions developer, EOS Rides, created the world's biggest ever animatronic figure sitting on the roof for the Medina at the Tunisian theme park.
EOS Rides customised one of their spinning coasters to accommodate the magnificent giant ape as its centrepiece especially for CarthageLand.  The main entrance to the ride is themed like a military base camp, where explorers begin their journey.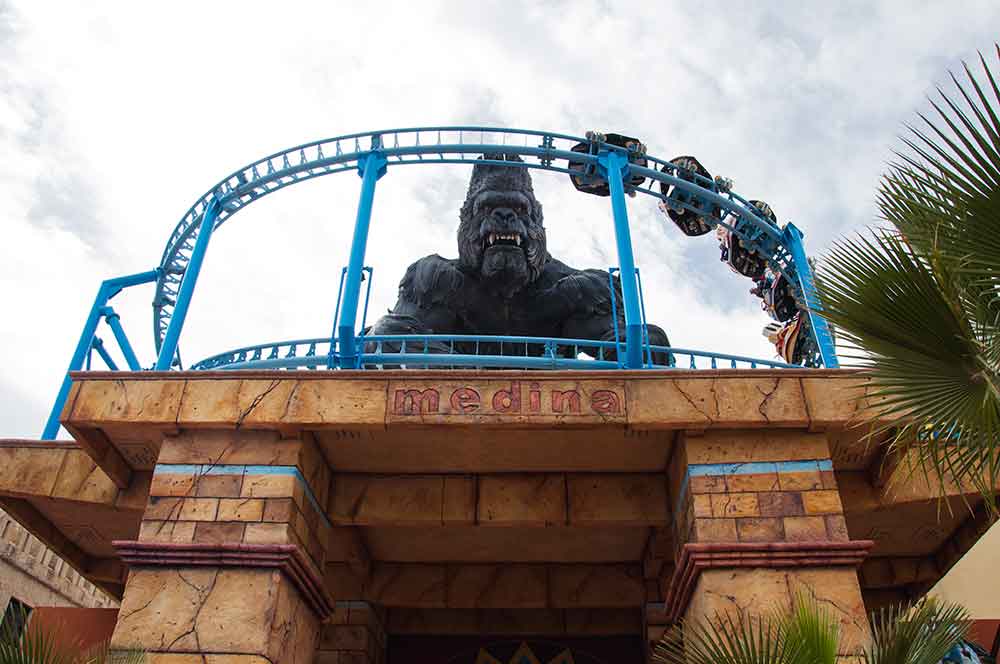 The attraction is groundbreaking for the region.  There is nothing similar to the giant animatronic figure in Northern Africa.  The roller coaster is also a first in Tunisia, with its combination of a pre-show and a dark ride featuring high quality virtual reality.
Grand opening ceremony
A grand opening ceremony took place on 18 March.  Thousands of people gathered in the Medina Forum from early in the morning.
They were joined for the opening by local and international press as well as the Tunisian Minister of Tourism and the Minister of Youth Affairs and Sport.  Together with Mr. Ben Ayed, owner of Poulina Group (owners of CarthageLand), the crowds cheered as the roaring Gorilla rose up to full height, with water drooling from his wide open mouth.
Strategically significant for Tunisian tourism
The ministers welcomed the unique world-class attraction as strategically significant for the Tunisian tourism industry.  Tunisia is also clear to demonstrate that the country can offer cutting-edge technologies by working with international partners, to guarantee the highest international standards for safety and security.
Hundreds of people of all ages were keen to experience the ride during the day, and at 9pm guests were still queuing for the attraction.
The ceremony closed in the evening with a firework display over the Hammamet skyline.
EOS proudly participated in the event with Mr. Loris Darsie' (owner and general manager) [pictured above] with Mr. Slah Chantur (CarthageLand director) and Ms. Michela Favero (sales manager), as well as Ms. Eliana Radich (designer), attending.