New renderings have been released of Hong Kong Disneyland's new attractions which form part of the theme park's ambitious expansion plans.
An immersive Frozen themed area will include new dining, shopping and entertainment.
Disney Parks Blog invites us to look carefully a the image in the header and compare to the previous version below.  It looks like a new rollercoaster has been added on the right.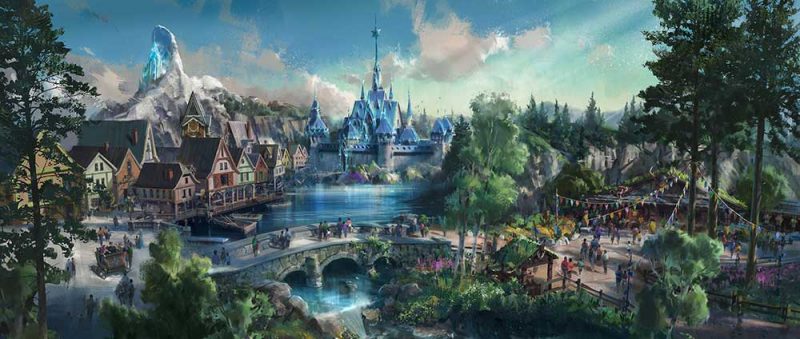 Sleeping Beauty Castle at Hong Kong Disneyland is being transformed and will showcase new daytime and nighttime spectaculars.
Building on the success of the Iron Man Experience, a new experience featuring Ant-Man, The Wasp* and S.H.I.E.L.D. in Tomorrowland will help to establish Hong Kong Disneyland as 'Asia's Marvel epicentre'.  The new attraction will pitch Ant-Man and The Wasp against Arnim Zola and his army of Hydra swarm bots.
The six year expansion project is budgeted at HK$11 billion.  Construction began in October 2017. The first attraction in the expansion – Moana: A Homecoming Celebration stage show – opened last week.
Images: Hong Kong Disneyland