The board of directors of the International Association of Amusement Parks and Attractions (IAAPA) has elected Amanda Thompson

OBE

to the board.  She will serve as second vice chair in 2018 before going on to become first vice chair in 2019.  She will then lead IAAPA as chairman of the board in 2020.
Thompson says she hopes to serve as a role model for women in the attractions industry.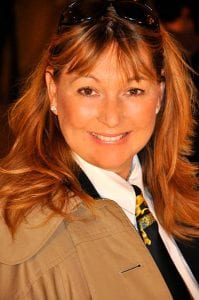 Thompson will be the first woman from Europe to chair the global trade association.  She will become just the third woman in IAAPA's 100-year history to lead the organization.
"I hope to serve as a role model for the increasing number of young women leaders in the attractions industry," she says.
"Amanda's first-hand knowledge of leading a successful family owned business and her diverse industry experience make her the perfect person for this role," says Mario Mamon, Chairman of the IAAPA Governance Committee. "She is a third-generation attractions industry leader and a long-time IAAPA volunteer. All of this, coupled with her passion for the industry make her the right leader at the right time for IAAPA."
Thompson is currently managing director (CEO) of the UK's Blackpool Pleasure Beach.  The attraction was established by her great grandfather, WG Bean, in 1896, and has been in the family ever since.  Blooloop spoke to her about the attraction and her career there.
In 1982, Thompson founded Stageworks Worldwide Productions, an entertainment company that produces shows globally.  She is currently producer/director of Hot Ice Show.  Previous productions include Eclipse, Mystique and Forbidden.
Thompson has been a dedicated member of IAAPA for decades. She served two terms on the IAAPA Board of Directors and currently chairs the IAAPA Europe, Middle East, and Africa (EMEA) Regional Advisory Committee.  In addition, she has been part of IAAPA's executive finance, membership, and entertainment committees.
Thompson received her OBE (Order of the British Empire) for services to tourism in 2012. She is a patron of Blackpool's Grand Theatre, the National Theatre of Variety, and the Blackpool Civic Trust.
She explains that, thanks to her grandfather, Blackpool Pleasure Beach became the first IAAPA member outside the United States. This happened when he joined the association in 1935.  Her father, Geoffrey Thompson, was chairman of the IAAPA board in 1996.
"Today, I'm excited for this opportunity to give back to this industry I love," says Thompson.  "I want to ensure that IAAPA is the global association of our industry and that we support and serve our members in all regions. Our industry employs more than 2 million globally, so it is a key industry, and a great industry to work in."