Red Raion, a leader in VR and immersive film production, has created the movie for new immersive tunnel experience 'Jurassic War' at Cinecittà World.
The attraction opens later this month at the Italian movie and television theme park.
The new movie by Red Raion transforms the park's immersive tunnel into a brand new dinosaur adventure featuring a face-off between T Rex and King Kong.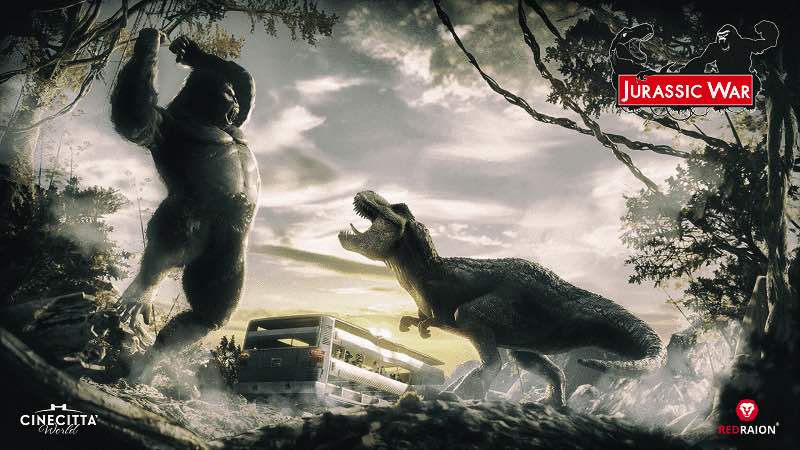 Guests begin the experience with a pre-show walk-through featuring fossils, animatronics and re-enactments to set the scene for the drama to come. They then board the vehicle that will drive them into the heart of the jurassic forest inhabited by dinosaurs. At first, the tour is very calm and relaxed. This illusion is soon shattered when the wagons are suddenly pushed off the road as they come under attack from the fiercest dinosaur of all: Tyrannosaurus Rex. But, just when all appears to be lost, an unexpected ally comes to rescue.
The three wagons can accommodate up to a maximum of 90 visitors. They are surrounded by a massive screen 70 metres wide and 5 metres tall. The video resolution of the movie is 14976px × 1080px and has been CGI-produced taking advantage of 7 stereoscopic cameras.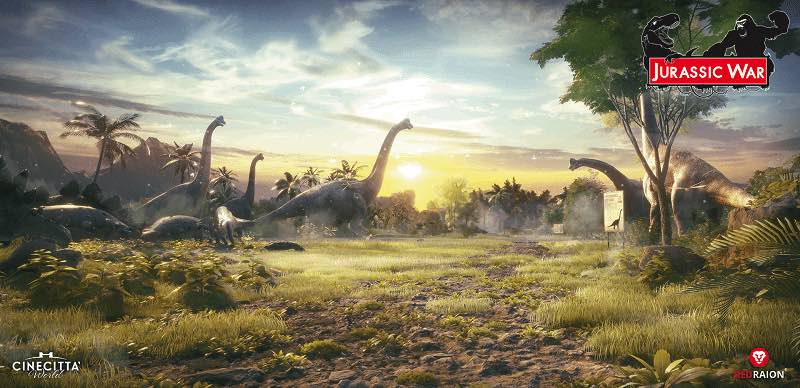 Jurassic War is Europe's longest ever immersive tunnel movie
To bring the experience to adrenaline-pumping life, Red Raion has synchronised the movements of the wagons with the onscreen action. This fusion between hardware and software delivers an immediate response from the simulation platform, thus increasing the immersive effect. The experience is further enhanced with the 21-channel audio system, adding to the overall realism of the dinosaur encounter.
The 'Jurassic War' movie is 4 minutes and 40 seconds long, making it the longest film produced for an immersive tunnel experience in Europe.
'Jurassic War' opens at Cinecittà World in Rome on May 19th 2018.
Red Raion is a leading provider of immersive 5D and VR movies for theme parks, aquariums, zoos, malls, brands, visitor centres and museums.