Universal Studios Hollywood has officially opened its new immersive attraction, Jurassic World – The Ride, following last week's soft opening.
Universal has also released a new photo of the ride's new dinosaur, the Mosasaurus, seen cracking the glass of her giant aquarium.
During the ride, the Mosasaurus appears in a realistic underwater environment, with motion parallax technology used to shifts guests' perspective as the aquatic dino moves around her tank.
Meet the Mosasaurus in her realistic aquarium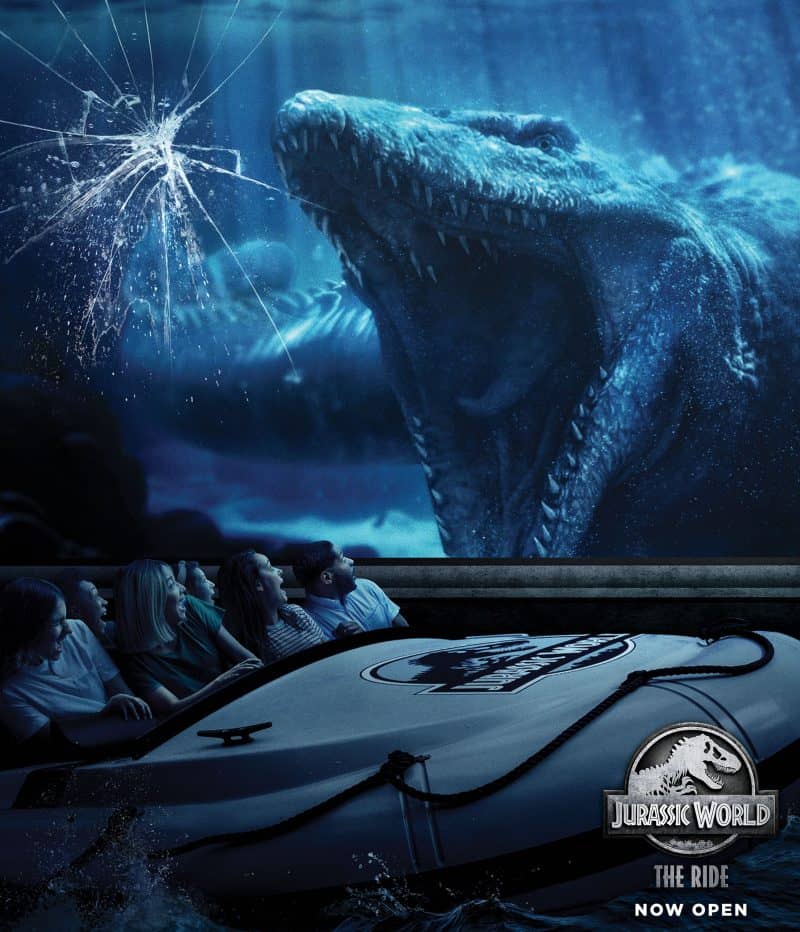 The aquarium intuitively shifts from day to night thanks to lighting enhancements, and there are visual changes to the environment during inclement weather.
Based on Universal Pictures and Amblin Entertainment's Jurassic World films, the new thrill ride uses state-of-the-art visual effects and technology.
Jurassic World – The Ride was brought to life by Universal Creative, the special-effects minds at Industrial Light & Magic, Universal Pictures, and filmmakers Steven Spielberg, Colin Trevorrow and Frank Marshall.
Fans of Jurassic Park visiting Universal Studios Hollywood will also get the chance to see Chris Pratt, Bryce Dallas Howard and BD Wong,
The stars reprise their roles as Owen Grady, Claire Dearing and Dr Henry Wu, marking the first time they've appeared as their characters outside of the film franchise for a theme park.
Located next to the attraction will be a new, highly-themed Raptor Encounter where guests can meet Blue, the Velociraptor from the Jurassic World franchise, as well as two new dinosaurs – a baby Velociraptor with her handler, and a life-size Triceratops.
Meanwhile, Jurassic Café and the new Isla Nu-bar serve Costa Rican-inspired cuisine and Tiki cocktails, while the Jurassic Outfitters shop sells collectible souvenirs, dinosaur sculptures, and more.
New dinosaurs and Jurassic-themed F&B
Jurassic World—The Ride has an original storyline, which takes place within the Universal Studios park on the day the Indominus rex escapes, as seen in the film.
In a TV spot, which you can watch above, Jurassic World's iconic Tyrannosaurus rex and Indominus rex invade Universal Studios' movie studio backlot.
Images: Universal Studios Hollywood