Leading theming company, MK Themed Attractions, has helped to boost Halloween attendance at Denmark's Tivoli Friheden by a spirited 166%.
Tivoli Friheden is celebrating its tenth Halloween season which sees the park transformed with spooktacular theming and illuminations.
"We know when we thematise our park our guests get an extra experience and our park functions really well," comments Morten Palm Andersen, Marketing Manager at Tivoli Friheden.
"We are constantly improving the experience of our park through different seasons and events to keep our guests entertained and hopefully create family traditions. It is always great working with MK Themed Attractions. Their significant understanding of Halloween theming, combined with our wishes for the season, turned out exactly how we hoped.
"Our attendance number went through the roof this year," adds Andersen. "We are really proud of the end result and look forward to making Halloween experiences for our guests in the future."
According to MK Themed Attractions' Lars Nielsen, the company has seen a significant increase in requests for Halloween theming from all parts of the world.
This year, 13 amusement parks have benefitted from the company's expertise including LEGOLAND® Deutschland, Movie Park Germany, Parque Warner, Djurs Sommerland, Jesperhus Feriepark, Parc Saint Paul, Liseberg, Tuanus Wunderland, Julianatoren, Family Park and Conny Land.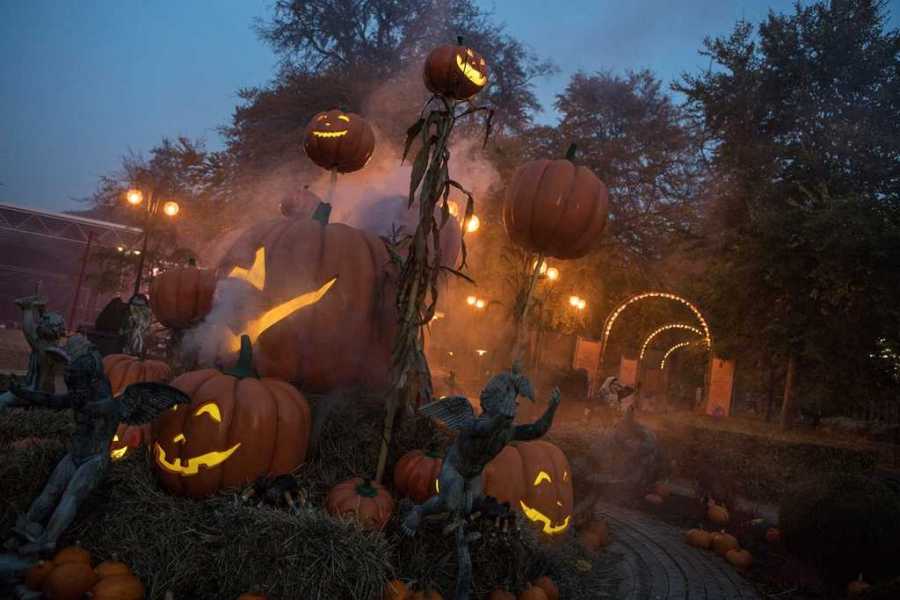 Once the Halloween season is over at Tivoli Friheden, MK Themed Attractions will be preparing to transform the park into a Christmas experience. This will feature twinkling lights, fibreglass decorations and a Santa's Christmas Town alive with animatronic elves.
MK Themed Attractions, formerly Tema Design by MK Illumination, has had a busy 2018. Recent projects include a pirate-themed parade wagon for Heide Park, the complex theming for Movie Park's rapid river re-theme and comic chicken theming for the first Roller Ball coaster at Germany's Schwaben Park.
Images courtesy No Light Studio and Simon Bjørn