Moment Factory, the multimedia studio specialising in the conception and production of immersive environments, was invited by Meow Wolf to transform Perplexiplex, its live performance venue located at the newly opened Convergence Station in Denver, into an immersive discovery experience.
Using its technical and creative expertise, and working closely with the Meow Wolf team, the Montreal-based studio imagined a surreal forest that the audience can influence and engage with.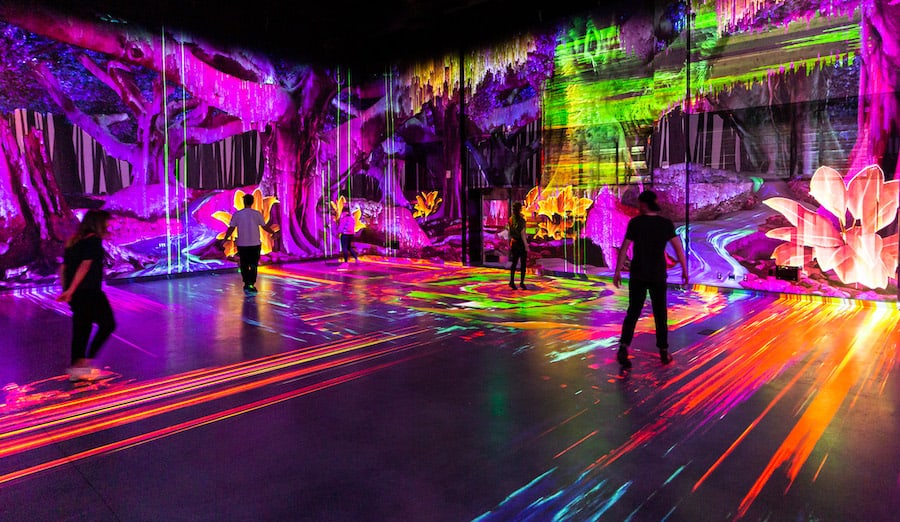 "Collaborating with Meow Wolf allowed us to push the boundaries of our work," says Alexandre Lupien, Creative Director at Moment Factory. "They gave us the space to explore, invent and create. This encouraged us to challenge ourselves to curate an experience with a refined art direction, aesthetic and mood."
Perplexiplex at Meow Wolf Denver
Intuitive visual cues and an ambient score by Sante Fe musician Cole Bee Wilson guide guests across four supernatural worlds. Projections mapped onto the floor and surrounding walls transform a black-and-white forest mural, created by New Mexico artist Nate Gutierrez, into a flourishing interactive ecosystem.
The experience begins with the impression of a fungus releasing spores, which guests can interact with, before transforming into a reactive digital forest, composed of pixels and glitches. This then moves into a neon arboretum, and then into a colour-filled finale where visitors can create their own digital brushstrokes that cover the room by simply moving around in the space.
"Inspired by the silence between movements of classical symphonies, each scene fades to black, creating moments of breathing room between transformations," says Lupien. "Each world has its own concept, art direction and aesthetic, but are all connected by the same intuitive interactive behaviour and overarching theme."
Pushing the boundaries
Moment Factory's R&D team developed new software to support Perplexiplex. This allowed the team to process multiple visitors' movements and their positions through a simultaneous tracking system. This means that the responsive effects and behaviours of guest interactions vary with each scene, while the mechanics remain the same throughout to ensure an intuitive user journey.
"We're most proud of how social the Perplexiplex experience is. People really engage with each other, share their unique moments, point out their discoveries, and truly live in the moment," adds Lupien. "Ultimately, we hope that all guests who enter Perplexiplex will be transported into surreal, fantastical worlds, and, most importantly, will share the experience with others."
Earlier this year, Moment Factory made its Australian debut at the first-ever Illuminate Adelaide with Light Cycles, an outdoor experience at Adelaide Botanic Garden. It is also celebrating the second season of SuperReal, an immersive digital art experience in Lower Manhattan, New York.