Ocean Park Hong Kong has unveiled the master plan for its HK$10.6 billion redevelopment. The theme park will boast new zones and thrill rides, and is putting an end to animal shows.
The new Ocean Park will be an adventure-themed resort destination with a focus on nature, conservation and edutainment. It will feature seven experiential zones with new interactive attractions and high-tech thrill rides.
"Our globally recognised conservation and education focus makes Ocean Park much more than an amusement park," said Leo Kung, chairman of Ocean Park.
"This strategic repositioning plan will build on our legacy as a park that blends entertainment with education and conservation.
"It aims to offer guests of every age new adventure and discovery experiences like nowhere else, setting Ocean Park apart from the APAC region's increasingly competitive theme park industry."
Seven experiential zones at Ocean Park Hong Kong
The current waterfront will come to be two themed zones, Ocean Square and Azure Bay. A new entrance to Ocean Park will be created so that Ocean Square is accessible to the public for free. It will boast dining, retail and performances.
Azure Bay will feature water elements, signature rides and other adventure activities, as well as a new Deep Water Bay Pier, environmentally-friendly sightseeing ferries, and a new monorail ride taking guests from the park entrance to the pier.
At the New Summit, there will be five different themed zones – Discovery Grove, Pacific Point, Ocean's Edge, Adventure Valley and Explorer's Wharf. Each will include thrill rides, adventure experiences and edutainment offerings.
Discovery Grove, the highlight of the New Summit, will be an all-weather zone and includes a new indoor rollercoaster using the latest multimedia technology.
Pacific Point will house F&B, Ocean's Edge will include two self-controlled thrill coasters, while Adventure Valley will feature a car racing experience.
Interactive attractions and high-tech thrill rides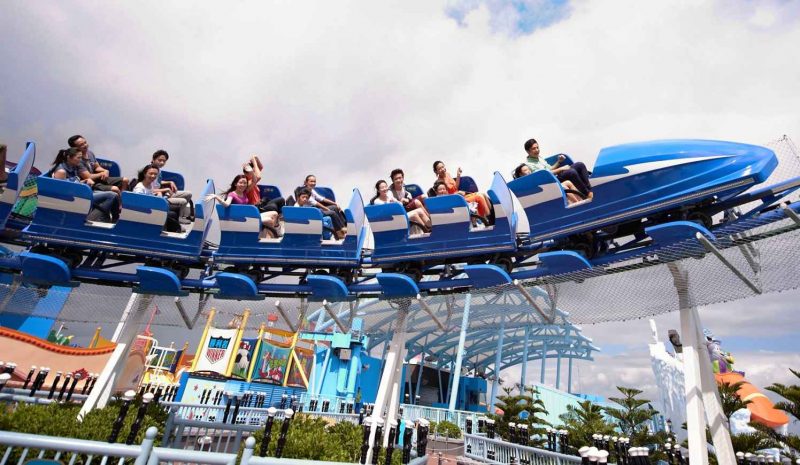 Ocean Theatre will be converted into a new multi-purpose performance venue, with the marine mammals moved to a new exhibit at Explorer's Wharf.
"Marine animals in the park's care play a vital role in the Park's conservation and education mission," added Kung. "Under the new plan, the Ocean Wonder show will cease.
"Dolphins will continue to inspire our guests to help protect the oceans and marine ecosystems through up-close observations, educational presentations and interactive programmes themed around marine conservation."
Ocean Park will look to the Hong Kong government to play a role in financing the redevelopment, which is expected to cost HK$10.6 billion.
The new Ocean Park is expected to attract up to 7.5 million visitors in 2027 and 2028, generating HK$43.8 billion in projected economic benefits to Hong Kong.
It will also create 11,100 full-time jobs. New rides and attractions, as well as an indoor education centre, will launch in phases between 2023 and 2027.
News of the redevelopment comes after Ocean Park posted a deficit of HK$557.3 million. It attributed the loss to investments in edutainment offerings and the reinvention of rides with digital technologies.