Don Potts, President of Parks and Attractions at Qiddiya, gave Blooloop an exclusive update on the project and a preview of its new video footage.
On Wednesday 14 October, Don Potts gave blooloop V-Expo attendees an exclusive update on Qiddiya, one of Saudi Arabia's four main giga-projects being developed in line with the Kingdom's Vision 2030.
17/12/20: Our exclusive interview with Philippe Gas, Qiddiya CEO.
Qiddiya is located close to Riyadh and covers an area of 334 square kilometres. It aims to become Saudi Arabia's leading entertainment destination as well as the largest entertainment city in the world.
The destination will help to diversify the economy of Saudi Arabia, providing new opportunities for Saudis and capturing the imagination of the international market.
A disruptive destination
The team is now working on-site and major construction has already started. New roads are being built to facilitate the construction process and there is also a special Qiddiya Welcome Centre where guests can find out more before the grand opening.
"Qiddiya's vision is to create a disruptive destination," said Potts. "It is going to have some of the most innovative experiences, not only in the region but in the world, in entertainment, sports and arts."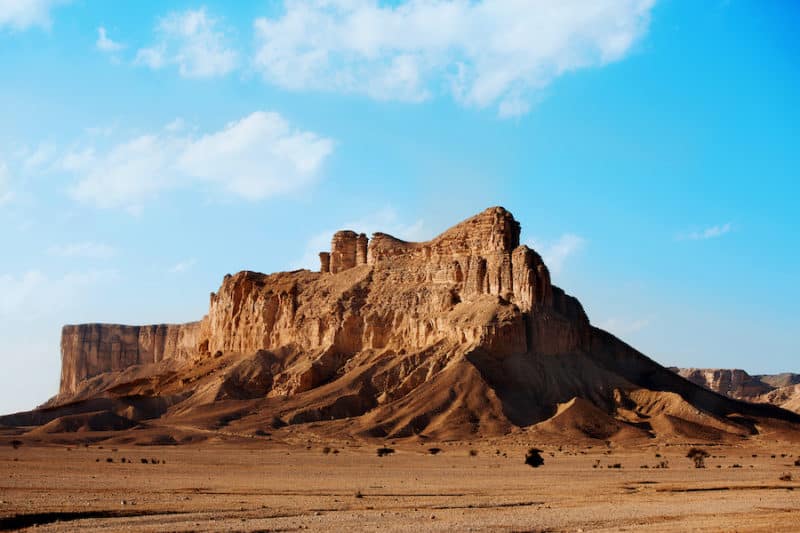 "With the introduction of the new Saudi tourist visa, international visitation has become a very big deal. What we experienced, pre-COVID, was remarkable, and it was just the tip of the iceberg. His Excellency Ahmed al-Khatib, who is the minister for tourism and Qiddiya's secretary-general, has stated that we are building Saudi's gift to the world."
The project also aims to tap into the huge domestic tourism market too.
Qiddiya and COVID-19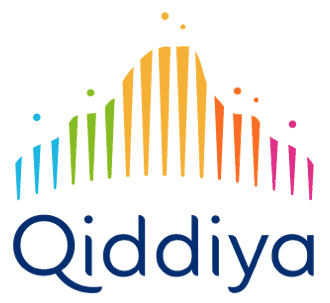 In terms of the global pandemic, Potts says that the impact of the COVID-19 pandemic on the development has been minimal.
"Given the phase of our project, we were able to keep on with the site work and infrastructure work. The Qiddiya IT and HR teams did a remarkable job in preparing us all to migrate to working from home, in the virtual world. We adapted well. So, it's not impacting any opening dates or anything like that. We have been very fortunate."
"2023 is when we are preparing to open. We're excited about that, and all things seem to point to that date."
The visitor experience at Qiddiya
This new destination has a unique climate. The team has done extensive research, comparing the site to many other locations around the world.
"We spent a lot of time comparing ourselves to places like Texas and California," says Potts. "Places that have days above 100 degrees often, with dusty conditions. From a heat index standpoint, not just a comfort standpoint, we have done a lot of research and found that because it is very arid here, it is much more comfortable than tropical areas."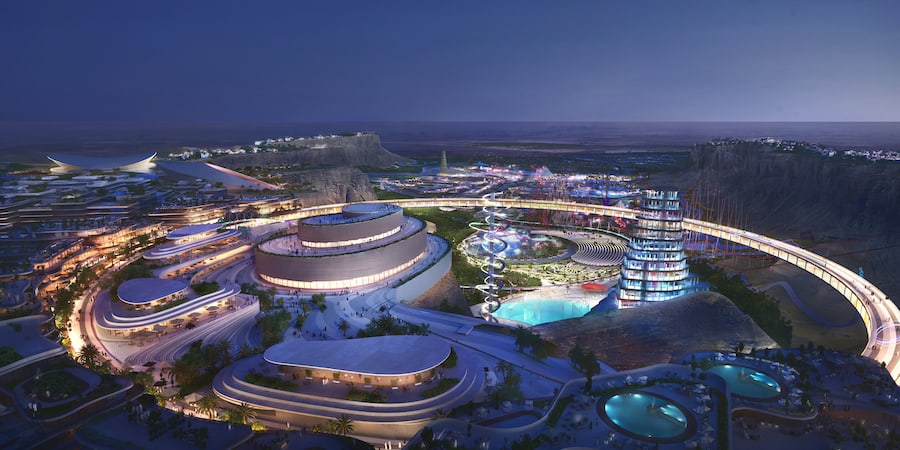 "In addition to this, the lions share of our demographic is going to be Saudis. And they are by nature nocturnal people, they like staying up late. So during the summer, that bodes very well for us. We will adapt our operating patterns to mirror those behaviours. We'll likely open up later during the warm months.
"We've also taken a hard look at shaded areas and air conditioning too. And with the arid climate, we are able to leverage some misting technology too."
Sustainability
"Qiddiya enthusiastically embraces the sustainability goals set out in Saudi Vision 2030," says Potts. "Those initiative include everything from reducing all types of pollution to protecting the Kingdom's natural reserves. We have a beautiful site, and we are enhancing that site, not disrupting it."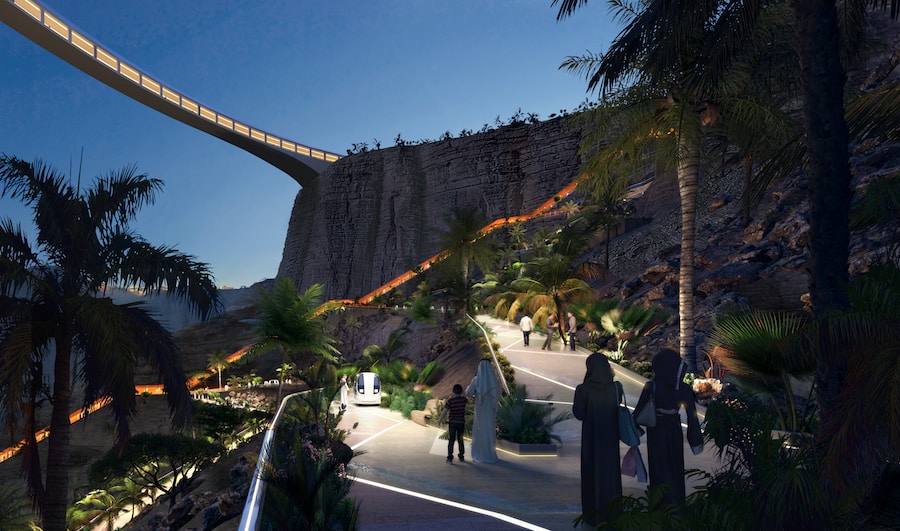 "From a business standpoint, it adds to the overall experience. Because not only do you get to experience all these tremendous assets that we're building, but you also look up and it's just absolutely beautiful. We're also promoting technologies for the optimum use of water resources. So we're focused on [sustainability] in a big way, from waste management and water to the microclimate."
Qiddiya and the local economy
"Consistent with Saudi Vision 2030, we're going to be contributing to the economy in a big way," says Potts. "Right now, our forecast shows us employing 17,000 employees.
"We have 60 Saudi students, recent graduates, who we selected out of 5000 applicants. And we gave them scholarships to go to Rosen hospitality school in Orlando. They've just finished their first year. Then there are many other university programmes that we are engaged with right now."
"But its not just about degrees. There are lots of technical skills that we need, everything from welders and vehicle mechanics to landscapers and security guards. When you look at the mandate of Vision 2030 and the diversification of the economy and improving on unemployment, we are going to be contributing to that."
Building a complete city
Qiddiya is 30 minutes outside of Riyadh. In many ways, it is similar to when Disney first began building in Orlando – it's a fresh site which requires the infrastructure to be created from scratch.
"It's a very easy drive," says Potts. "There's all kinds of infrastructure improvements going on. We also have a metro train that will ultimately be going to Qiddiya. Within the Q site, which is massive, we have our own version of Reedy Creek that provides those support services and processes."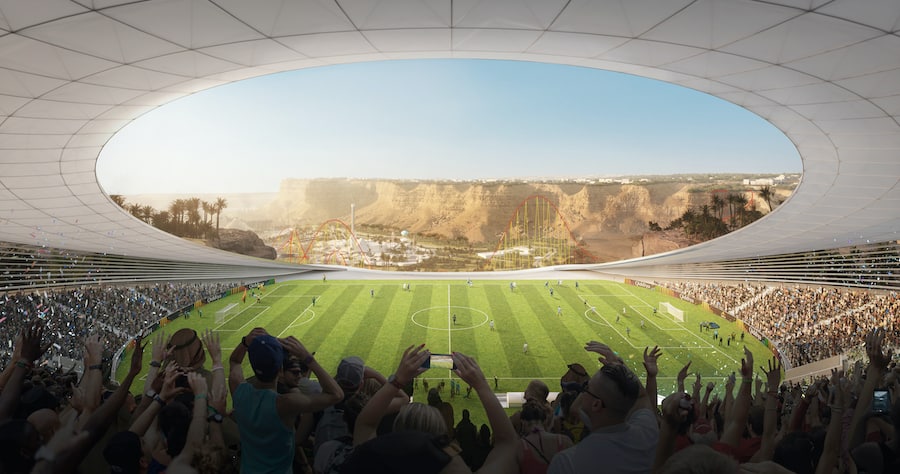 "We are building a city. It is a multifaceted entertainment destination city We are going to have schools and fire stations, police stations, mosques and hospitals, and everything else that goes along with that. We tend to gravitate towards fun things like theme parks and attractions, but it is in the centre of a city and we have got a massive residential area surrounding us."
A huge demand for entertainment
Saudi Arabia also recently hosted its own version of London's Winter Wonderland.
"It was remarkable," says Potts. "It began last October and was supposed to run until January, and then they extended it until February, and then March. The demand and the attendance that they had was remarkable. And that was very encouraging for us."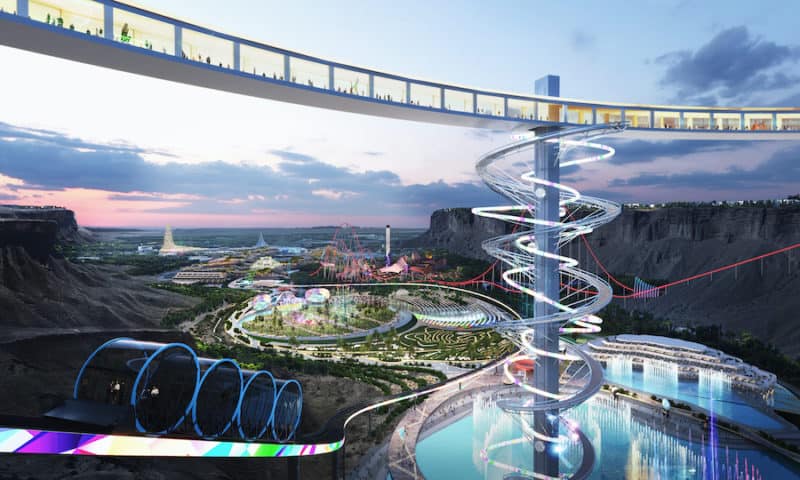 "There are 8.5 million people in Riyadh today. And Riyadh growth is expected, by 2030, to reach almost 15 million people. That is at our back door, so we are very excited about that.:
The demographic in Saudi is also a very young one. Around 60% of the population is under 40.
"They are familiar with good entertainment products," says Potts. "They are all connected on YouTube, on cellphones, on social media. In our business, the prime customer for entertainment experiences is 25 to 45."
Six Flags Qiddiya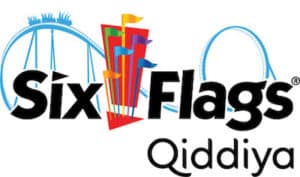 Unlike other Six Flags parks, theming will be a big part of the new location at Qiddiya, focussing on Saudi Arabia's cultural heritage.
"We are really going to pay homage to Six Flag's cultural heritage," says Potts. "We are creating, with our partners, the most unbelievable Six Flags park in the world. It is the most heavily themed, and the largest. It has attractions that have never been done. It is going to be a spectacular destination.
"The design teams have incorporated the 13 regions of Saudi Arabia, which are very unique and eclectic, into the six lands at Six Flags Qiddiya. All the theming by land is very unique. It is an 80-acre park with 29 rides.
"Falcon's Flight will be Six Flags most recognisable and anticipated thrill ride. It is the fastest, highest and tallest coaster ever built. It incorporates our natural environment, it goes 200 metres up the side of a cliff, makes a little loop on the top and then comes straight down. Not just with gravity, but accelerating down. It is going to be not for the faint of heart! But Saudi's are very adrenaline focused."
"We also have Sirocco Tower, the tallest drop tower in the world. We have a Sea Stallion, which is an interactive ride that is propelled over rivers and behind waterfalls. We have Spitfire, a triple launch coaster. And then the Iron Rattler Mine Train which has a unique twist to it."
As well as Qiddiya, there are several other giga-projects underway, including Amaala, NEOM and the Red Sea Project.