The "very first footage from inside Disney's upcoming attraction" was shown on Thursday's Good Morning America (September 26).
Star Wars: Rise of the Resistance is opening on December 5, 2019 at Disney's Hollywood Studios in Florida, and on January 17, 2020 at Disneyland in California.
GMA viewers were treated to an inside look at the Star Destroyer's hangar bay, where riders will meet 50 Stormtroopers.
Watch first footage from inside Rise of the Resistance
Guests will speed through the Star Destroyer in a trackless ride vehicle, as an onboard droid reacts to its surroundings.
"So we came up with this really cool, epic, and very elaborate story for you to feel like you are truly in an immersive, authentic and 360-degree experience," said Margaret Kerrison, Managing Story Editor for Walt Disney Imagineering.
Rise of the Resistance will be one of Walt Disney Imagineering's most ambitious and advanced project's to date, combining multiple ride systems and a new simulator experience.
One of the largest attractions that Disney has ever created, Rise of the Resistance boasts two AT-AT walkers, as well as a TIE fighter.
Star Wars ride will be 'immersive and authentic'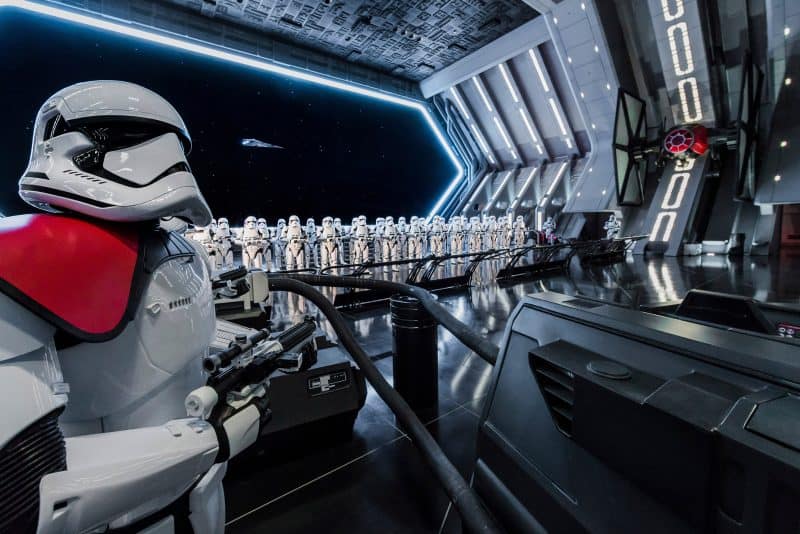 As part of the storyline, visitors are recruited to join Rey and General Organa at a secret rebel military base in the forest, before boarding a transport shuttle.
Sadly, they're captured by the First Order Star Destroyer, with the ride culminating in a battle between the First Order and the Resistance.
Rise of the Resistance will feature Star Wars characters including Rey, Poe, Finn, Kylo Ren, and General Hux.
In more exciting intergalactic news, an immersive two-night hotel experience called Star Wars: Galactic Starcruiser is heading to Walt Disney World.
Images: Disney