The world's largest regional theme park company, Six Flags, will debut a line-up of rides and attractions in the 2018 season across their parks.
Six Flags Chairman, President and CEO, Jim Reid-Anderson, said: "This is our most impressive and ambitious new capital rollout ever. Many of the rides and
attractions we are introducing next year are 'world's firsts' and record breakers as we deliver fun-packed innovation at the highest level. Innovation is in our DNA and our guests expect and deserve one-of-a-kind experiences when they visit our parks."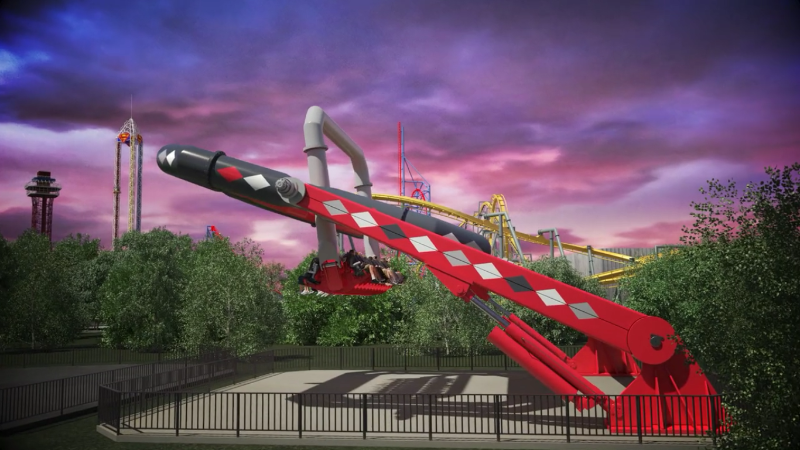 "Our strategy of providing something new in every park, every year, continues to delight our guests and has resulted in attendance growing to over 30 million guests annually and record revenue and EBITDA in each of the last seven years."
The new rides include the world's first Wonder Woman-themed roller coaster: WONDER WOMAN Golden Lasso Coaster.  The coaster will marvel feature a first-of-its-kind single I-beam rail with riders seated single file. That ride will be heading to Six Flags Fiesta Texas.
At Six Flags Magic Mountain CraZanity will become the world's tallest pendulum ride at 17 stories high.
Arriving at Six Flags Great Adventure will be a first to North America: CYBORG Cyber Spin.  The ride is described in a statement as "a unique futuristic triple box design that allows the gondola to spin around three separate axes while rotating forward, backwards and sideways up to 70 feet in the air."
More rides announced include hybrid roller coaster Twisted Cyclone coming to Six Flags Over Georgia. Six Flags New England will introduce HARLEY QUINN Spinsanity. Six Flags Mexico is introducing its first 4D free-fly coaster based on Wonder Woman. Six Flags America is debuting a river adventure, Wahoo River.

All the new rides for the 2018 season have been announced online.
Six Flags has also announced the start of 2018 Season Pass sales with a Flash Sale offering savings of up to 70% off on a 2018 Pass!
2018 Season Passes provide unlimited visits for the rest of the 2017 season (including park admission to Fright Fest and Holiday in the Park) and all of 2018.
Images Courtesy of Six Flags