Six Flags has announced that Frontier City in Oklahoma City will reopen with limited capacity from June 5. It has also released extensive safety measures for reopening its theme parks.
Frontier City will open in a preview mode from June 5 to 7 for members and season pass holders, before reopening to the public.
After a short initial reopening phase, Frontier City will gradually increase attendance levels. It is implementing various new safety measures and hygiene protocols.
"We are excited to welcome Oklahomans back to Frontier City as we introduce new safety procedures for everyone's protection," said Frontier City general manager Trevor Leonard.
"The health and safety of our guests and team members remains our number one priority."
Face masks required for all guests and staff
"Frontier City, like all Six Flags parks, is an outdoor attraction that poses a significantly lower risk of exposure than indoor venues," said Six Flags president and CEO Mike Spanos.
"Our guests are not confined to one space for lengthy periods. Guests move constantly throughout their experience; some are riding rides, some are eating in restaurants, while others are shopping in our souvenir stores, or playing games.
"Because our parks cover dozens or even hundreds of acres, we can easily manage guest throughput to achieve proper social distancing."
He added: "We have developed a comprehensive reopening safety plan that includes best practices from theme park and water park industry experts, along with top destination parks from around the world, which will allow guests to experience our parks in the safest possible way.
Social distancing on rides at Six Flags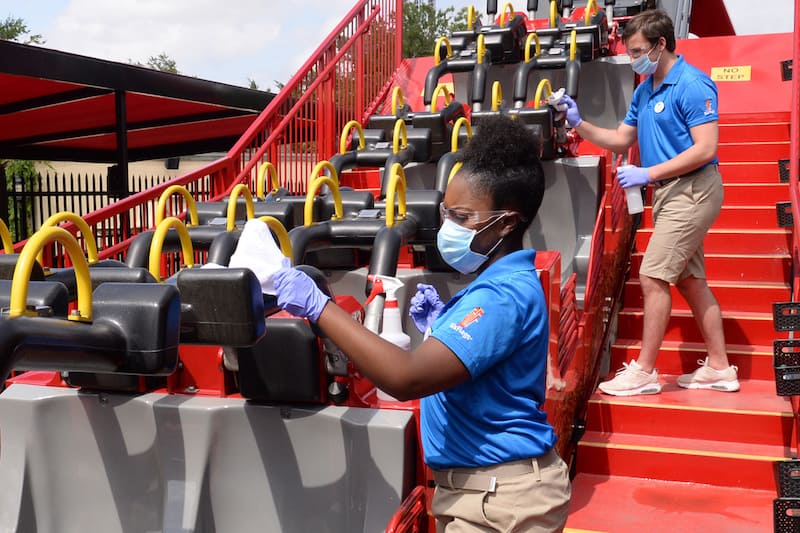 "This 'new normal' will be very different, but we believe these additional measures are appropriate in the current environment."
Six Flags theme parks will all use an innovative online reservation system to manage attendance, stagger arrival times, and avoid overcrowding.
New technologies also include thermal imaging for temperature checks, advanced security screening tech for touchless bag checks, and expanded mobile food ordering.
Temperature checks will be mandatory for guests and employees before entry, while all guests over the age of two will need to wear face masks.
Increased cleaning and hygiene at Frontier City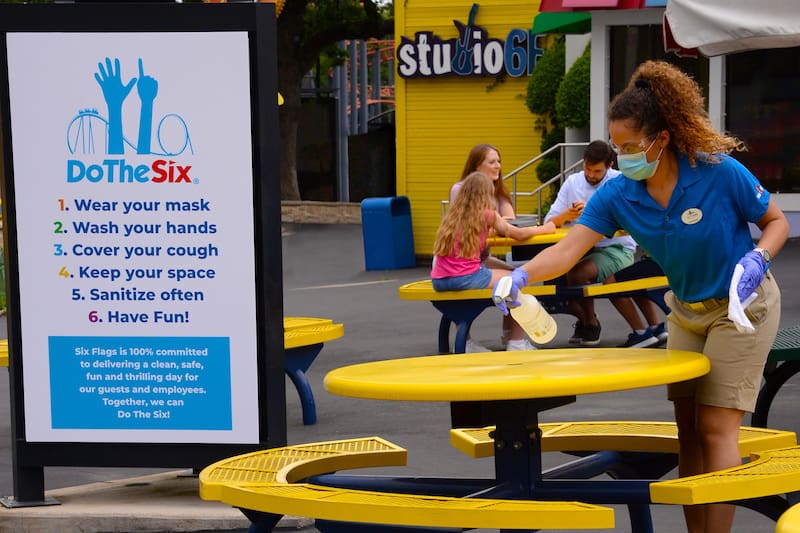 Distance markers will be added in all park entry, ride, restroom, dining and retail locations, and in queue lines. Dining areas will be adjusted to ensure social distancing.
As for the coasters, guests will be separated by empty rows and seats on all rides and attractions. Arcade games will be reconfigured or deactivated.
Capacity will be reduced at indoor attractions and venues, and guests viewing outdoor entertainment will be separated by at least six feet.
There will be increased cleaning, especially of high-touch surfaces. Rides, restraints and handrails will be cleaned throughout the day. Hand-washing and hand-sanitiser stations will be located throughout Six Flags.
We've been working hard to create a safe experience for everyone as we prepare to reopen. Here's what you need to know about our NEW safety measures. pic.twitter.com/aKJkQHElKW

— Six Flags (@SixFlags) May 26, 2020
Six Flags is implementing mobile food ordering, while self-service buffets and salad bars will be reconfigured.
Employees will be given a Team Member Action Pack, which includes a face mask, safety glasses and disposable gloves.
Elsewhere, Six Flags Great Adventure plans to open its safari adventure as a drive-through experience, offering guests views of its exotic animals despite the outbreak of COVID-19.