As Star Wars: Galactic Starcruiser prepares to open spring 2022 at Walt Disney World Resort, Disney Imagineers discuss the innovative new adventure.
State-of-art technology combined with beguiling storytelling will create an innovative immersive two night experience at the luxurious hotel-turned space ship (the Halcion Star Cruiser) docked next to the Galaxy's Edge themed land at Walt Disney World Resort, Florida. The concept takes the notion of a cruise ship and applies it to a landlocked themed hotel.
The project has been underway for six years and is set to open in spring 2022. The team behind the first-of-its-kind immersive storytelling experience now give more details on what guests can expect.
"Star Wars: Galactic Star Cruiser is a first of its kind experience where we're inviting guests to step into a galaxy far, far away, and live out a Star Wars story over two days and two nights," says Ann Morrow Johnson, Executive Producer and Creative Director, Walt Disney Imagineering. "Once you arrive at Walt Disney World there is a terminal and you board a launch pod. You connect up with the ship, the Halcion Star Cruiser and that's where the story starts."
An interactive, "more intimate" experience
The hotel itself is luxurious while still giving an authentic feel of a star cruiser. Disney is an old hand at bringing immersive experiences to its parks and resorts but Star Wars: Galactic Star Cruiser takes it much further. "This is much more intimate," says Sara Thacher, Senior R&D Imagineer, Advanced Development Walt Disney Imagineering Research. "Your choices really do matter here and how you treat each other is also going to matter."
Each person has a role to play in the…larger fabric of the universe and the larger fabric of the galaxy.

Wendy Anderson
"Each person has a reason to be on board that ship," says Wendy Anderson, Executive Creative Director, Disney Live Entertainment. "Each person has a role to play in the…larger fabric of the universe and the larger fabric of the galaxy."
Guests can take light sabre training or learn the control deck. They meet other humans, droids and alien species on board ship and can also opt to become characters themselves (costumes will be provided). "There could be a galactic superstar who entertains you on the first night but then also tasks you with helping to smuggle something," says Thacher. "You never know what you're going to wind up around every corner with."
An engaging experience for everyone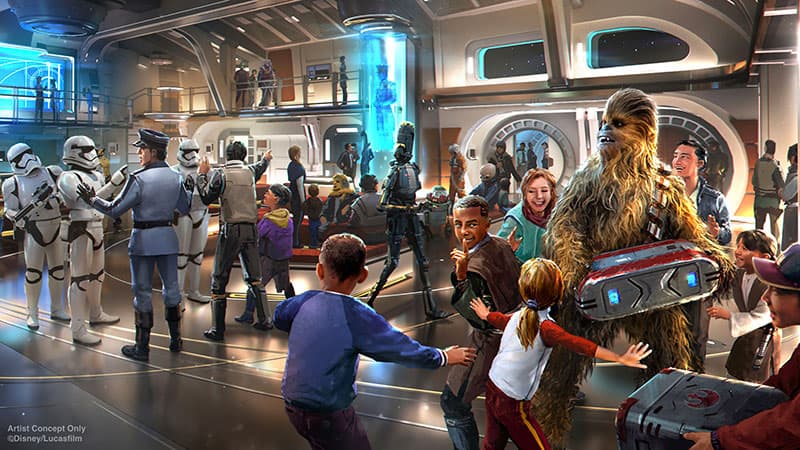 Anderson points out that the experience is not just for dedicated gamers or even Star Wars fans. "It really and truly is for everybody," she says. "The ways you access it are so organic that you don't always know that you're playing a game in the strictest sense. There are so many storylines, so many options."
"Guests get to choose who they want to interact with or they get to choose to sit and watch," adds Thacher. "There's so many different ways to engage – you don't have to participate if you don't want to. You can stay in the story and live out the different storylines or just go be a tourist – head back to your cabin, take a nap, have some lunch. You can choose to be as casual about this as you want or dive as deeply as you want."
Wildly dramatic Star Wars F&B
Food and beverage options continue the immersive galactic experience with The Crown of Corellia Dining Room promising "wildly dramatic" dining. "We're taking really delicious things and presenting them in unexpected ways," says Morrow Johnson. "So even what you eat enforces that feeling that you're going to be in a galaxy far, far away."
"Like any fine cruise line, there's going to be entertainment," says Thacher. "We've hired some of the best in the galaxy. So, at your seated dinner on night one, there will be a show and some phenomenal music."
It's all about world-building

Ann Morrow Johnson
"It's all about world-building," says Morrow Johnson. "You're living in a galaxy far, far away and you get to see a dinner show. And of course the music is going to be great. It's going to be performed by aliens, folks you would never see on your home planet."
The experience will tap into the depth that already exists at Galaxy's Edge and take it further. "We're giving you ways to see and explore the land," says Morrow Johnson. "But we're also giving you the lens of its continuing story, the story that you're living."