Now that Star Wars: Galaxy's Edge has opened to the public, Disneyland Resort is using a virtual queuing system as crowds reach capacity within an hour on opening day.
According to The Hollywood Reporter, the wait for Millennium Falcon: Smugglers Run was three hours, even before Galaxy's Edge was at maximum capacity.
It also took less than an hour before people were turned away from the new land on Monday (June 24), the first day it was open to the public without reservations.
Join a virtual queue using the Disneyland app
Although Galaxy's Edge opened 30 minutes early at 7.30am, no more walk-ins were allowed by 8.20am. The Disneyland app read: "Entrance to Star Wars: Galaxy's Edge or its experiences is not guaranteed."
However, guests were allowed to come back later in the day with a "boarding party" or a virtual queue, and by 4.45pm, the park was able to turn the queue off, and guests were once again allowed to enter.
In a blog post, Disneyland Resort confirmed that guests may use a virtual queuing system beginning June 24.
Visitors are told to download the Disneyland app before arriving and to check the app or signage on the day of their visit to find out if they will need to be part of a boarding group.
The boarding group will save guests a virtual spot in line so they can enjoy other experiences while they wait to be notified of a time to enter.
Visitors can use the Disneyland app to request to be part of a boarding group after entering Disneyland, if the virtual queue is implemented that day.
Disneyland explains how to use the system as follows:
Link the theme park tickets of everyone in your party together on the app to request the same boarding group for your entire party. To see which boarding group is currently being admitted to the land, look on the app or digital signage in the park.
If you enable push notifications on your mobile device, you will be notified when it is time to enter the land. If not, continue to check the Disneyland app or digital signage in the park.
You have up to two hours to enter the land after your boarding group is called for admission.
For guests not using the Disneyland app, a boarding group may be obtained with a park admission ticket at select Disney FASTPASS Service locations such as Haunted Mansion, Indiana Jones Adventure, Space Mountain, Splash Mountain or near the Matterhorn Bobsleds.
The new immersive land and its characters have their own backstory, the food and drink is themed, as is the merchandise on offer at the various retail outlets.
Guests at Galaxy's Edge will engage in a range of interactive experiences, and highlights include a variety of starships from the Star Wars world and two major attractions – Millennium Falcon: Smuggler's Run and Rise of the Resistance.
Immersive experiences at Star Wars: Galaxy's Edge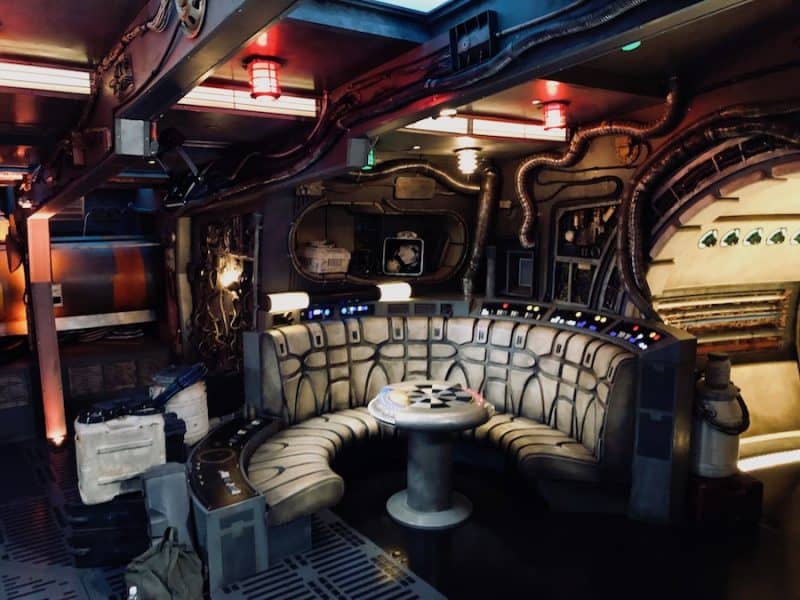 Earier this month, Hagrid's Magical Creatures Motorbike Adventure opened at Universal Orlando Resort, and guests waited up to 10 hours to ride the new 'story coaster', with the website cautioning "high demand".
Images: Disney