In what seems a fitting relationship, French company Tejix recently supplied its AV expertise to Europa-Park's new look CanCan Coaster.
The Mack Rides coaster is housed inside a dome in the French themed area of the park in Rust, Germany. After an approximately €30 million ($34m) refurbishment, it was relaunched on September 12, offering a choice of two experiences.
Guests can either sample Eurosat Coastiality, featuring virtual reality content from film director Luc Besson. Or they can enjoy Eurosat – CanCan Coaster, a dark-ride coaster without the VR that takes them through illuminated Paris. The attraction's façade has a vivid new look recreating the Parisian bastion of fun and entertainment, the Moulin Rouge.
Sound, video and visual effects play an important role in the French theming. Tejix was appointed to create a video mapping show in the scene following the departure from the station.
When the train stops for a few seconds in a wine cellar, bottles stored there begin to collide. An elixir escapes and turns into a pixie dust that guides guests towards the end of their journey. Several laser projectors and other devices were employed to achieve the effect.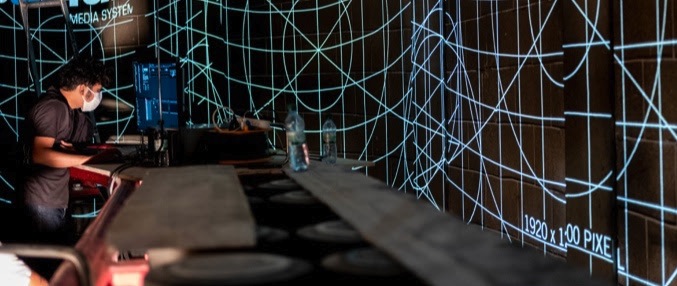 Kazuki Uehara from Tejx's Tokyo team (pictured above) designed the animation before going on site to finalise adjustments. "Projects of this type requires deep understanding of the technical, artistic, operating and maintenance challenges operators are facing," he says. "The working conditions in the coaster were a little disconcerting. But the great Europa Park team gave us a lot of support. Thanks to them, we were able to deliver the technical system and media in time for the opening of the attraction."
Images courtesy Europa-Park and Tejix