A new rollercoaster is now thrilling guests at SeaWorld San Diego. Tidal Twister is the first Skywarp Horizon from Skyline Attractions, delivered to the park in Southern California in partnership with Ride Entertainment.
As always at SeaWorld's parks, the ride comes complete with a marine theme. Located adjacent to the Aquaria touch pool and aquarium, the focus here is on sustainable aquaculture and coral reef protection.
The ride opened to the public over the (late May) Memorial Day Weekend. It offers SeaWorld guests a unique, horizontal duelling coaster experience. Accelerating to 30 miles per hour (51km/h), riders twist and bank as they navigate the tight, figure 8 track.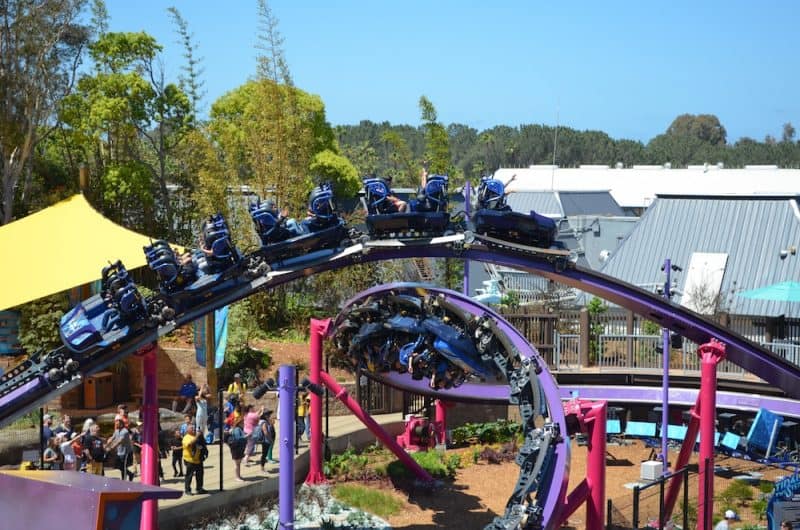 The two trains, holding 16 passengers each, feature both forward and backward facing seats. The trains are attached to one another by chains but separated by 'zero cars'. Spectators can enjoy an eye-catching moment as they pass one another during the zero G roll in the centre of the attraction. Additional elements include an LSM launch and inline twist.
Occupying a footprint of 115 x 55ft (35m X 17m), Tidal Twister features a total track length of 320ft (88m). The attraction offers an instant capacity of 32 and theoretical hourly capacity of 1,100. Guests must be a minimum of 48 inches (1.2m) to ride.
The coaster follows the installation of the first Skywarp from Skyline Attractions last season at Six Flags Discovery Kingdom near San Francisco. Named Harley Quinn Crazy Coaster, this features a more vertical layout. The last new coaster at SeaWorld San Diego was Electric Eel, added last year. Traditionally the property faces severe height restrictions when it comes to adding new rides. Therefore the Skywarp Horizon configuration with its tallest point of 30ft (9m) is perfect for the park.
Crowd pleasing coaster

According to Ride Entertainment, the attraction has been a hit with guests of all ages. Some love the duelling aspect of the experience, some like the hang time, while others enjoy the air time.
"Tidal Twister is blowing guests away," says Adam Sandy at Ride Entertainment. "We are honoured that SeaWorld put their faith in us to help deliver a world's first attraction. In a park with so many different types of coasters, the Skywarp Horizon really defines itself as a different attraction."
"We have strongly believed in the Skywarp line of attractions for a few years now," says Skyline Attractions president and founding partner, Jeff Pike. "It is wonderful to have a partner like SeaWorld believe in that vision as well and help us achieve Skywarp Horizon."
Ride Entertainment is the official distributor for Skyline Attractions, which manufactures out of Orlando, Florida.