Oriental Land Co., operator of the Tokyo Disney Resort, has offered a sneak peek at the Enchanted Tale of "Beauty and the Beast" attraction coming to the park in spring 2020.
The centerpiece of a new "Beauty and the Beast" themed area will be the Beauty and the Beast Castle – towering nearly 98 feet above the surrounding area.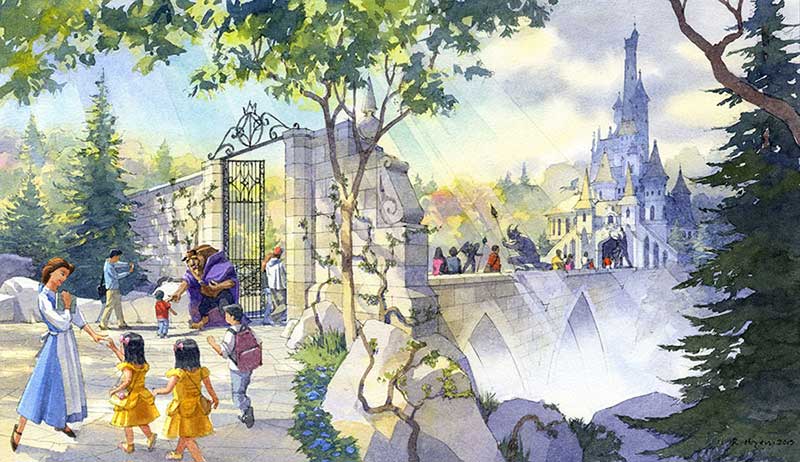 The castle will house the Enchanted Tale of Beauty and the Beast. The new attraction features ride vehicles that dance in rhythm to the film's music, as well as a range of animatronic props and characters. The attraction will cost 32 billion yen.
Nearby, the Village Shoppes and La Taverne de Gaston will take guests deeper into the world of Beauty and the Beast.
Other developments announced include the Fantasyland Forest Theatre. The indoor performance space will host productions featuring Disney characters and music with a capacity of 1,500. It will cost around 17 billion yen.
In Tomorrowland, The Happy Ride with Baymax attraction will open as an exciting musical whip ride. It will cost around 6 billion yen. A themed shop will open called The Big Pop, selling popcorn in multiple flavors.
In Toontown, Minnie's Style Studio will be Minnie Mouse's first Disney character greeting location in Tokyo Disneyland. It will cost about 2 billion yen.
These developments are set to debut in spring 2020 as part of the resort's large-scale expansion plan.  According to Japan Times, they represent an investment of ¥75 billion ($664 million).
Fantasyland at Tokyo Disneyland will double in size, while an eighth port will come to DisneySea celebrating Frozen, Tangled and Peter Pan.
Earlier this year Tokyo Disneyland and DisneySea announced a line-up of new attractions for the 2019 season. The headline announcement was a new Soarin' attraction coming to DisneySea.