Shanghai Disney Resort has unveiled designs for its much-anticipated Disney Toy Story Land featuring Woody, Buzz Lightyear and friends.
Disney Toy Story Land will be the seventh themed land at Shanghai Disneyland and the resort's first expansion since opening last year.
This latest addition is seen as a reflection of the resort's early success and China's growing demand for themed entertainment.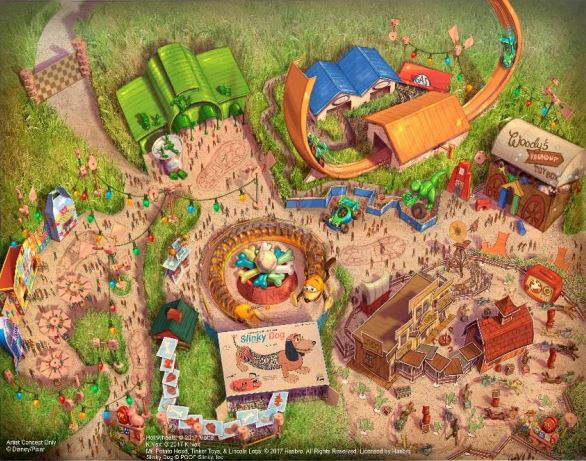 Positioned as a 'high-spirited, colourful world,' guests will feel as though they have shrunk down to the size of their favorite Toy Story toys. Designed to reference Andy's backyard, the immersive land will feature three new attractions and a uniquely themed character greeting area.
New Toy Story attractions
Slinky Dog Spin: This wavy roundabout features Slinky Dog chasing his own tail. Visitors take a seat inside Slinky Dog's springy spirals and race around in circles – just like Slinky.
Rex's Racer: Rex, Andy's insecure dinosaur toy, loves playing the RC Racer almost as much as he likes playing video games. He enlists the help of Triceratops friend, Trixie, to invite guests to climb into RC for a thrilling ride on the U-shaped track. With Rex at the controls, RC Racer whizzes guests forwards and backwards at ever increasing heights.
Woody's Round-Up: In this ride, Sheriff Woody has rounded up a herd of ponies, each one pulling a cart, in a ranch set up by Andy. Guests climb aboard the carts as the ponies do a square dance, swaying their carts to and fro in time to the music.
Meeting Post: This is the area where guests can take photographs and meet up with some of their favourite Toy Story characters, including Woody, Jessie and Bullseye.
Visitors can grab a souvenir at Al's Toy Barn
Old West features a hitching post and the façades of typical 'wild west' buildings such as the sheriff's office, the saloon and the bank.
Fans will instantly recognise Al's Toy Barn, where they can grab a souvenir. Or, they can enjoy a bite to eat at Toy Box Café, a restaurant themed on Andy's packing boxes for Buzz Lightyear, Mr. and Mrs. Potato Head and Lotso Hugging Bear.
Toy Story characters have proved a huge hit in China. Shanghai Disney Resort currently has the only Toy Story-themed hotel in the world, while Shanghai Disneyland is home to the popular Buzz Lightyear Planet Rescue attraction. This ride features the most advanced Buzz Lightyear targeting system at any Disney park in the world.
Disney Toy Story Land is set to open by summer 2018.
Images courtesy Shanghai Disney Resort